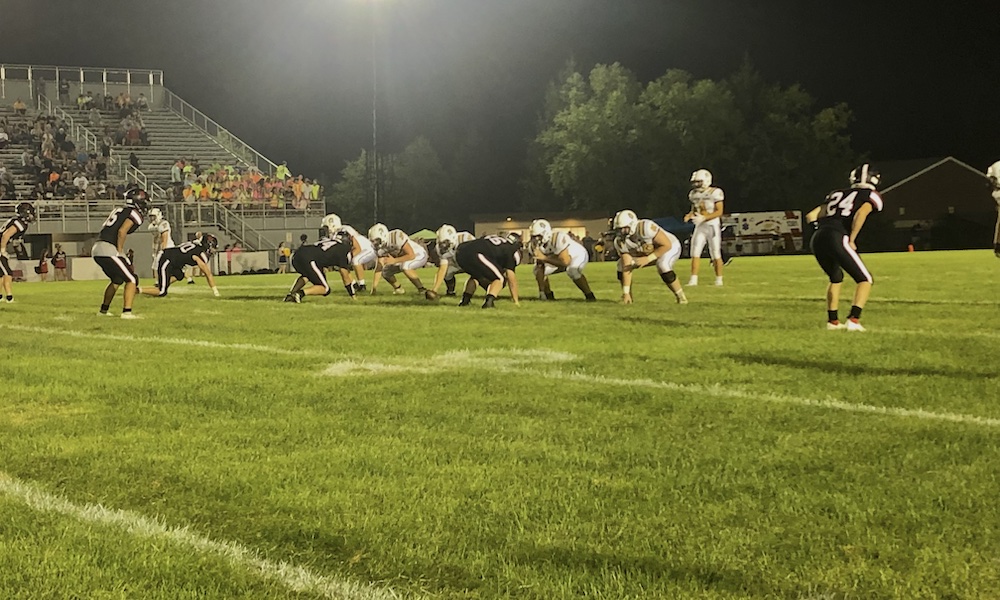 Saucon Valley played host to the Crusaders of Notre Dame (Green Pond) in a game that was delayed for approximately 30 minutes due to weather. It was all Notre Dame in the first quarter as QB Collin Quintano scored the first touchdown on a keeper. He then threw a 23-yard touchdown pass to Logan Castellano to round out the quarter at 14-0, as the point after attempts by kicker Nick Garrido were good. Less than four minutes into the second quarter, Saucon Valley scored their first points of the game, only to be followed by a Quintano pass again ending in a 55-yard touchdown pass to Tarif Muhammad.
Saucon scored right back with an 80-yard run. The Crusaders gained two more points as Saucon was called for intentional grounding in the end zone taking the score to 23-14. Quintano hit Muhammad again with a 24 yard touchdown pass making the score 30-14 at the half. Quintano reminded the team heading into the second half that "they would have to execute like in the first half" to be successful. Seven minutes into the third quarter, Saucon Valley scored on an 11 yard touchdown run making the score 30-20. Kicker Nick Garrido hit a field goal increasing Notre Dame's lead to 33-20.
The fourth quarter brought more Notre Dame in the form of a 33 yard touchdown pass to Castellano again from Quintano which was followed by a successful point after attempt by Garrido making the game 40-20. Alex Cruz, Jr. scored the final touchdown of the night for the Crusaders. The final score of the game was 47-20. Jayden Becker had two interceptions for the Crusaders.
Notre Dame Head Coach Phil Stambaugh was pleased with how his players played "on both sides of the ball" on Friday night. He noted, "the defense did a real nice job of not letting the previous play affect the next play." Logan Castellano talked about the Crusader mindset heading into game one of the season and spoke about working this week as they look forward to meeting Southern Lehigh at home next weekend.