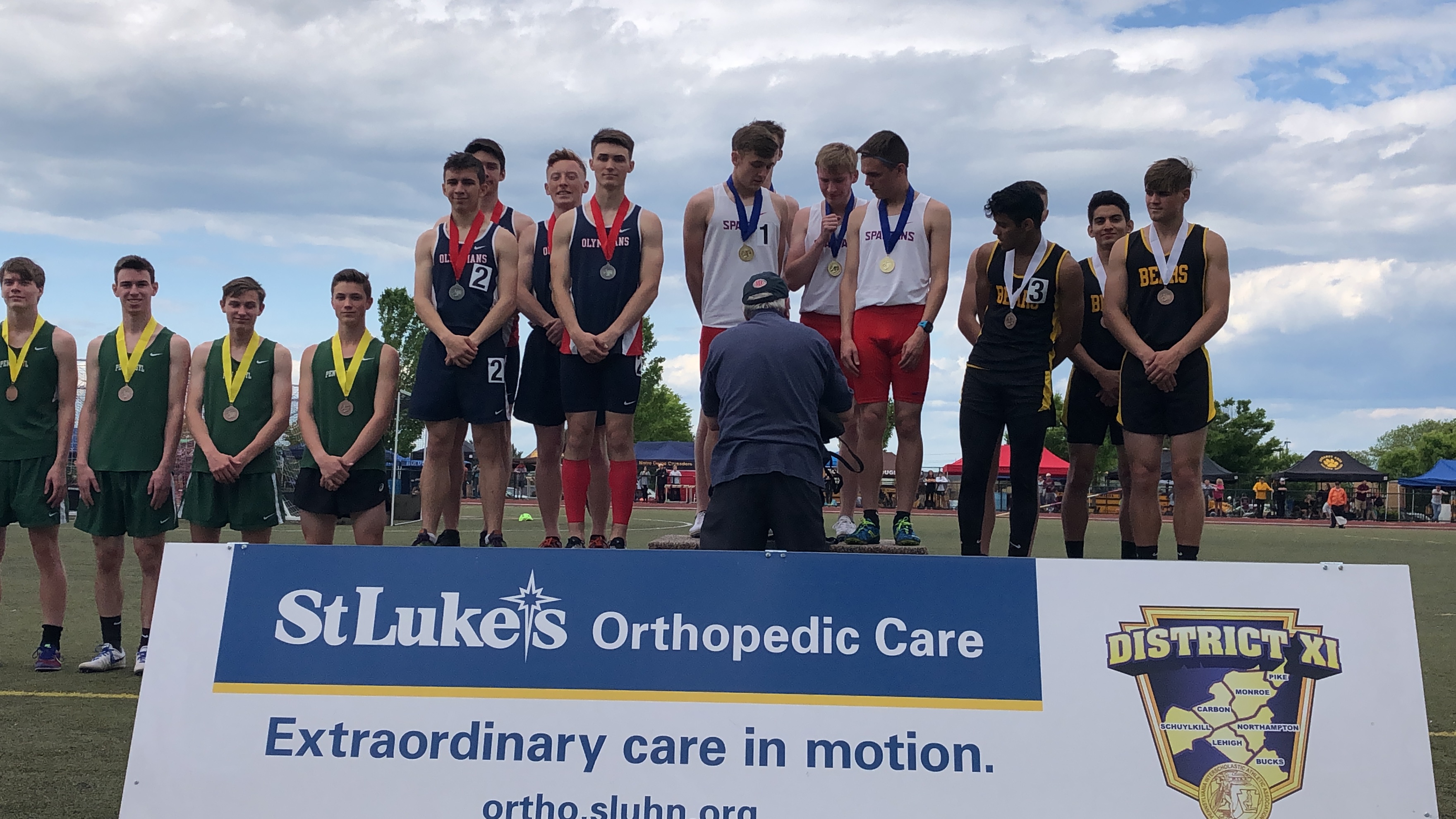 The District XI Track and Field Championships getting underway on Wednesday at Whitehall High School.
The two day event brings in the best athletes from throughout the region as they eye up a podium spot and a chance to earn a trip to States at Shippensburg University on Memorial Day Weekend.
Below is a look back at some of the events from Day 1.
Also, for all of the results follow this link: https://tumeytiming.com/mm/District11/
The team of Brianna Dumond, Sarah Maue, Grace Stegemerten, and Francis Kabana of @TASDAthletics1 edge @NSTrackField1 to win the @PIAADistrictXI 2A 3200 m relay in a time of 9:49:46. @NSAthletics1 pic.twitter.com/LYAbLbhubi

— D11Sports (@D11Sports) May 15, 2019
Kendall Bernardyn of @MAHSAthletics wins the @PIAADistrictXI 2A Girls High Jump 5-02.00. Erica Holben of @SalisburySchool finishes 2nd with Jocelyn Itterly of @PAGreenKnights 3rd. @SchLeague pic.twitter.com/1Xv5cwflh3

— D11Sports (@D11Sports) May 15, 2019
Emma McClafferty of Marian Catholic wins the @PIAADistrictXI 2A Discus with a throw 120-03. Katelyn Mercurio of @notredamegp is 2nd and Emma Green of @NSTrackField1 is 3rd. @SchLeague @NSAthletics1 @philipstambaugh pic.twitter.com/OLF7chmylh

— D11Sports (@D11Sports) May 15, 2019
Another gold medal for Chris Fredericks of @HighPalmerton as he wins @PIAADistrictXI 2A Discus with a throw of 186-10. William Munson of @JTOlympians finishes 2nd with Craig Derr of @MAHSAthletics 3rd. @SchLeague pic.twitter.com/oHQEEkVFRj

— D11Sports (@D11Sports) May 15, 2019
Maurice Whittle of @pmwathletics wins the @PIAADistrictXI 3A Triple Jump 47-11.50. Sander Sahaydak of @LibertyHSTrack is 2nd and Adam Klinger of @ParklandAthlet1 is third. @LIBERTYATHCLUB pic.twitter.com/jJGv5Pazh0

— D11Sports (@D11Sports) May 16, 2019
Kasey Thomas of @Easton_Track wins the @PIAADistrictXI 3A Shot Put 42-09.75. Jaida Davis of @LibertyHSTrack is 2nd with Autumn Carr of @PSDAthletics finishing 3rd. @LIBERTYATHCLUB @GoRedRovers pic.twitter.com/bT1w1miu8v

— D11Sports (@D11Sports) May 16, 2019
The @PIAADistrictXI Boys 3200 relay goes to @NSTrackField1 Sean McCabe, Jake Nahas, Jack Flynn, and Luke Halko in a time of 8:22.75. @JTOlympians finished 2nd and @MAHSAthletics 3rd. @NSAthletics1 pic.twitter.com/TCF5MjpLLx

— D11Sports (@D11Sports) May 16, 2019
The @PIAADistrictXI Girls 3200 meter relay goes down to the wire with @LibertyHSTrack edging out @nwlehighsd in a time of 9:42.09. @EmmausTF places third. @LIBERTYATHCLUB winning team Camryn Bortz, Rachel Byrne, Emily Jobes, and Greta Stuckey. pic.twitter.com/M6HMMMEPWL

— D11Sports (@D11Sports) May 16, 2019
The @ParklandAthlet1 Boys capture the @PIAADistrictXI 3200 meter relay. The winning team of Benjamin Esquires, Nathan Reimer, Riley Williamson, and Mustapha Salau finish in a time of 8:06.86. @EmmausTF was second with @LibertyHSTrack third. pic.twitter.com/QoqDTYVGF0

— D11Sports (@D11Sports) May 16, 2019