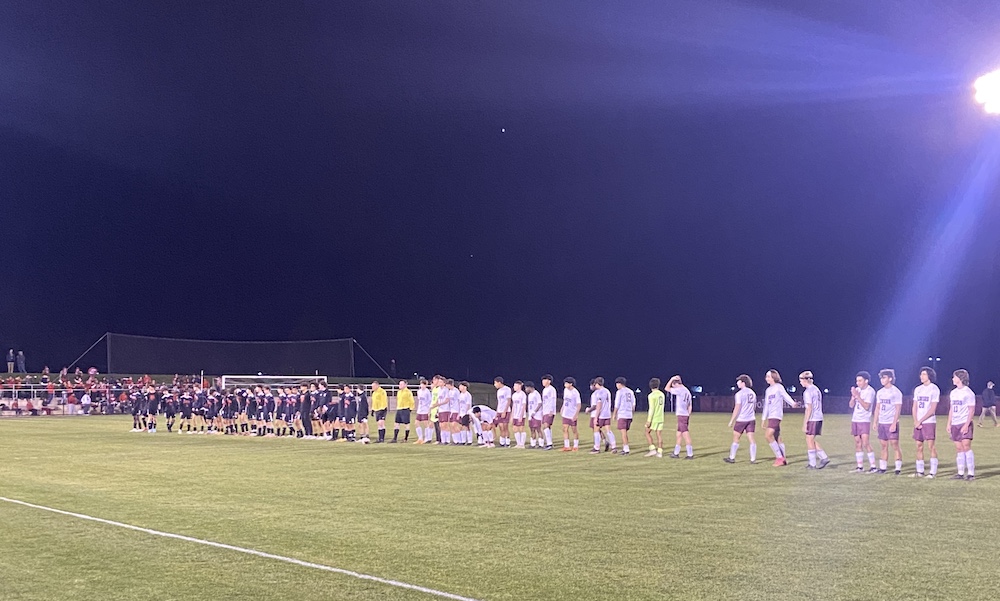 The Across the Bridge rivalry game of Phillipsburg vs Easton was played at the wonderful and new Lafayette College Metzgar Fields. The field was packed with fans from all over the Lehigh Valley to watch one of the biggest high school rivalries in the nation.
The Liners came into this game with a 4-12 record against very tough opponents in the Skyland conference, getting wins over Rutgers Prep, Delaware Valley, and Bridgewater. Notable seniors like forward Derek Jimenez and defensive back Matt Wilde have made a huge impact on both sides of the field trying to lead as much as they can.
The Rovers started it off early with a goal to get them the momentum. After the goal, it was a back-and-forth battle with great defensive plays from both teams. When the first half was ending Sophomore Joey Firetto scored an eye-catching goal with 38 seconds left. Shortly after, He celebrated with the Liners student section, taking off his shirt, which got him a yellow card.
The end of the first half was a tied 1-1. An uneventful first part of the second half for both teams showcased great defensive runs but gave the offenses tough times to create opportunities. Easton then took control with a goal to give the Red Rovers the lead. Shortly after, senior midfielder Dennis Griesmeyer scored a get-back goal to tie up the game.
The Rovers did not seem to slow down one bit though, scoring two more goals to give them the win in the end. There were amazing efforts from both teams in such a crucial and important match. The final score was 4-2.
The Liners did not have the season they wanted this year. They fell short in the latter half of the year against some really good teams. This team is in good hands when the senior class graduates. There are lots of young stars on the team that will get the spotlight once it is their time. Overall, Pburg will bounce back next year and do better.