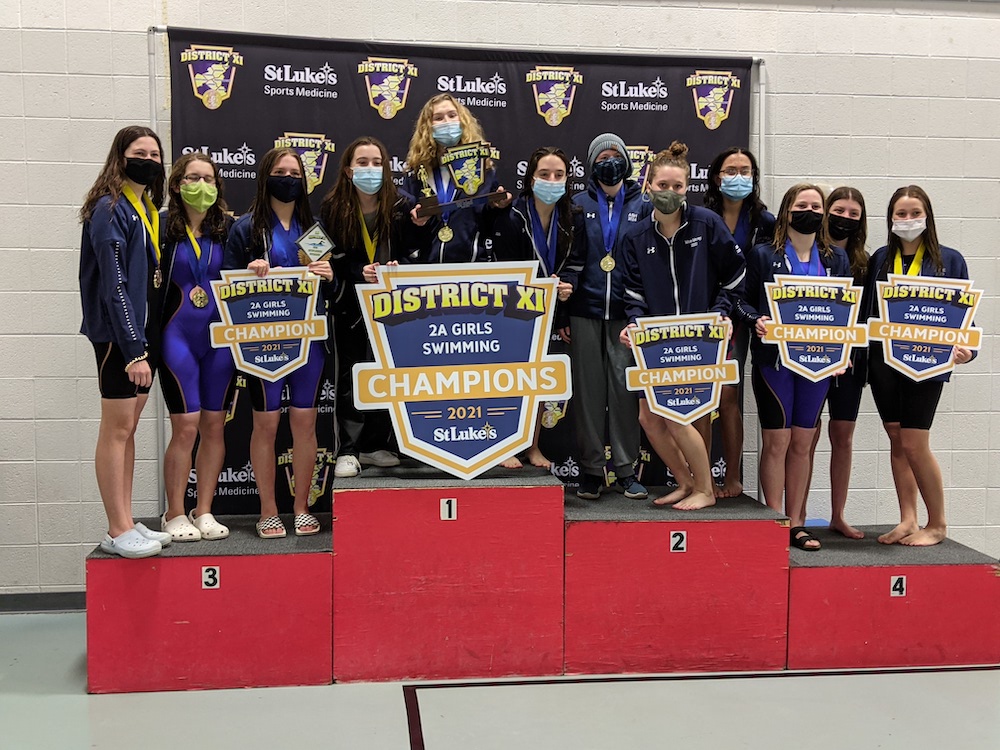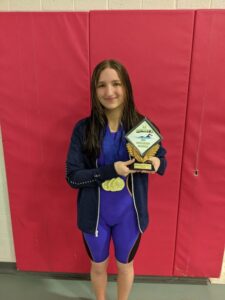 The Blue Mountain Eagles easily captured the team title in the District 11 2A girls' swimming championship at Parkland High School. Moravian Academy and Pottsville held leads over the rest of the 2A field following last weekend's diving competition, but the Blue Mountain swimmers quickly mounted an attack on the team standings. After a fourth-place finish in the 200-yard medley relay and a silver medal by Katherine Sarnes in the 200-yard freestyle, Blue Mountain took over the top spot from Moravian Academy and didn't look back.
Sophomore Hannah Magdeburg and junior Morgan Yuengling battled each other and the competition to finish first and second respectively in both the 50 and 100-yard freestyle events. Magdeburg and Yuengling also took gold in the 200 and 400-yard freestyle relays with Blue Mountain. The two, along with freshman Victoria Ellex form a group of young swimmers, who constantly push each other to compete harder and harder.
"We really have a great bond and we definitely push each other in practice and at meets," said Yuengling of the connection between the three swimmers.
Magdeburg also added another piece of hardware when she was named the winner of the Dennis A. McGinley Award, given annually to the best swimmer in the competition. That, combined with a total of four medals and a trip to states that will culminate in a busy dat at Cumberland Valley High School in two weeks capped off a pretty good day for Magdeburg.
"I'm looking forward to states because it was really sad last year when I went as part of a relay team and then our competition was eventually cancelled," noted Magdeburg. "This feels really good because we worked so hard through a crazy season and stayed focused and now, it paid off."
Allentown Central Catholic came out firing with a win in the 200-yard medley relay with a team comprised of juniors Grace Shucavage and Sabrina Yurconic and sophomores Samantha Mikosky and Mimi Norris. In the very next event, Norris easily swam to gold in the 200-yard freestyle, besting her closest competition by over two-seconds.
"What an amazing start to the day for us," Norris noted. "It kind of set a tone for us and we had some pretty good swims throughout the day."
Maddie Dando of Marian Catholic had to fight not just the effects that the pandemic had on the season, but the loss of her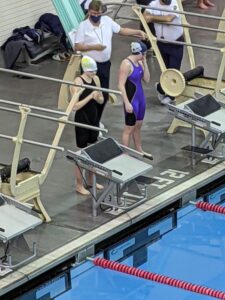 club team as well. While she admits that she lost focus and confidence at a few points along the way, in the end she was able to regain momentum and pick up her fourth consecutive district gold in the 100-backstroke.
"I really didn't think that I could do it this year," said Dando, who without a swim team at Marian Catholic, is at the mercy of club teams to train and record times to compete in districts and states. "I had to change teams this year and that was heartbreaking because those were the kids I grew up with and the coaches that I grew up with.
"We [her and training partner Dylan Schreffler] didn't even think that we could come here because we didn't have a pool. It was hard, but it taught me to never take anything for granted, because you never know. I doubted myself a lot and it was hard to stay motivated, but it toughened me up pretty much."
Because of considerations given to social distancing at states, only the gold medal winners from districts will get to compete for state gold medals at Cumberland Valley High School in two weeks. District participants were also limited, shrinking from 24 competitors in each event down to 16.
FINAL TEAM STANDINGS – Results
1. Blue Mountain – 400
2. Pottsville – 242
3. Moravian Academy – 232
4. Central Catholic – 230
5. Saucon Valley – 218
6. Tamaqua – 153
7. Salisbury – 145
8. Mahanoy – 119
8. North Schuylkill – 119
10. Schuylkill Haven – 59
11. Panther Valley – 55
12. Palisades – 33
13. East Stroudsburg North – 32
14. Marian – 20
15. Notre Dame Green Pond – 6
The final 50 of the 100-yard butterfly with Sabrina Yurconic of CCHS taking gold. Second is Grace Shucavage (CCHS), third is Jacqueline Kokinda (Pleasant Valley). @D11Sports @Times_News pic.twitter.com/FGIHDbP3P2

— Chuck Hixson (@ChuckinSports) March 7, 2021