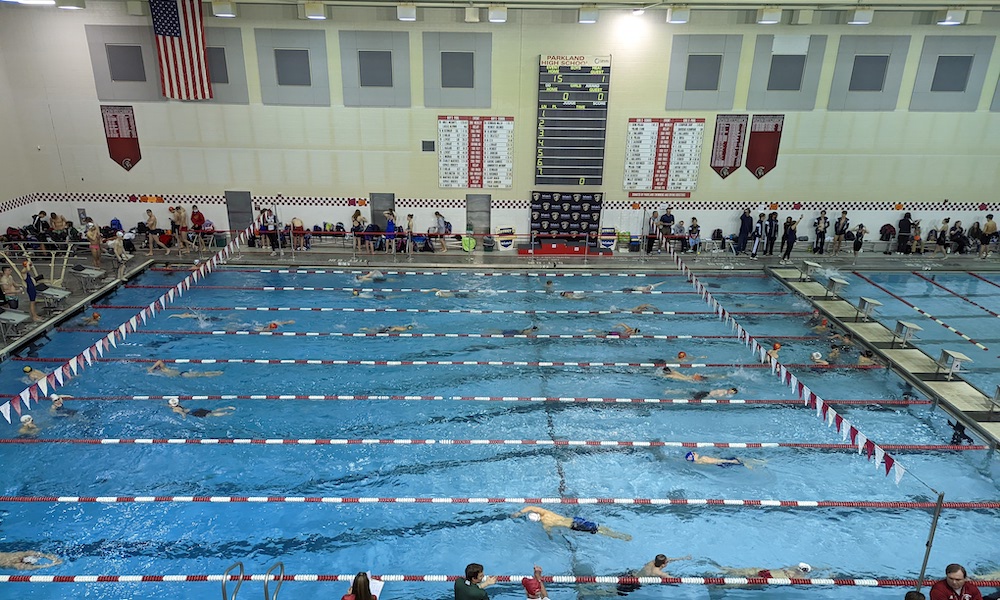 When he joined perennial powerhouse Blue Mountain as a freshman swimmer, Noah Powers didn't envision having the impact that he has had in his first season. With swimmers allowed to compete in four events, Powers left Parkland High School with four gold medals around his neck. On Saturday, Powers picked up gold in the 100-freestyle to go with his medals from the night before in the 50-freestyle and as a member of relay teams that won the 200-medley relay and 200-free relay.
"I couldn't imagine this," said Powers after accepting his fourth gold. "It's an honor to do this and I know that my hard work is paying off every day. It just feels amazing and I am so glad that I could accomplish this."
In a complicated scoring formula to determine the outstanding swimmer of the meet, Powers was edged out for the Dennis A. McGinley Award by Pen Argyl's Danny Hayes. On Friday, Hayes won gold in the 100-butterfly and set a new District 11 and Parkland High School pool record with a time of 50.21. Saturday, he finished second in the 100-freestyle with a time of 47.87 while Powers won the event with a 47.80 swim. That event was their only head-to-head meeting.
"I remember coming here as a freshman," said the Pen Argyl senior. "Pretty much everyone who has gotten this award since then has been a friend of mine, so I guess this was my turn. It honestly feels amazing."
The McGinley Award on the girls' side was given to Blue Mountain's Hannah Magdeburg, who like teammate Powers, took home four gold medals. Magdeburg's wins came in the 50 and 100-freestyle events and she was a part of relay teams that won the 200 and 400-freestyle relays. It was the second straight year that Magdeburg was given the award.
"I was really hoping to win it again this time, so I really focused on my times and made sure I was going to at least be in the running," said Magdeburg. "I was hoping to drop enough time in the meet because I know that has some factor in winning the award."
Blue Mountain took both the boys and girls team championships. The girls' team finished with 456 points to easily best second-place Pottsville. Mahanoy (204) was third, Saucon Valley (192) fourth and Central Catholic (186) fifth. Lady Eagles' swimmers captured 15 medals, seven of them were gold. Among the boys' teams, The Eagles took home the trophy with 358 points, Moravian Academy was second with 274 and Central Catholic placed third with 178 points. Tamaqua (140) finished fourth and Pottsville (123) finished fifth.
Pottsville's Taleah Ruben won three gold medals (200-IM, 100-butterfly, 200-Medley relay) as did Blue Mountain's Katherine Sarnes (200-freestyle, 500-freestyle, 400-freestyle relay) among the girls' swimmers. Outside of Powers' four golds, no other boys' swimmer had more than two.
Erika Zimmerman turned in an impressive performance in the 100-backstroke Saturday when she won the event with a final time of 1:00.97 and edged second place finisher Abby Dudash of Mahanoy Area by just .43 seconds. Dudash led for three of the four laps but was overtaken by Zimmerman on the final lap.
"It took me trying for so long to get here. Honestly, I was fighting nerves the whole time and I was really shaky in the beginning but towards the end, the nerves kind of wore off," said Zimmerman. "It took me trying for so long to get here. I worked really hard over the past season and I have been through a lot after transferring, so this means a lot to me."
Zimmerman has been swimming as an independent at Panther Valley until she transferred to Schuylkill Haven and was able to join the team rather than competing as an independent swimmer.
"Having teammates around me helped give me more confidence and that's going to help a lot going to states," said the senior gold medalist.
Moravian Academy picked up a gold medal from junior Nick Ritter who blew away the competition in the 100-backstroke. Ritter was the only swimmer to tap in under the one-minute mark, finishing at 52.65, while second place finisher Gavin Mentzer of North Schuylkill was over 10 seconds off the pace and came in at 1:03.09.
"I knew what I had to do and I was able to just go out and do it. I know there are going to be a lot of really good swimmers at states but I feel pretty confident and I am just going to go in and swim as fast as I can and see what happens," said Ritter, who technically qualified for states for the second time in his high school career. As a freshman, Ritter qualified but when he arrived at Bucknell, the 2A competition had been postponed – and eventually cancelled – because of COVID. "We had driven all the way out there and they told us to just come back. Obviously, it was disappointing, so I am looking forward to this year."
Gold medalists gain an automatic bid to states while other top finishers will have to hope to receive a bid in to the event based on their district times. The PIAA competition will be back at Bucknell University again this season after a one-year stint at Cumberland Valley High School. The 2A event are scheduled for March 18 and 19, with 3A events on the 16th and 17th.
Blue Mountain's Noah Powers edges Pen Argyl's Danny Hayes in the 100-freestyle. Powers has 2 individual and 2 relay gold medals. @D11Sports pic.twitter.com/aw3mfc3wEy

— Chuck Hixson (@ChuckinSports) March 5, 2022
Noah Powers collects his 4th #GoldMedal and placard for winning the 100-freestyle. @D11Sports pic.twitter.com/FAIqmhZy8Q

— Chuck Hixson (@ChuckinSports) March 5, 2022