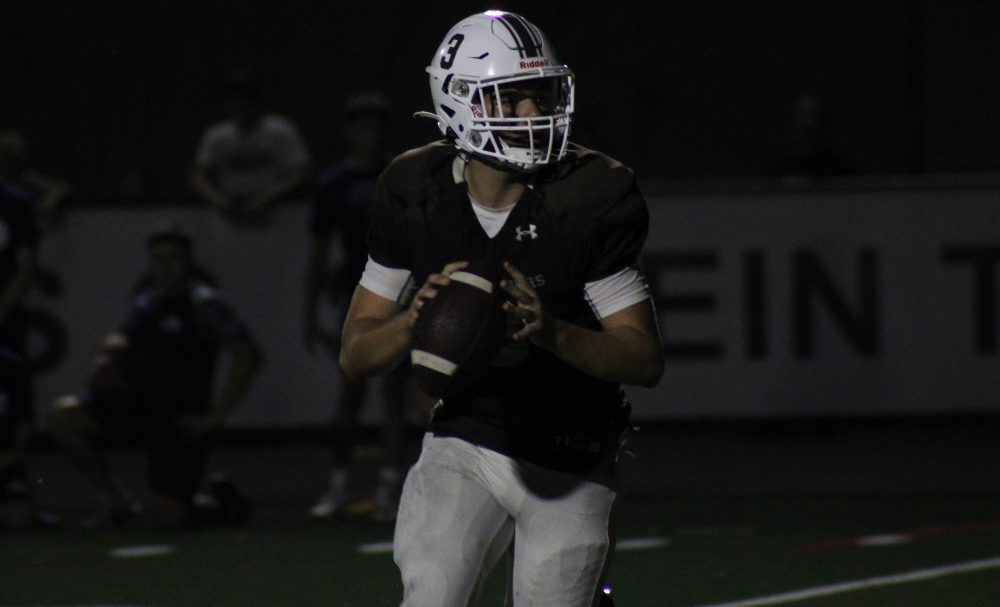 At Alumni Field, the Catasauqua Rough Riders kicked off their season with a commanding 48-22 win over the Northern Lehigh Bulldogs. Catty took a strong lead from the beginning. After some fight from the Bulldogs in the second and third quarters, they shut them out in the fourth and added two more touchdowns to secure the win.
Both offensively and defensively, Catty dominated the field. Aiden Hess had one rushing touchdown and five touchdown passes, four of which were received by Ian Juica. Northern Lehigh's approach to running the ball often was shut down by Catty's defensive line. Chad Beller was the backbone of the defense with 23 tackles.
Catty's defense had three interceptions over Northern Lehigh's quarterback Garrett Smoyer. The freshman spent his first high school game on varsity due to junior Ayden Oswald being out with an injury.
Late in the first quarter, Hess connected with Juica for a 39-yard touchdown, putting the first points on the scoreboard. Jordan Bradshaw then intercepted a pass to earn possession back for the Rough Riders. This made way for a 38-yard touchdown from Hess to Dylan Pacheco to secure a 14-point lead with less than a minute left in the first quarter.
The Bulldogs set a different tone in their first play of the second quarter, with a 75-yard running touchdown by Grady Newhard.
The Rough Riders and Bulldogs both had two touchdowns in the second quarter. In the third, the Bulldogs cut the lead to six with a touchdown by Smoyer and a two-point conversion run by Newhard.
Hess retaliated with an eight-yard run to the end zone, making the score 34-22 to finish out the third quarter, and to put an end to Northern Lehigh's scoring.
Hess and Juica sealed the deal with two more touchdowns in the fourth, one being a 56-yard pass from Hess after he recovered a bad snap.
Northern Lehigh will play away on Thursday against the Northwestern Lehigh Tigers, who beat Tamaqua 21-6 on Friday. Catasauqua and the Palmerton Bombers will both be 1-0 when they face off next Friday at the Rough Rider's Alumni Field. The Bombers have taken the win against the Rough Riders for the last decade.
3 plays in a row… Chad Beller gets a stop on the quarterback. Jordan Bradshaw intercepts the ball at the 45 yard line. Dylan Pacheco scores on a long touchdown pass from Aiden Hess.
Rough Riders lead 14-0. pic.twitter.com/YtX8XfIpMj

— Alivia Bear (@AliviaBear484) August 25, 2023
Northern Lehigh Bulldogs fight back in the first play of the second quarter with a huge touchdown by #26 Grady Newhard. pic.twitter.com/OpRvpLq4lK

— Alivia Bear (@AliviaBear484) August 25, 2023
Another Rough Rider touchdown from QB Aiden Hess to Ian Juica. Score is 21-7 with 7:33 left in the half. pic.twitter.com/jZJVItSK2F

— Alivia Bear (@AliviaBear484) August 25, 2023
Northern Lehigh touchdown and the two plays leading up to it. Two point conversion by the Bulldogs cuts Catty's lead to six.
Bulldogs trail 28-22 with 5:43 left in the third quarter. pic.twitter.com/e6IupID85o

— Alivia Bear (@AliviaBear484) August 26, 2023
After 4 quick stops on defense, a long snap leads to a long touchdown from Aiden Hess to Ian Juica.
With 5:54 left in the fourth quarter the Rough Riders lead 48-22. pic.twitter.com/j9jfGorXou

— Alivia Bear (@AliviaBear484) August 26, 2023