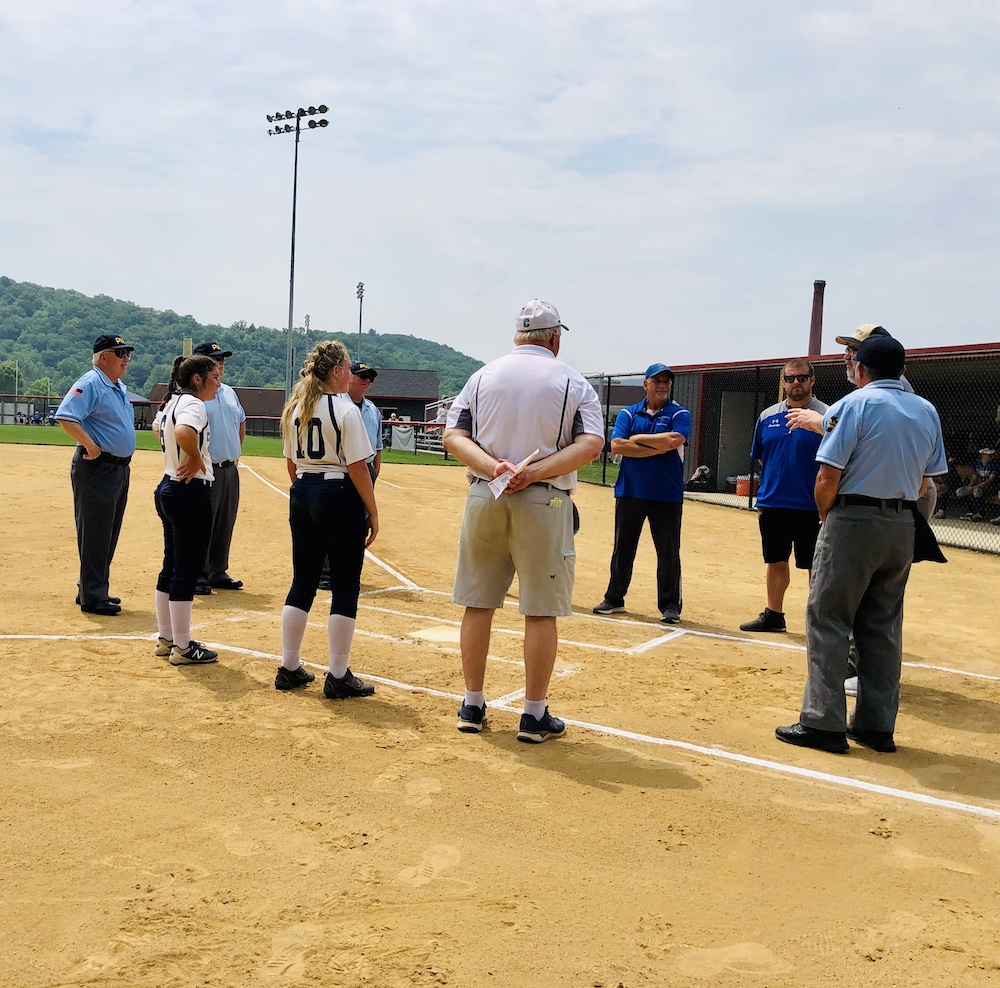 PINE GROVE – Pressure?
Not for Mea Consentino.
With a school record in sight and a berth in the state quarterfinals at stake, the junior stepped up and delivered.
Consentino pitched Central Columbia past Palmerton 2-0 and into the next round of the PIAA Class 3A Tournament on Monday, becoming the school's all-time leader in strikeouts in the process.
"First of all, they are a very good team," said Blue Jays mentor Duane Karchner. "We got the report on them, and you see all these batting averages over .500 and that's enough to cause a few hours of no sleep.
"But anytime Mea takes the mound, we know that we have a good shot. And when she struck out the side in the first inning, it was comforting and our kids could relax and then play their game."
Consentino had eight strikeouts through the first three innings. The last of those punchouts in the third was her 498th and the school record.
The Blue Jays (19-4) showed no ill effects of a 2-1 loss to Loyalsock in eight innings in the District 4 championship game just a few days prior.
"We just knew that we needed to win," said Consentino, who finished with 12 strikeouts and now has 502 for her career. "We didn't want to lose again. We didn't like that feeling."
Consentino got run support in the top of the fourth inning when Alyxandra Flick led off with a double and came around to score on Payton Crawford's hit to make it 1-0. Crawford, who moved to third on Emmie Rowe's sacrifice, was thrown out to end the inning trying to come home after Aliyah Heintzelman's groundout.
Freshman Carly Gaffney was as impressive in the circle for the District 11 champion Blue Bombers (21-5).
After allowing a run in the fourth inning, Gaffney worked out of trouble in the fifth and sixth to keep it a one-run game.
Olivia Hubler started the fifth with a leadoff single for the Blue Jays and moved into scoring position on a bunt by Brady McNamara. Kendra Zimmerman followed with a one-out double, but Consentino lined out to first and Ellie Rowe flew out to center to end the inning.
Flick opened the sixth with a single and Crawford followed with a walk to put two runners on, but Gaffney retired the next three hitters in order to keep the score 1-0.
While Consentino racked up punchouts in the early going, Palmerton started to put the ball in play the second and third time through the order, striking out four times over the final four innings.
"Obviously, we saw the number over there so we knew she was a strikeout pitcher," said Blue Bombers coach Bob Hock. "And we committed a few, several, on our end. But we made adjustments and started hitting the ball, but it was too little, too late.
"We came and we gave it our best shot until the end here."
Central Columbia added another run in the top of the seventh. Rowe knocked in Zimmerman, who doubled, with a two-out single to push the lead to 2-0 heading to the home half of the inning.
Palmerton brought up its 2-3-4 hitters in the bottom of the seventh inning. Megan Serfass (.516 batting average) and Megan Green (.500, 12 home runs) collected back-to-back singles to give the Blue Bombers runners at first and second with no outs and their first baserunner since the second inning.
But Consentino retired the next three hitters in order to work out of the jam and seal the victory.
"It was there, and we didn't quit," said Hock. "We battled out of some tough spots. I thought we had some momentum, but they took care of business."
MOVING ON … Central Columbia will face District 3 champion Pequea Valley (17-4) Thursday in the quarterfinals. Pequea Valley defeated Swenson Arts & Technology 10-0 in six innings Monday.
REMARKABLE RUN … With four seniors, Emily Baumgardt (.520), Serfass, Green and Yesmine Olewine (.375), in the starting lineup and occupying four of the first five spots in the batting order, Hock knows the upperclassmen will be hard to replace. But they've helped lay the foundation for the youth in the program, which features freshmen Gaffney, Megan Matsko, Cadee Munjone, Sydney Frantz and sophomore Kelsey Balliet to make another postseason run next year. "Our seniors set the bar high for this team," said Hock. "They have us playing on June 7. They've been phenomenal. They shattered a lot of records, individually and team-wise. It will be hard to replace that production, but we have kids that I think are capable."
Central Columbia 000 100 1 – 2 8 0
Palmerton 000 000 0 – 0 3 0
Consentino and Crawford; Gaffney and Green. W – Consentino. L – Gaffney.