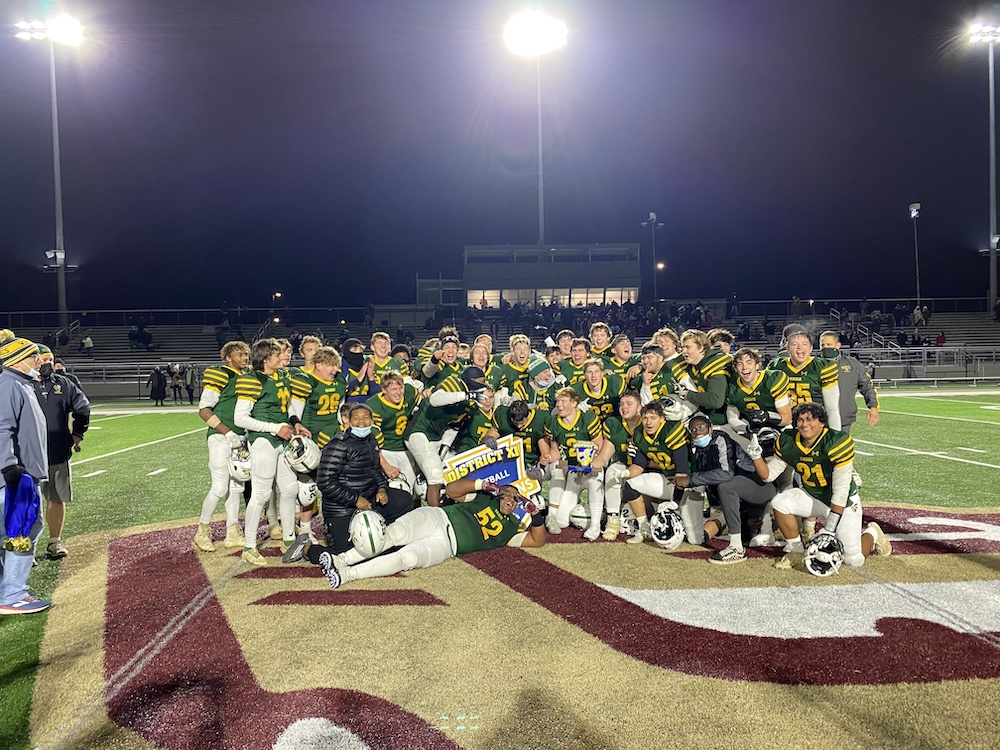 The Pennsylvania Football Writers named their top players today in Class 4A and four players from District 11 were named to the team.
Leading the way was Allentown Central Catholic with two players. Running back Jayden Williams led the EPC in rushing with 1,039 yards on 138 attempts and 12 touchdowns. He rushed for over 1,000 yards for the second straight year. He finished his career with 2,255 yards on 364 carries with 20 touchdowns. The Vikings won the District 11 4A championship.
Lavon Johnson was one of two junior players named 1st team Defensive lineman. He had 59 tackles, including 21 for a loss and four sacks. He also had an interception and a fumble recovery.
One of the best offensive threats in Schuylkill County was Lehighton's Zach Hunsicker. He caught 49 passes for 765 yards and five touchdowns despite being team's only true offensive threat. Finished as Lehighton's all-time leader in receptions (114) and receiving yards (1,732).
One of the most versatile players in District 11 this year was Northwestern Lehigh's Justin Holmes. Holmes was a dual threat in leading Northwestern Lehigh to a 7-2 record and a berth in the District 11 Class 4A championship game. The junior quarterback accounted for over 1,000 both rushing and passing. He carried the ball 140 times for 1,070 yards (7.6 ypc.) and 13 touchdowns. He also was 66 for 148 through the air for 1,425 yards and 18 touchdowns.
OFFENSE
Quarterback
Branden Wheary, Jersey Shore — 6-0, 185 senior
Jake Pugh, Thomas Jefferson — 5-10, 165 senior
Lek Powell — Bishop McDevitt — 6-0, 180 senior
Cadin Olsen, Armstrong — 6-4, 200 sophomore
Sean McTaggart, Lampeter-Strasburg — 6-2, 205 senior
Running Back
Vernon Redd, Aliquippa — 5-10, 165 senior
Cam Russell, Oil City — 5-11, 190 senior
Jayden Williams, Allentown Central Catholic — 6-0, 215 senior
Teddy Ruffner, Mars — 5-9, 195 senior
Wide Receiver
Cayden Hess, Jersey Shore — 6-0, 170 junior
Ian Hansen, Thomas Jefferson — 5-8, 170 senior
Zach Hunsicker, Lehighton — 6-1, 180 senior
Preston Zandier, Thomas Jefferson — 6-2, 195 senior
Tight End
Beau Heyser, Lampeter-Strasburg — 6-2, 230 junior
Offensive Line
Ryan Brubaker, Cocalico — 6-6, 280 junior
Joe Lorson, Jersey Shore — 6-0, 215 senior
Colin Lyons, McKeesport — 6-3, 265 senior
Max Pacheco, Conrad Weiser — 6-0, 270 senior
Zac Shelley, Lampeter-Strasburg — 6-2, 270 senior
Athlete
Owen Anderson, Jersey Shore — 5-11, 195 senior
Justin Holmes, Northwestern Lehigh — 6-3, 205 junior
Reed Martin, Plum — 5-9, 175 senior
DEFENSE
Defensive Line
Parker Owens, Lampeter-Strasburg — 6-4, 210 senior
Justin Fagley, Oil City — 6-1, 220 senior
Lavon Johnson, Allentown Central Catholic — 6-4, 320 junior
Owen Ordonez, Lewisburg — 6-3, 220 junior
Mario Fontanazza, Oil City — 6-1, 290 senior
Dalton Dugan, Jersey Shore — 6-0, 180 senior
Linebacker
Hayden Packer, Jersey Shore — 5-10, 190 sophomore
Cole Weightman, Belle Vernon — 6-4, 215 junior
Duncan Weir, Shikellamy — 5-11, 185 senior
Ryan Aument, Selinsgrove — 6-0, 218 senior
Nick Del Grande, Lampeter-Strasburg — 6-5, 250 junior
Luke Williams, ELCO — 6-2, 205 junior
Defensive Back
Dakota Cole, Oil City — 6-0, 175 senior
Ayden Garnes, Mons. Bonner-Prendergast — 6-1, 175 senior
Jesse Martin, Garden Spot — 6-2, 195 senior
Teague Hoover, Selinsgrove — 5-10, 165 senior
Specialist
Jack Landis, Lewisburg — 5-9, 165 senior
Athlete
Braden Bohannon, ELCO — 5-11, 175 senior
Devin Whitlock, Belle Vernon — 5-8, 165 junior
PLAYER OF THE YEAR: Owen Anderson, Jersey Shore
COACH OF THE YEAR: Tom Gravish, Jersey Shore