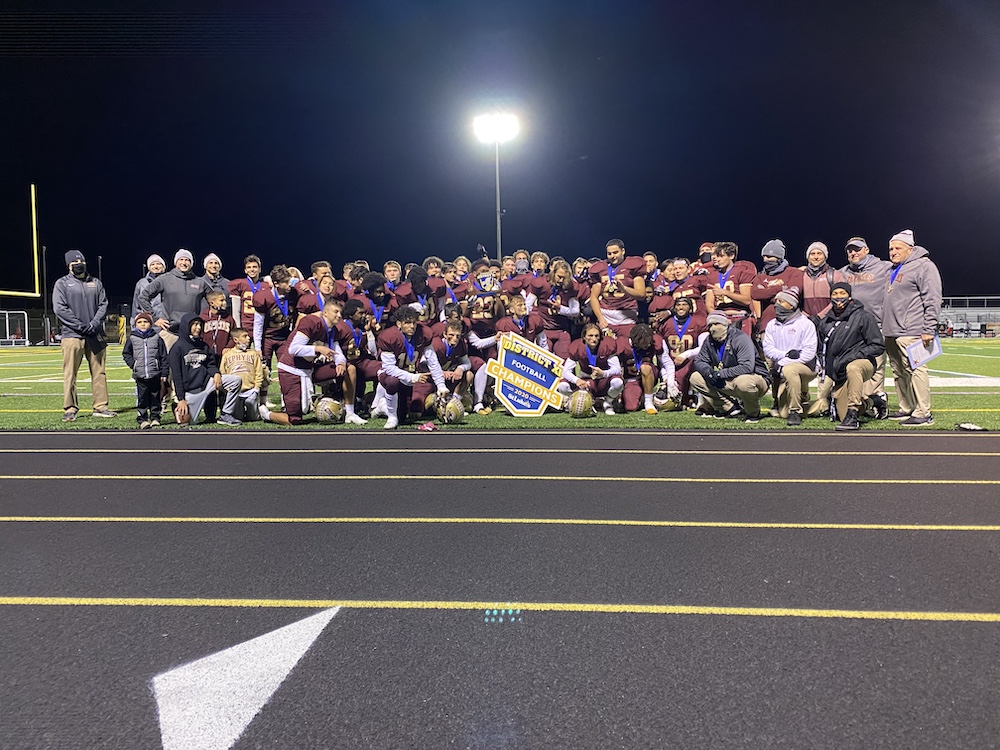 The Pennsylvania Football Writers named their top players today in Class 5A. Whitehall and East Stroudsburg South added one each to the All-State Team.
What a year this has been for Whitehall. After going winless in 2019, they turned it around and finished with a 5A District Title. Leading the way for the Zephyrs was quarterback Quinn Wentling. He was second in the EPC in rushing with 741 yards, averaging 8.7 yards per carry, and scored seven touchdowns. He also passed for 1,365 yards and 12 touchdowns leading his team.
One of the most explosive players up in the Poconos was East Stroudsburg South's Christian Sapp. He caught 15 passes for 338 yards and five touchdowns in just four games. A Villanova recruit, Sapp finished his career with 105 receptions for 1,933 yards and 26 touchdowns. The catches and yardage are school records.
OFFENSE
Quarterback
Joey McCracken, Warwick — 6-4, 195 senior
Micah Brubaker, Mechanicsburg — 6-1, 185 senior
Ethan Dahlem, Upper St. Clair — 5-10, 175 senior
Quinn Wentling, Whitehall — 5-11, 195 junior
Cole Spencer, Pine-Richland — 5-10, 175 senior
Running Back
Colton Miller, Warwick — 6-4, 215 senior
Derrick Davis, Gateway — 6-1, 185 senior
Nick Singleton, Governor Mifflin — 6-0, 205 junior
Wide Receiver
Owen Sensenig, Manheim Central — 5-10, 185 junior
Alex Rufe, Lebanon — 5-11, 185 senior
Charley Rossi, South Fayette — 5-8, 175 senior
Christian Sapp, East Stroudsburg South — 6-0, 190 senior
Eli Jochem, Pine-Richland — 6-0, 180 senior
Tight End
Thatcher Miller, Warwick — 6-4, 225 senior
Offensive Line
Harrison Hayes, Pine-Richland — 6-5, 285 senior
Nolan Rucci, Warwick — 6-8, 300 senior
Jaheim Bassham, Erie Cathedral Prep — 6-3, 277 senior
Ryan Lain, Marple-Newtown — 6-3, 260 senior
Dominic Sheidy, Governor Mifflin — 6-2, 290 senior
Athlete
Ethan Carr, Penn-Trafford — 6-3, 205 senior
Randy Fizer, Red Lion — 6-0, 170 senior
DEFENSE
Defensive Line
Miguel Jackson, Pine-Richland — 6-2, 265 senior
Anthony Smith, Shippensburg — 6-7, 265 junior
Jett Kelly, Elizabethtown — 6-1, 220 senior
Jaydon Smith, Erie Cathedral Prep — 6-4, 235 senior
Tyree Morris, Mechanicsburg — 6-6, 230 senior
Cam'Ron Stewart, Governor Mifflin — 6-5, 240 senior
Linebacker
Brandon Strausser, Governor Mifflin — 6-0, 210 senior
J.R. Strauss, Exeter — 6-3, 215 junior
Bobby Walters, Elizabethtown — 6-1, 175 senior
Corban Hondru, Peters Township — 6-1, 225 senior
Luke Miller, Pine-Richland — 6-2, 205 senior
Defensive Back
Caleb Schmitz, Warwick — 6-4, 210 senior
James Anderson, Mechanicsburg — 5-10, 150 senior
Micah Bootman, Upper Dublin — 5-10, 175 senior
Donovan McMillon, Peters Township — 6-2, 190 senior
Specialist
Billy McNitt, Elizabethtown — 6-3, 265 senior
Justin Caputo, South Fayette — 5-10, 175 junior
Athlete
Charlie Box, Marple Newtown — 5-8, 175 junior
PLAYER OF THE YEAR: Cole Spencer, Pine-Richland
COACH OF THE YEAR: Eric Kasperowicz, Pine-Richland