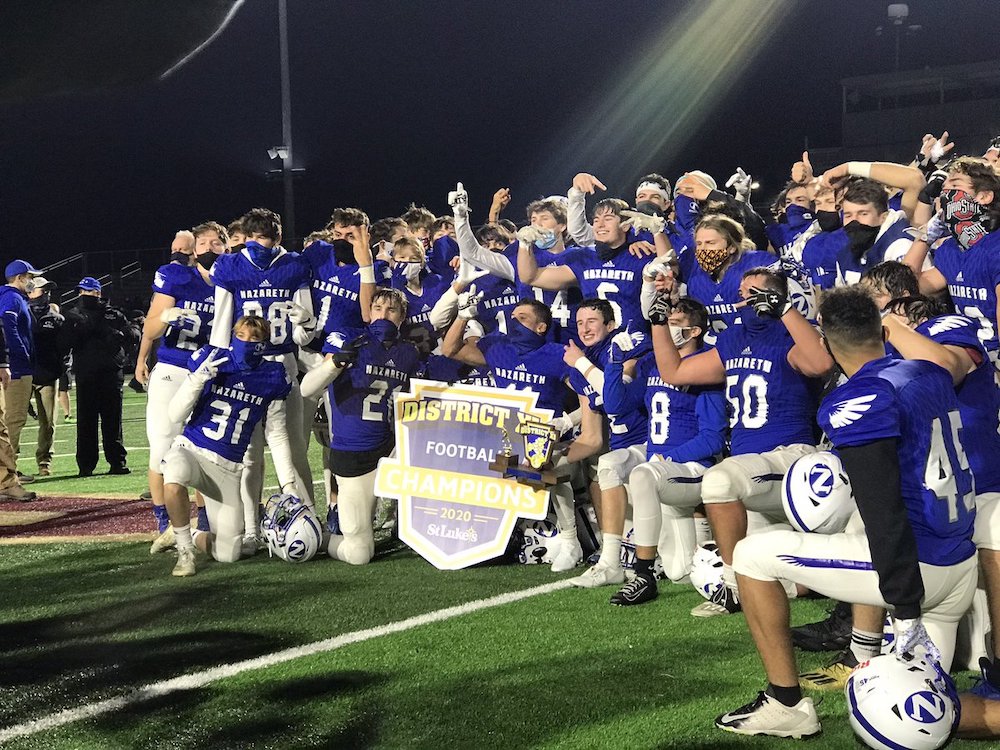 Nazareth Area is coming off a perfect season (8-0) and back-to-back Class 6A District Champions. One of the big reason's was quarterback Matt Bugbee. In his first year as the starting quarterback, Bugbee led the EPC in passing. He completed 109 of 169 passes for 1,482 yards and 10 touchdowns with just one interception. He added 229 yards rushing on 55 carries, an average of 4.2 yards per carry, and 10 touchdowns. He is also one of the top kickers in the area. He kicked 32 extra points and four field goals to lead the EPC with 104 points. He ended his career with 22 field goals, 161 PATs and 227 points, all school records.
On the defensive side, Freedom's Braelin Moore was a forced in 2020. A Division 1 recruit, Moore was voted the EPC Defensive Player of the Year. He had 21 tackles, including 4.5 quarterback sacks and recovered three fumbles.
The man in the middle leading Easton defense was Tamir Jackson. Jackson was first-team All-State last year as a linebacker and was first-team All-Conference this season with 58 tackles in seven games and five sacks.
OFFENSE
Quarterback
Beau Pribula, Central York — 6-3, 205 junior
Evan Clark, Manheim Township — 6-3, 210 senior
Matt Bugbee, Nazareth — 6-4, 155 senior
Kyle McCord, St. Joseph's Prep — 6-3, 215 senior
Running Back
Eddy Tillman, Pittsburgh Central Catholic — 5-8, 165 senior
Jahiem White, York High — 5-9, 185 sophomore
Timmy Smith, Central Dauphin — 6-0, 195 senior
Jalen White, Souderton — 6-1, 175 senior
Khalani Eaton, North Penn — 5-11, 210 junior
Wide Receiver
Marvin Harrison Jr., St. Joseph's Prep — 6-4, 200 senior
Anthony Ivey, Manheim Township — 6-1, 180 junior
Sahmir Hagans, St. Joseph's Prep — 5-10, 180 senior
Judah Tomb, Central York — 6-1, 190 senior
Tight End
Khalil Dinkins, North Allegheny — 6-4, 220 senior
Offensive Line
Drew Shelton, Downingtown West — 6-5, 255 junior
Brad Harris, St. Joseph's Prep — 6-4, 275 junior
Nate Bruce, Harrisburg — 6-5, 305 senior
Dorien Ford, Baldwin — 6-4, 295 senior
Josh Gaffney, Central York — 6-4, 315 senior
Athlete
Tanner Hess, Hempfield — 6-0, 185 senior
Tyler Merwarth, Quakertown — 6-0, 185 senior
Malik Cooper, St. Joseph's Prep — 5-9, 170 senior
DEFENSE
Defensive Line
Josh Miller, Seneca Valley — 6-2, 230 senior
Braelin Moore, Freedom — 6-3, 285 junior
Nick Yagodich, St. Joseph's Prep — 6-4, 240 senior
Seth Griffiths, Central York — 5-9, 190 senior
Bralen Henderson, Pittsburgh Central Catholic — 6-3, 255 senior
Nassir Jones, Williamsport — 6-2, 220 senior
Linebacker
Jeremiah Trotter Jr., St. Joseph's Prep — 6-2, 220 senior
Jack Smith, Central York — 6-0, 210 senior
Nathan Hoke, North Allegheny — 6-3, 225 senior
Tamir Jackson, Easton Area — 5-9, 215 senior
Jason Henderson, Delaware Valley — 6-0, 210 senior
Defensive Back
Sammy Knipe, State College — 6-1, 215 senior
Troy Corson, Wilson-West Lawn — 5-10, 180 senior
Malachi Bowman, Central Dauphin — 5-10, 165 senior
Abdul Sabur Stewart, Coatesville — 6-1, 190 senior
Keenan Nelson, St. Joseph's Prep — 6-2, 190 junior
Specialist
Spencer Biscoe, Hempfield — 6-4, 185 senior
Athlete
Shane Hartzell, Pennridge — 6-0, 220 senior
Matthew Cusatis, Hazleton Area — 5-11, 160 sophomore
PLAYER OF THE YEAR: Kyle McCord, St. Joseph's Prep
COACH OF THE YEAR: Gerry Yonchiuk, Central York