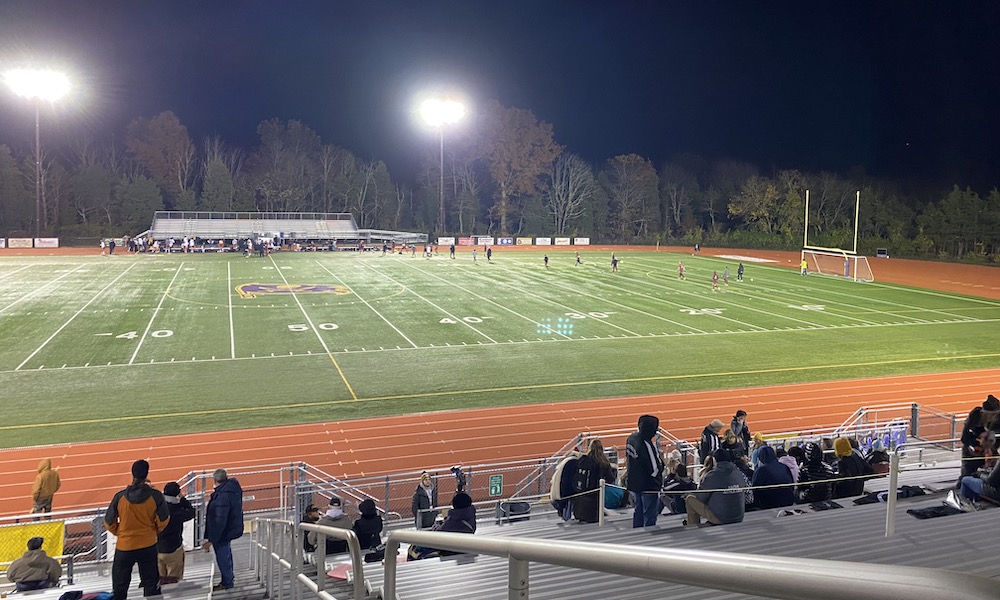 With a brisk November wind, fans from Faith Christian and Moravian Academy headed down to Palisades High School for the PIAA 1A Boy's Soccer Semifinals. Walter T. Rohrer Stadium filled up with parents and students for the fierce match up.
Faith Christian was the defending PIAA 1A State Champions and Moravian Academy wanted revenge after losing to Faith Christian in the quarterfinals last year. Although the temperatures were in the low 30s, neither side was going to let a little cold stop them.
The first half was exciting with Faith Christian in control much of the time. #9 for the FCA. Lions, Colin Moyer, started the pressure with an early goal attempt in the sixth minute that bounced off the right goal post. Though this was a relief for Moravian, Moyer had his moment a quarter into the game when he shot one into the net and gave Faith Christian the lead, 1-0. Unfortunately after Moravian composed themselves, a few minutes later, their leading scorer Gennaro Mazzella was sidelined with an injury. Faith Christian struck again seeing this weakness with Moyer's second goal and the assist to A.J. Kara. The FCA Lions had the lead at the half, 2-0.
The second half was no different and Faith Christian added an insurance goal by Kieran Rea. With just two minutes left to play, the FCA Lions solidified their win with a goal by Christopher Evans. Although Moravian goalie Vinnie Lamberti allowed four goals, Faith Christian's win was a team effort and Lamberti finished the game with six saves.
Tuesday's loss marks the end for Moravian Academy's season and moves on Faith Christian to the PIAA 1A Championship. They'll play at Hersheypark Stadium against Winchester Thurston on Saturday.