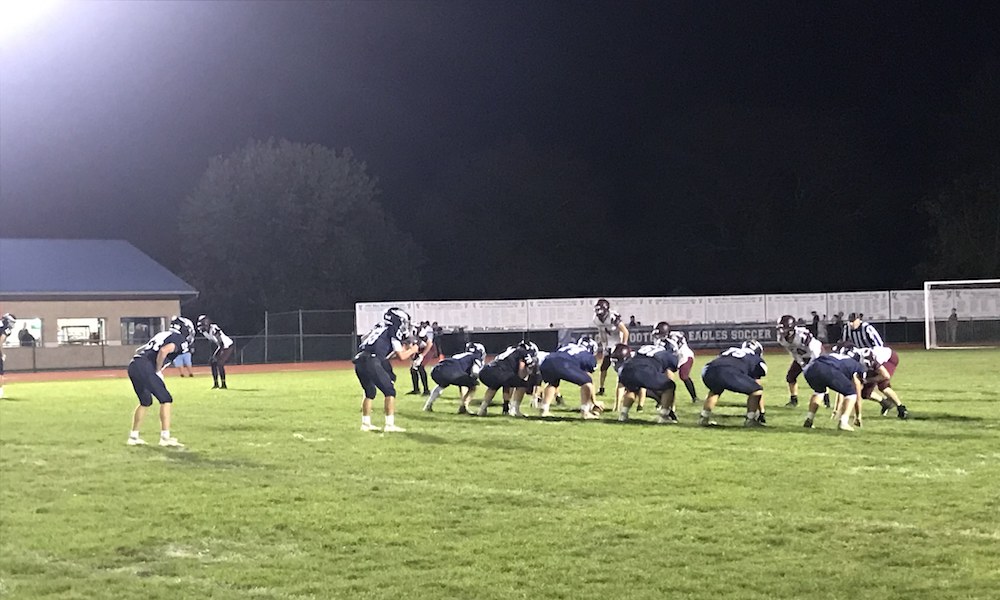 The Blue Mountain Eagles welcomed the Lehighton Indians for a Thursday night football match. The game was also live streamed on YouTube as the D11Sports game of the week. Blue Mountain entered the game with a record of 2-3, while Lehighton entered with a 1-4 record.
Lehighton had their troubles early on with a mishandled snap between center Brendan Zimmerman and quarterback Brady O' Donnell. Blue Mountain recovered the ball on Lehighton's 20 yard line. Blue Mountain scored on the very next play on a 20-yard pass from quarterback Will Jacobson to Gavin Guers to take an early lead 7-0. Lehighton drove down the field on the next possession scoring on a seven-yard shovel pass from O' Donnell to Hunter Crum.
After an unsuccessful two-point conversion, Lehighton trailed 7-6. The Eagles answered right after scoring again on a 20-yard pass from Jacobson to Carson Kerstetter making the score 14-6 nearing the end of the first quarter.
On Lehighton's next series, Tyler Miller picked off O' Donnell and took the ball back 51 yards for the score giving Blue Mountain the lead 21-6 over Lehighton. Lehighton fought back on the ensuing drive, scoring on a 14-yard pass from O' Donnell to wide receiver Ethan Buchert. O'Donnell hit Luke Blauch for two yards creating a successful two-point conversion. Heading into halftime, Blue Mountain had the edge 21-14 over Lehighton.
After stopping Blue Mountain's opening second half drive, Lehighton took over on their own 35-yard line. O' Donnell led the Indians to another score on a 15-yard touchdown pass from O'Donnell to Buchert once more. Lehighton took their first lead of the night after a successful two-point conversion on a jump pass from Crum to Blauch. The Indians led over the Eagles 22-21 with just over eight minutes to play in the third quarter.
Blue Mountain did not go down easy, stuffing Lehighton on a fourth-and-one to take over on Lehighton's 29-yard line. On the very next play, James Seaman ran 29 yards for a Blue Mountain touchdown giving them the 29-22 lead after a successful two-point try from Jacobson to Guers. Blue Mountain added another touchdown on a one-yard run by Guers. The Eagles won the game by a score of 35-22 over Lehighton. "I'm happy with the way we finished," said first year head Coach Tom Gallagher, ''We faced a little adversity throughout the game and we responded well. This win definitely helps us moving forward with our season."
Blue Mountain improves to 3-3, while Lehighton falls to 1-5. Tyler Miller was named the D11Sports player of the game. For racking up two interceptions on the night, one being returned 50 yards for a touchdown, "It feels great, but it was a team effort," Miller said. "Everyone was key. It was all a team effort," Miller added. Blue Mountain will look to keep their winning streak alive as they travel to Northwestern Lehigh who are currently undefeated on the season. The game is scheduled to kick off Friday, October 8th, at 7:00PM. Lehighton's next game is Friday, October 8th, at 7:00PM as they welcome Bangor Area who are 3-3 on the season.