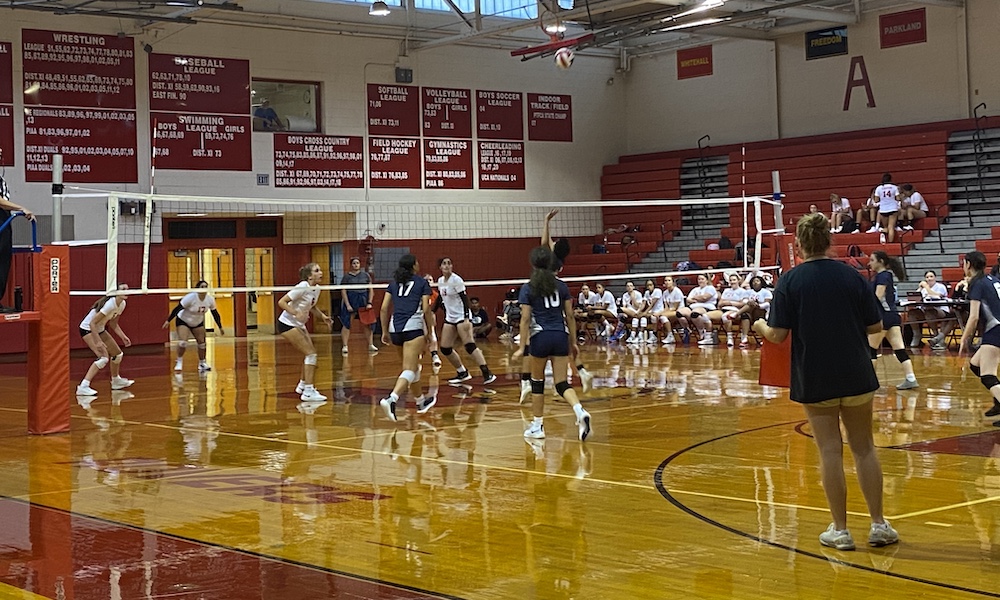 On Tuesday evening, the Easton Area High School Girls Volleyball team hosted their first volleyball match of the season against Louis E Dieruff High School. Easton picked up their first win against the Dieruff due to their resilience and hard work put forth by the Red Rovers.
With the opening set, Easton had a strong lead throughout the entirety of it, only allowing Diefuff to gain points through little mistakes. Key returning player, Hannah Swinsburg, a junior, was able to ace the Huskies during the first set with her powerful serve. The score of the first set was 25-9.
With Easton finding their groove, the second set ended up similarly, replicating the dominant score of the first set, ending at 25-9, with Easton defeating Dieruff. This set was led by Easton's junior setter Samantha Nagy and senior Libero Kaitlyn Kaine. They showed significant skills on the court.
However, the Huskies did not make it easy for the Rovers throughout the third set. The team pulled together and were able to put many points on the board throughout the course of the third set, often matching Easton's points throughout the set. Dieruff's Sophomore Diana Fuentes aced the Rovers. The first half of the set was 9-8 Easton, however Easton answered with four back-to-back points, making it 13-8. Yet, the Huskies weren't finished. Dieruff answered, tied it to 13-13, which upped the intensity of the match. It was a back-and-forth match, with many lead changes. Nevertheless, Easton won the match at 25-21.
The Easton Girls volleyball team took victory in three sets, gained their first win and are ready to take on Bethlehem Catholic High School in the team's next match Thursday.
First set: 25-9 Easton
Second set: 25-9 Easton
Third set: 25-21 Easton