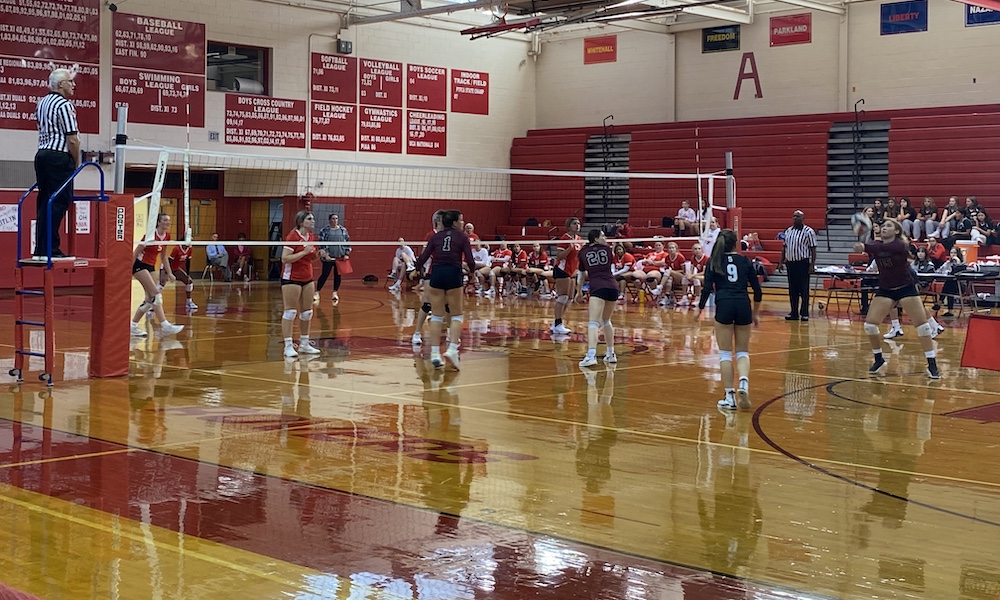 On Tuesday evening, Easton's Girls Volleyball senior night took place against Stroudsburg. The Easton Girls Volleyball seniors are: Hailee Hall, Kaitlyn Kaine, Avery Kaufmann, Emma Li, Shania Napoleon, Jaylyn Ortiz, and Mackenzie Sikora.
At the beginning of the first set, it showed to be a back-and-forth match between the Red Rovers and Mountaineers. However, when Easton's Emmi Li was able to make two aces twice in a row, it brought the set to 11-6. The Red Rovers had a new emergence of confidence within the team. The score of the set was brought up to 23-10 in favor of Easton.
Stroudsburg tried to make the comeback as the team was able to score five consecutive times. Yet, the Mountaineers came up short. Easton got the final point due to Stroudsburg hitting the ball into the net to win it for Easton. The first set score was 25-16, Easton.
The second set began the same way, a back-and-forth match. This all changed once Easton's junior, Olivia Keckler, went into the match. Her remarkable serves enabled her to ace Stroudsburg several times throughout the set. Due to the power she put on her serves, the Mountaineers failed to return four serves in a row, thus earning her team four consecutive points. To win the set, Easton's sophomore Adriana DeFrancesco served the ball. The Mountaineers failed to return the ball over the net because the girls ran out of hits on the ball. The second set score was 25-11, Easton.
Immediately, Easton scored the first three points on the third set. Keckler got two kills in a row, which made the set score 5-2. Stroudsburg was able to tie the score at 5-5, while they only gained points through Easton's mistakes. To get the Red Rovers back on track, the girls scored five consecutive points which made the score 11-6. Additionally, Easton's sophomore, Tika Jones, displayed a powerful presence throughout this set. She aced Stroudsburg three times in a row and played a prominent role in each play.
The Red Rovers showcased a confident and united team. The girls came up with a score of 23-10. This score failed to stay due Stroudsburg's attempt to comeback in the final set, as the Mountaineers gained five points. A crucial mistake was made by Stroudsburg, however, when the team hit Easton's serve out of bounds, which gave Easton the win. The third set score was 25-15, Easton.
The Easton Girls Volleyball team will travel to Dieruff High School to take on the Huskies for a second time on Thursday, September 29, in hopes of gaining another big win.
First set: 25-16, Easton
Second set: 25-11, Easton
Third set: 25-15, Easton