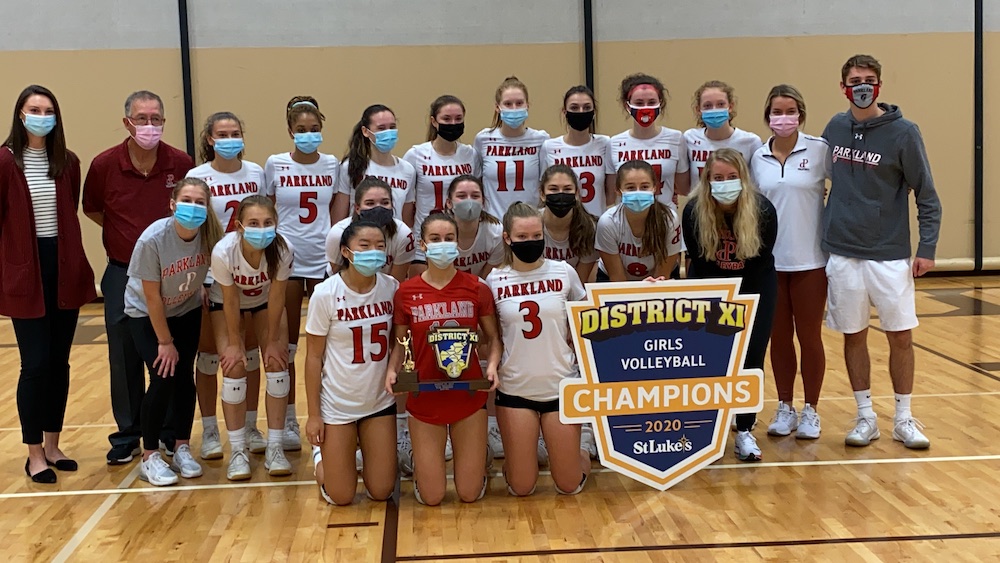 For the third straight year, rivals Parkland and Emmaus went head to head for the District XI 3A Girls Volleyball Championship at Catasauqua High School. The two teams met twice during the regular season with Parkland winning 3-0 and most recently 3-2.
Parkland headed into the match as the favorite as they were vying for their 7 straight championship and 10th in the last 11 years. With no East Penn Conference playoffs this year because of the Covid-19 pandemic, this was a big opportunity to take home the hardware.
Parkland checked into the matchup at 10-0 in league play and 12-0 overall, while the Green Hornets came in at 8-2 in the EPC and 10-3 overall. When it was all said and done, the Trojans left the gym undefeated capturing their 7 straight District XI championship 25-15.25-14,25-17.
Junior Brynn Dreisbach and Sophomore Scarlett Jago led the Trojan attack with 11 kills each. Dreisbach also added 10 digs while Leah Brunnabend finished with a team high 12 digs. Jackie Malitzki also was a big factor in this match finishing with 26 assists.
Parkland Head Coach Mike Krause, now in his 17th year, is 333-55 to go along with ten District titles and three state crowns. Last year, the Trojans reached the PIAA final four, losing to Bishop Shanahan in the semifinals. The PIAA tournament gets underway for Parkland on Saturday November 14, against District 2 Champ Delaware Valley in the quarterfinals.