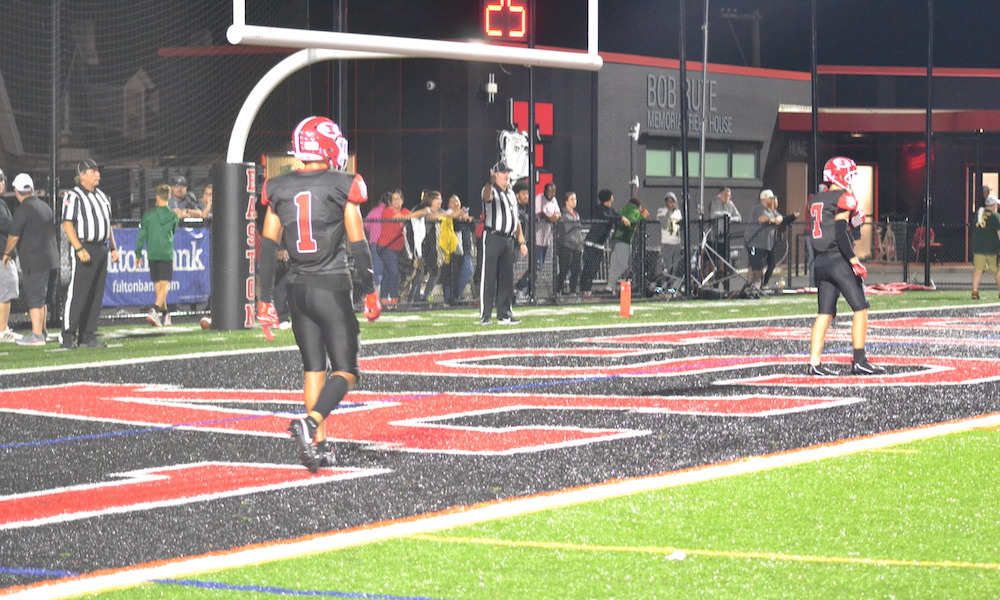 The Lehigh Valley's game of the week was Easton vs. Emmaus. Both teams came into the game with a 3-3 record and looked to boost their spot in the EPC standings. Easton came out strong and Emmaus shut the game down quickly. Final score, 42-14.
Easton started the game strong with a pick-six by senior, number seven, Logan Braido. The Rovers missed the extra point and started the game with a 6-0 lead. That would be one of two touchdowns for the Red-rovers. Emmaus marched right down the field and took the lead with a one-yard touchdown run by senior, number 35, Jasiyah Banks. He had a hat trick with three rushing touchdowns and achieved D11 Player of the Game. The Green Hornets scored 35 straight unanswered points.
The Red Rovers eventually scored on a touchdown pass from sophomore quarterback, number two, Cole Ordway to junior star wide receiver, number one, Jassir Frutchey. This would be the second of only two touchdowns for the Rovers. Emmuas' defense smothered Ordway getting hits and sacks all night. Lineman, number 72, Mario Landino pressured Easton's offensive line and landed big hits on Ordway all night. Emmaus looks to keep the momentum going next week against the Liberty Hurricanes. As for Easton, they look to improve at practice next week to face the Freedom Patriots.
Both teams came in looking to be aggressive but in the end, Emmaus took home the win. Both teams play a Bethlehem School next week. Emmaus looks to keep the momentum going. As for Easton, they are looking to get a bounce-back win.
Final score Emmaus-42, Easton Area-14@goredrovers @EastonFootball @EmmausFootball @piaadistrictxi @eastpennconf18 @SLUHNSportsMed @D11Sports pic.twitter.com/5ByO9Uga5s

— Winston Hornik (@wins94670) October 7, 2023
Easton strikes with a TD pass caught by Jassir Frutchey!!! Score is now 35-14 in favor of Emmaus.@goredrovers @EastonFootball @EmmausFootball @piaadistrictxi @eastpennconf18 @SLUHNSportsMed @D11Sports pic.twitter.com/NbZXmybpOc

— Winston Hornik (@wins94670) October 7, 2023
Emmaus breaks this game wide open with a touchdown run. Score is now 28-6 in favor of Emmaus!! @goredrovers @EastonFootball @EmmausFootball @piaadistrictxi @eastpennconf18 @SLUHNSportsMed @D11Sports pic.twitter.com/WDOFcEiMNy

— Winston Hornik (@wins94670) October 7, 2023
Rover nation bringing the energy to Cottingham @goredrovers @EastonFootball @EmmausFootball @piaadistrictxi @eastpennconf18 @SLUHNSportsMed @D11Sports pic.twitter.com/ktePgwwFd4

— Winston Hornik (@wins94670) October 7, 2023
Emmaus breaks the game open 14-6 with a one yard touchdown run!!! @goredrovers @EastonFootball @EmmausFootball @piaadistrictxi @eastpennconf18 @SLUHNSportsMed @D11Sports pic.twitter.com/78TkPCBlgE

— Winston Hornik (@wins94670) October 6, 2023
Emmaus takes the lead with a one yard TD run score is 7-6 in favor of Emmaus @goredrovers @EastonFootball @EmmausFootball @piaadistrictxi @eastpennconf18 @SLUHNSportsMed @D11Sports pic.twitter.com/LKlsRNpjzx

— Winston Hornik (@wins94670) October 6, 2023
Emmaus comes right back with a rushing touchdown!!!! Score is now 42-14 in favor of Emmaus.@goredrovers @EastonFootball @EmmausFootball @piaadistrictxi @eastpennconf18 @SLUHNSportsMed @D11Sports pic.twitter.com/h7fVT3uAz3

— Winston Hornik (@wins94670) October 7, 2023