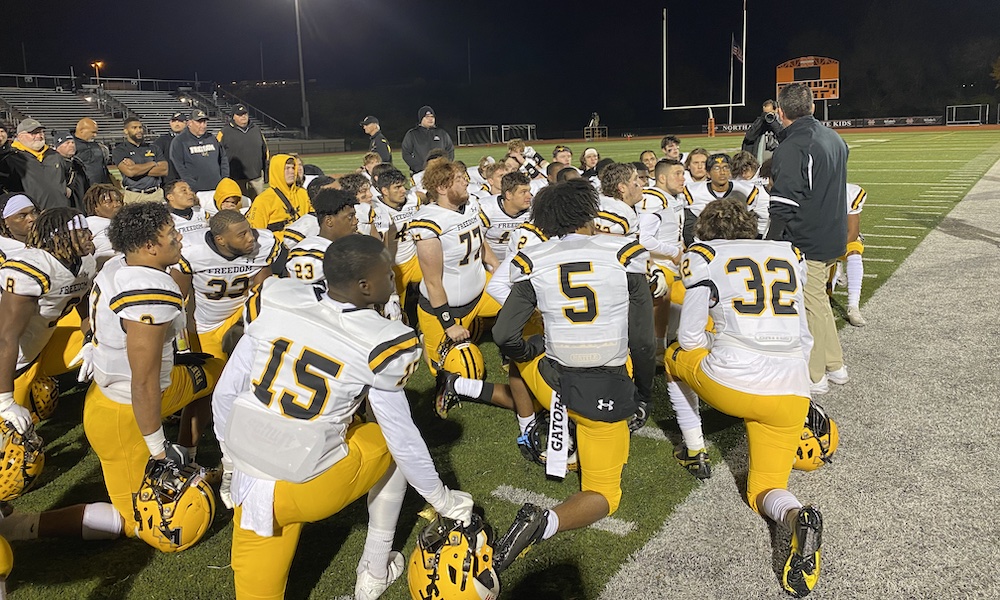 NORTHAMPTON – Freedom got a late touchdown run by Jalen Fletcher as the Patriots gave Northampton their first loss of the season, 21-9 in the District 11 Class 6A semifinals at Al Erdosy Stadium.
Freedom had touchdown runs of one and 65 yards by senior quarterback Brian Taylor on their first two possessions to take a 14-0 lead in the first quarter.
"It was great to come out and get a 14-0 lead," said Freedom Head Coach Jason Roeder. "But, you've got to maintain that a little better."
Taylor rushed for 145 yards on 13 carries while passing for 43 yards and three interceptions.
Northampton's defense settled down and came up big in the first half. Tristen Pinnock had two interceptions and they held the Patriots' scoreless the rest of the first half.
"All year long our defense has done a great job," said Northampton's Head Coach John Toman. "Our kids have never been in this position. I think they settled in and I thought we played a good three quarters after that."
Northampton finally got on the board. Kicker Vincent Santostefano calmly kicked a 42-yard field goal with 3:30 left in the third quarter to cut into Freedom's lead, 14-3.
The Konkrete Kids trailed 14-3 heading into the fourth quarter. They got their third interception of the night. Caden Reph picked off the pass and returned it to Freedom's 30. Cooper King hit Caden Henritzy on a screen pass that went 35 yards for the score. The Patriot's lead was shrinking, 14-9.
King led Northampton's offense with 129 yards passing and one touchdown.
In the end, the Konkrete Kids were 1-for-4 in the red zone.
"We came up a little short offensively in the red zone," said Toman. "We moved the ball on them and gave ourselves a chance to win in the fourth quarter."
Freedom's offense answered on their next possession. Freedom used their ground attack as Fletcher capped off a seven-play drive with a five-yard touchdown run. The Patriots extended their lead with 4:31 remaining in the game.
"I like the way we finished," said Roeder. "We bent a little more than what I liked on defense, but I am proud of the stops we got in the red zone."
Freedom's defense was strong in the end as the Patriots move on to the District 11 Class 6A Finals.
Up Next
Freedom plays Emmaus who defeated Parkland 21-14 in the other District 11 6A SemiFinal game.
| | | | | | |
| --- | --- | --- | --- | --- | --- |
| Final | 1st | 2nd | 3rd | 4th | Final |
| Freedom (10-2) | 14 | 0 | 0 | 7 | 21 |
| Northampton (11-1) | 0 | 0 | 3 | 6 | 9 |
1st Quarter
FR – Brian Taylor 1-yard run (Zeyad Ragab Kick good)
FR – Brian Taylor 65-yard run (Zeyad Ragab Kick good)
3rd Quarter
N – Vincent Santostefano 42-yard field goal
4th Quarter
N – Caden Henritzy (2-point conversion no good)
FR – Jalen Fletcher (Zeyad Ragab Kick good)