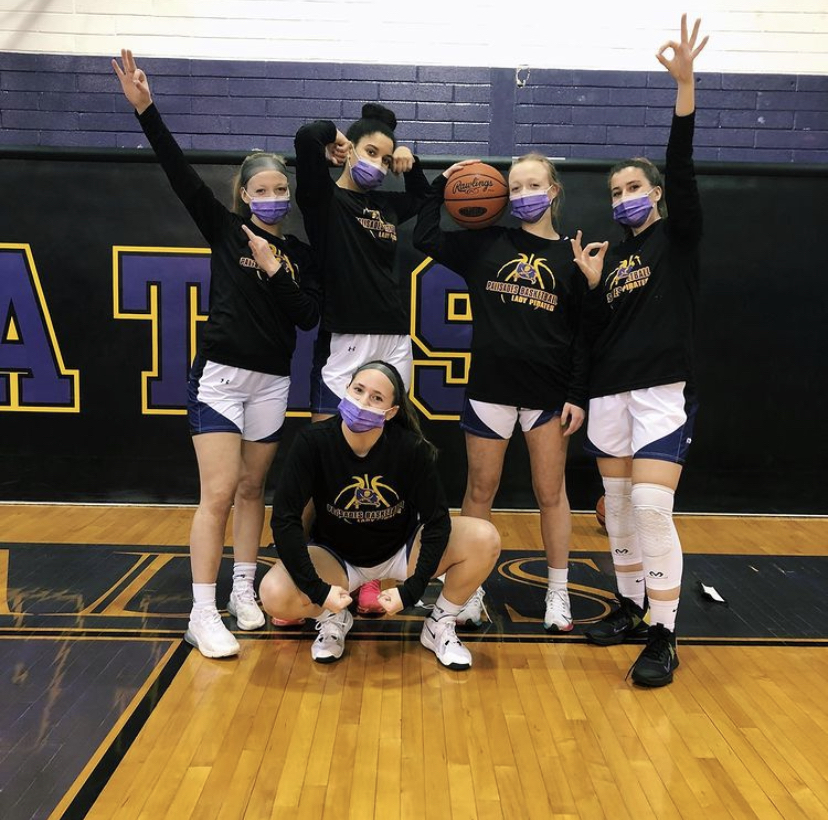 The Palisades Girls' Basketball Team is headed into the District Semifinals against the #2 seed, Palmerton, on Saturday. The team is coming off of a 53-45 win against Northern Lehigh on Thursday night. Their regular season finished 8-8.
I had the opportunity to speak to head coach Dietz over the phone and ask him questions about the team and season. This season is Coach Dietz's second year coaching the Girls' Varsity Basketball Team. The questions and responses are provided below:
Q: How has the season gone for your team so far?
A: This year really has been a tale of two seasons. We started off with Trinity Williams hitting a milestone of 1,000 career points in our first game. This was very exciting for her as well as the team, because within our program, achievements are team achievements. We then fell by losing two straight, but came back to win seven in a row. Unfortunately, we lost the next six to finish the season 8-8, but we did have some detrimental injuries from Williams and Sydney Odle that hurt our playing. Though we have had ups and downs, the team should be proud of how they've played and extremely happy to have made it this far.
Q: How has Covid-19 impacted your season?
A: Covid-19 has impacted everything! Our team was extremely lucky to be able to play our full schedule that we were given at the beginning of the year, except for one game. But that game luckily wasn't Covid-19 related and instead due to weather. I am extremely thankful to the administration for being very progressive and to all the staff including Brian Gilbert for making the season happen. Of course the team had to cooperate with all of the Covid-19 protocols, and the mask mandates were challenging, but overall we were just lucky to have a season and to be able to play.
Q: What is the next step for the team?
A: Well tomorrow we play at 1pm against Palmerton, who is the number two seed, and then if we win that we will be playing in the District Finals. It is obviously important to take every game one at a time and to just put your best foot forward every game.
Q: What are the core values for the team?
A: Our basketball program is a basketball family. We are going to win together and lose together. I mean, for the season we usually spend more time together than with our own families. We are going to help each other get through the difficult times and to celebrate the good ones. One of the most important things that this team stresses is accountability. The girls, as well as the coaches, need to take responsibility for their actions because that is the only way to keep moving forward and progressing as a team.
Q: What does a usual practice look like?
A: Our practices change throughout the season. In the beginning we focus more on fundamental drills and as the season progresses, we focus more on specific aspects of the game. We still do a lot of running, but the focus switches to specific game planning. We do film work and a lot of preparing for each individual game. One of the most important things that we stress is preparing both physically and mentally. Mental prep is just as important as practices, as well as keeping a good diet during the season.
Q: What are the team's strengths this year?
A: Our number one strength is the ability to get along. This year we have seven seniors, which is obviously a strong advantage, but we also have a mixture of younger players too. We are still learning as a team, but we are also building a strong girls' basketball program. This year we were lucky enough to have enough players for a seventh and eighth grade team, a freshman team, a jv team, and a strong varsity team. Giving more and more people the opportunity to play will help to build up the younger generations and help the Palisades Girls' Basketball program to be committed to multiple seasons, not just the one that we are playing right now.
I want to thank Coach Dietz again for his time and wish the Palisades Girls' Basketball program luck in the upcoming Districts, and future seasons to come.
*responses are not in Coach Dietz's exact words*