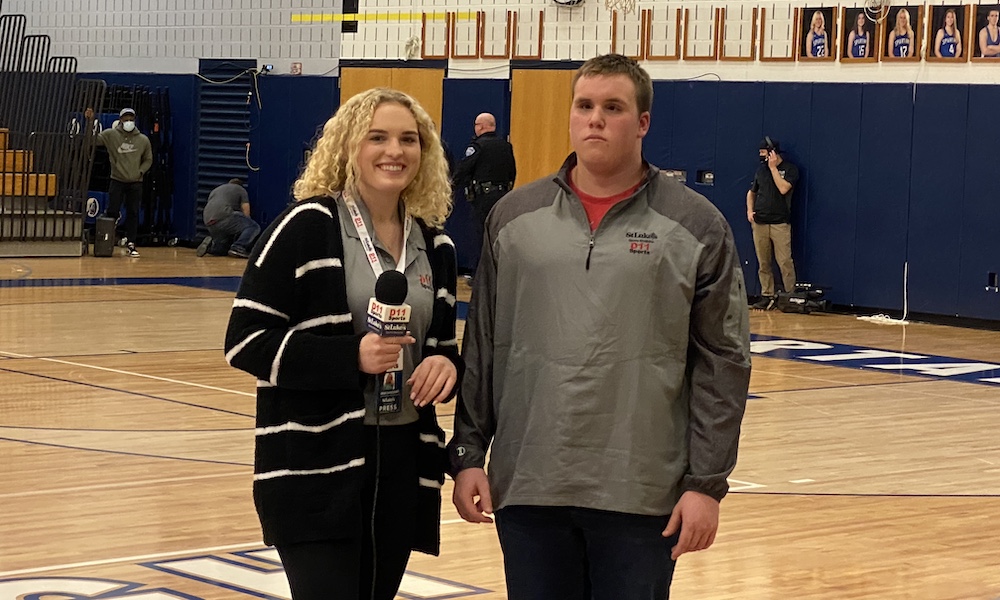 The Notre Dame Southern Lehigh boys basketball game on Thursday was a back-and-forth thriller, but the game being great was only a small part of a terrific experience.
When the D11sports team scheduled this game to be live streamed on their YouTube channel, I was very excited to watch my homeschool battle against one of the top teams in the area. When they asked me to report on the live stream, I was so excited because this had been a lifelong dream of mine.
I had the date circled on my calendar for about a month and was extremely excited when it finally arrived. From the minute I walked in the door, we discussed how the stream would run. We knew we had to make different arrangements with me not being able to see the cues from the bleachers. With the help of student reporter Keiran Lencheski, a senior at Notre Dame high school, we were able to figure out a system that helped me know when to start talking or to start the interview.
I got to share coaches' thoughts in the pregame, interview a coach at halftime, and interview a coach and player at the end of the game. I was so nervous at the start of the stream but Al Di Carlo, Ben Tannous, and Keiran made it very easy for me. This really speaks to how close the D11Sports team is and how well they work together.
Going through my life, there are many obstacles that I've had to overcome, but I always try to remember this, "It's not about waiting for the storm to pass, it's about learning how to dance in the rain." With the help of some outstanding people over my lifetime, I have been able to achieve some great things. That day was so important to me. I think it really showed that the only limits we should ever have are the ones we put on ourselves.