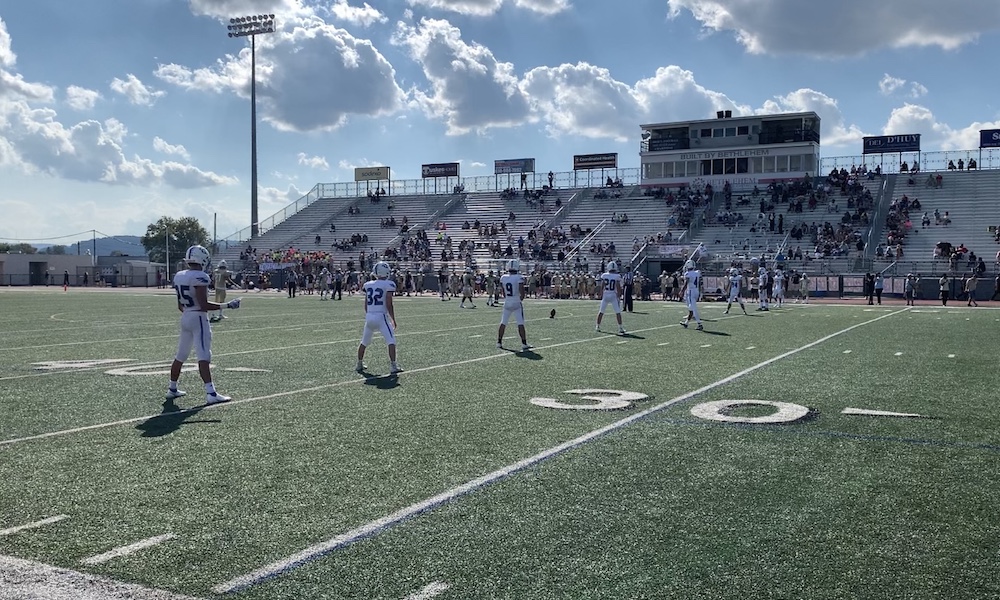 Saturday made for quite the spectacle of a game for Nazareth and Bethlehem Catholic fans alike at BASD Stadium. After Nazareth suffered a crushing defeat the week prior against Parkland, they were determined to bounce back and shoot for victory. As for Bethlehem Catholic, they were determined to uphold a winning streak after having recently dominated the Pocono Mountain West Panthers 55-7.
Bethlehem Catholic had a very strong start against Nazareth. Within the last 50 seconds of the first quarter, Bethlehem Catholic scored a 31-yard field goal against Nazareth, before then recovering their fumble and scoring a touchdown.
Nazareth's Tyler Rohn carried a 12-yard touchdown into the end zone. This brought the score to 10-7 by the end of the first quarter.
In the second quarter, Bethlehem Catholic continued to assert dominance over Nazareth. Bethlehem Catholic scored a three-yard touchdown to bring their score up to 17, before Nazareth responds with a touchdown of their own, trying to tie the score ever so closer to Bethlehem Catholic, 17-14.
This closeness was short-lived though, since Bethlehem Catholic went on to kick another field goal. After maintaining a strong defense against Nazareth, Bethlehem Catholic then received the ball yet again to throw a nine yard pass for another touchdown.
By halftime, Bethlehem Catholic held a strong lead against Nazareth with the score being 27-14. Some Nazareth fans began to pack their bags and leave the game early, but unbeknownst to them, the winds were about to shift in Nazareth's favor.
Bethlehem Catholic had a very strong start to the third quarter, with Quarterback Jared Richardson running a 33-yard touchdown into the end zone. Bethlehem Catholic's Antonio "Izzy" Ramon-Dobbins proceeded to intercept a Nazareth pass before scoring a 41-yard touchdown. With the extra point being scored, Bethlehem Catholic kept a strong lead, 41-14, with eight minutes left in the quarter.
Despite their strong showing throughout the game, this would be the last time that Bethlehem Catholic was able to score against Nazareth. Nazareth Quarterback Sonny Sasso threw a 36-yard pass into the end zone. After this, two more touchdowns would follow, and Nazareth brought the score to 41-35 at the end of the third quarter.
Going into the fourth quarter, Bethlehem Catholic was determined to maintain their lead, while Nazareth was looking to tip the balance in their favor. Throughout the final quarter, the game had hit a standstill. No teams had scored for over eight minutes, before Sasso threw a 30-yard pass to Jake Hilarczyk, tying up the score. Kicker Chris Bugbee followed through with the extra point, gaining a one point lead over Bethlehem Catholic. All that was left for Nazareth was to hold off Bethlehem Catholic's offensive line for the last four minutes of the game and steal a stunning victory just under their noses.
With another victory under their belt, Nazareth currently holds a 3-1 record and is expected to play against Freedom this coming Friday at Nazareth's Andrew S. Leh Stadium. As for Bethlehem Catholic, they currently hold a 1-3 record and are expected to be playing against Liberty at BASD Stadium this coming Friday.