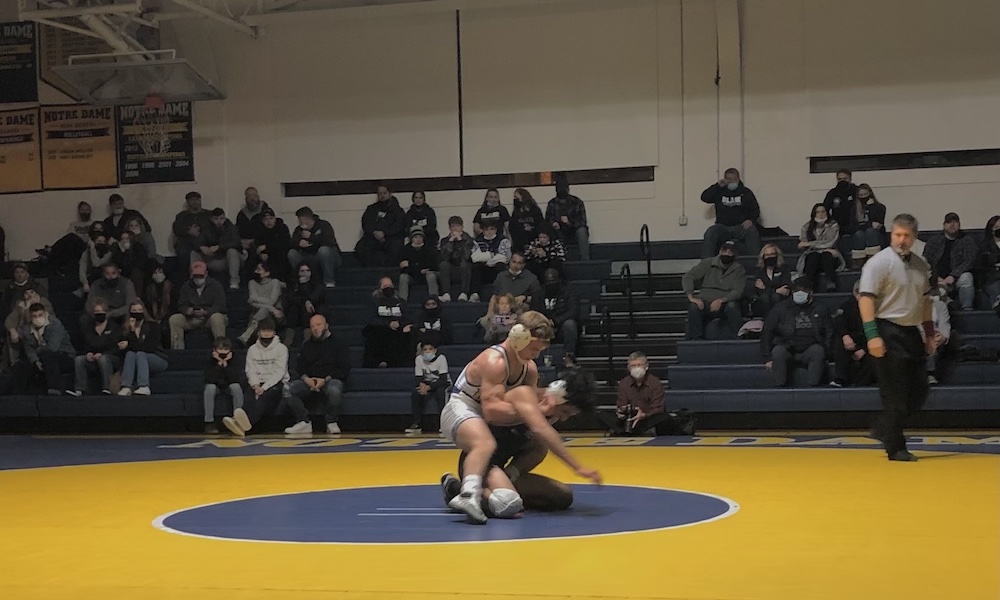 The Notre Dame (Green Pond) High School wrestling team played host to Blair Academy in what was a challenging night for the Crusaders.
The match started at weight class 106 when sophomore Ayden Smith won by forfeit. Then, at 113, Blair Academy's Leo DeLuca defeated Notre Dame's Cooper Feltman by fall.
Then, at 120, there was a double forfeit. At 126, Blair Academy's Matthew Lopes defeated Crusaders Jacob Wehr by fall.
At 132, Blair's Ibrahim Ahmed defeated Notre Dame's Brandan Chletsos by decision.
At 138, Blair Academy's Paul Ognissanti defeated Crusaders Bryson Vaughn.
At 145, Blair's Will Henckel defeated Crusaders Keegan Ramsay by tech fall.
At 152, Blair's Nick Kunstek defeated Notre Dame's Evan Maag by decision.
At 160, Blair Academy's Lorenzo Norman defeated Notre Dame's Holden Garcia by decision.
At 172, Blair's Daniel Wask defeated Crusaders' Garrett Tettemer by tech fall.
At 189, Blair Academy's Roman Martinez defeated Notre Dame's Joey LaPenna by fall.
At 215, Blair's Isaac Schmidt defeated Crusaders' Jared Blobe by fall. Finally, at 285, Blair Academy's Thomas Stewart defeated Notre Dame's Mason Ludlow by tech fall.
The gym at Notre Dame was packed with enthralled fans from both teams. Notre Dame fell to Blair Academy with a final score of 52-6. Blair Wrestling, the current number two team in the country, faced a well fought battle from the Crusaders.
The Crusaders look toward their next in-league match versus Northern Lehigh on Tuesday, January 11th at 7pm at Northern Lehigh.