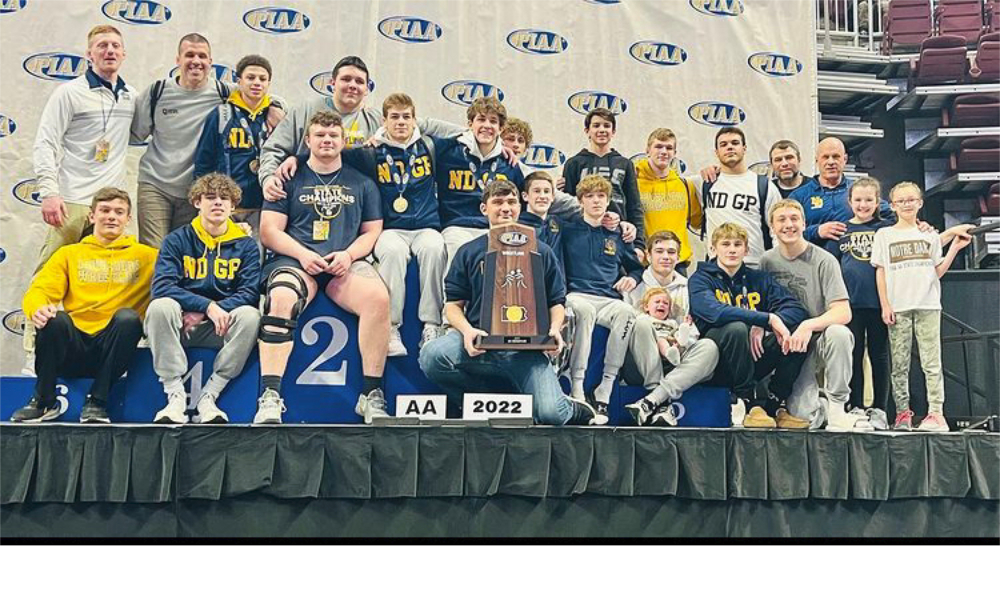 As a D11 reporter, I have had the distinct pleasure of meeting various teams throughout this past year, but none were more welcoming than Notre Dame wrestling whose impressive work ethic and true camaraderie were inspiring.
For my season end wrap up of ND wrestling, I reminded Head Coach Matt Veres about our pre-season conversation in November and inquired as to whether or not he felt the season met his expectations. He began by telling me that "[their] mountaintop every year is the individual state tournament." As a program, that tournament is their main focus and it is the tournament where they want to qualify as many wrestlers as possible providing them with the opportunity to win a team championship, individual championships, and individual medals. Coach Veres felt that the "Ironman tournament was the turning point in [their] season." He did not feel that the team had a great performance at the tournament and left Ohio very disappointed. Coach indicated that he and his staff "did a lot of self reflection" which allowed them to understand the necessary adjustments they had to make to allow their team to develop and improve in the months ahead. After that tournament, he felt that the ND "wrestlers improved drastically which was evident by [the] team's individual performance and results in the remaining tournaments on [their] schedule." When Coach Veres and his team started at Notre Dame four years ago, it was their goal to address the culture of the program more than anything. They aspired to have the toughest schedule in the United States in order to expose their wrestlers to the nation's best. Coach explained that he wanted to develop a mindset in his wrestlers so that they did not shy away from competition and accepted every challenge. Coach reported that they were "not concerned with records, but we[re] concerned with wrestling and seeing the best as often as possible." They did not fear losing, but instead" embraced the losses which enabled crucial development both physically and mentally." Coach Veres saw the team's dual meet with Bethlehem Catholic as the most exciting dual meet in the country this year! Each step built on the last, and the coaching staff felt even the losses taught valuable lessons on which to grow.
Every season has peaks and valleys, and Coach said it was their "job as a staff to manage [the] team through those tough times." He felt the team had a setback at the team tournament where they lost to Saucon Valley, and that the loss allowed their team to hit another level in the individual postseason which was evident by how the team performed at districts, regionals, and states. He said "you see teams perform pretty well in the team tournament, but then they fall off towards the last month of the season, but our guys peaked in March which is always our main goal." As a program, they apparently talk about the individual tournament all the time because Coach feels his wrestlers will remember their individual performance at that tournament for their entire life. He feels that ending their career or season on "their terms" at that tournament is the most important thing. ND wrestlers completed the last day 5-0, undefeated, which allowed them to win that team title. Coach reported that the Crusaders qualified 11 wrestlers for that tournament and every wrestler was crucial in that team race, so it was a full team effort.
Coach Veres speaks very highly of his Crusaders wrestlers, and believes that his wrestlers this year and in years past "live inspired lives." He indicated how hard his boys work and that they never miss a work out — a fact which cannot be see from the outside of the walls of the wrestling room at ND where most of the hard work happens. He believes that one of the most important aspects of Notre Dame's wrestling program is their strength training program run by Matt Veres, Sr., who Matt, Jr., considers (personally and professionally) one of the best strength training coaches in the country. This fact is apparent through the results and physical condition that the boys have on the mat. ND has a unique system that is "old school power movements" while living by the motto "push heavy iron". Coach Veres credits much of the "program's success to Matt Sr. and his dedication to [their] weight training system."
Coach Veres also indicated that he is very grateful to have been able to win three state championships in four years. He credits the "rise of the program to the parents and wrestlers who believed in [their] vision as a wrestling program." Further, he indicated that the program is "very fortunate and grateful to have such a great group of wrestlers through the years and just absolutely amazing parents, family, friends, and alumni behind it all." He also appreciates ND athletic director, Amy Rogers, whom he says believed in them "from day one and has given [them] the freedom to chase goals by traveling the East Coast to see the best competition." This past championship was partcularly special to the coaching staff, as this group of seniors were the first group of wrestlers to start with the Veres team at Notre Dame. He considers these seniors the "pioneers" behind the program, and passionately reports that these boys have had a "profound impact" on all of their lives. The Notre Dame Coaching Staff has skilled coaches who are also role models for the team. Coach Luke Deluise started with ND four years ago and has had a great influence on upper weights. Coach Nino Morici is a proud Notre Dame alum who provides much knowledge and guidance to all of wrestlers. Coach Brad Ungar has been a cornerstone for the team, and according to Veres, the wrestlers can always turn to Brad for a good 'pep talk and friendship". Coach Matt Sr. is often considered the heart of the wrestling program, as his involvement and relationship with the wrestlers is incredibly special.
Like any successful program, Coach Veres reports that "the ND wrestling program has some naysayers, but that is a part of life and [they] understand that." Coach says that their staff has so much passion and so much love for their boys, which is evident in their coaching and in the success of these wrestlers. He reports that it is the "best feeling for a coach is to see a proud parent hug their son and just tell them how proud they are of them". He says the team does not involve themselves in monitoring rankings or online commentary because there are many opinions out there and they "know who [they] are and what [they] represent as a program." Coach reports that what matters to them as a program is their "internal program pride, love, and passion for each other." They are thankful every day to be a part of the Notre Dame wrestling family from top to bottom. They, and we, look forward to years ahead and the growth of Notre Dame wrestling.