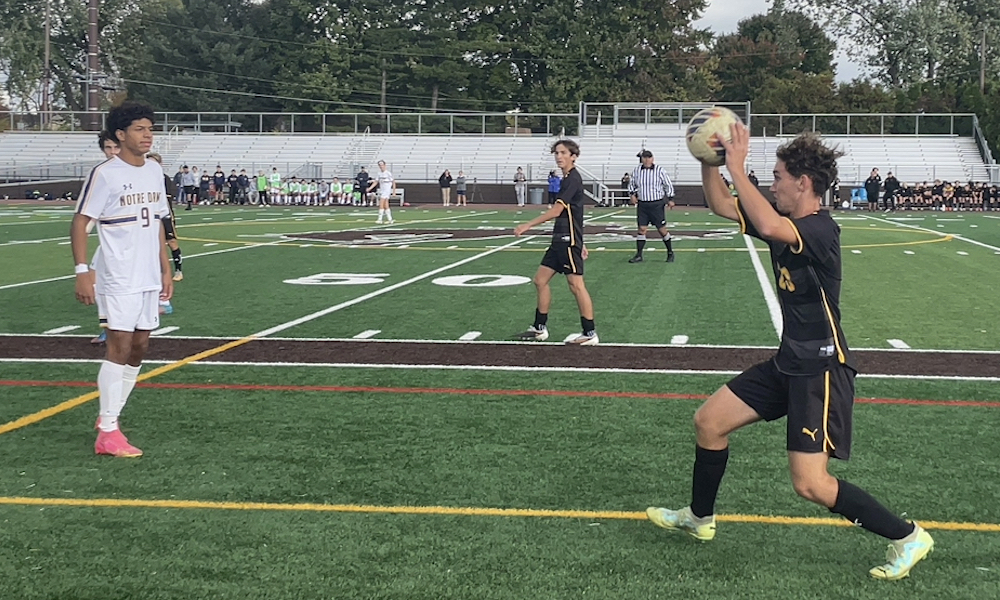 The Colonial League Championships for soccer took place on Saturday, at Catasauqua's Alumni Field. Northwestern Lehigh was the first seed for both boys and girls, and the Tigers lived up to their records by bringing home gold. The girls faced the sixth-seeded Moravian Academy Lions and had a shutout win with a score of 5-0. The boys saw the second-seeded Notre Dame Green Pond Crusaders and earned the title with a 3-1 win.
Moravian Academy beat out the second and third-seeded teams, Saucon Valley and Palisades, before advancing to the final with the Northwestern girls. The first half of the game saw an even match between the teams, both with strong defense and an offense that was just falling short. At the very end of the first half, with 2:39 remaining, the Tigers set the tone for the rest of the game with a goal by freshman Sophia Schaffer, assisted by senior Camryn Fitch.
Early in the second half, the Tigers banged out three goals. Fitch had two and assisted the other one to junior Paige Bissell. With under fifteen minutes remaining in the game, Fitch capped her outstanding game with a hat trick, putting the score at 5-0. The Lions had solid attempts at fighting back but the defense on the other end was sound. The score of 5-0 held until the end and the Northwestern Lehigh Tigers captured the championship. The Tigers also went undefeated in all of their Colonial League games.
The boys' game kicked off with a Northwestern goal by sophomore Logan Mesics. Notre Dame responded with one of their own by junior Paul Hartman. The score stayed tied 1-1 for the first half. Both teams played an intense and aggressive game and got their own shares of yellow cards.
In the first minute of the second half, senior Isaac Frey of Northwestern headed in a corner kick from junior Jack Mauro. It looked like the Crusaders would make a comeback at any moment, but the Tigers kept their energy high and did not let up. The final goal of the game was by freshman Cole Mertz, who ran up on a solid pass from senior Matt Johnson, and sent it in with 9:34 left in the game. The Tigers added another win to their undefeated record and got the league title back after last year's loss in overtime to Southern Lehigh.
Both the girls' and boys' Northwestern teams will move into the District XI 2A playoffs as the first seed. On October 31st, the girls will see the winner of Wednesday's fourth and fifth-seed matchup between Saucon Valley and Bethlehem Catholic. The boys will face the winner of Monday's game between the eighth-seeded Nativity and ninth-seeded Collegium Charter on Wednesday at home.

Northwestern goal by #6 Sophia Schaffer! With 2:39 left in the first half the Tigers lead 1-0. pic.twitter.com/3i5FqlLJlr

— Alivia Bear (@AliviaBear484) October 21, 2023
#7 Camryn Fitch for another Northwestern goal!
Score is 2-0 with 32 minutes left in the game. pic.twitter.com/edezMQuaZF

— Alivia Bear (@AliviaBear484) October 21, 2023
#19 Paige Bissell for ANOTHER Northwestern goal! 26:19 remaining. Tigers lead 3-0. pic.twitter.com/HpUjKkznRw

— Alivia Bear (@AliviaBear484) October 21, 2023
Camryn Fitch for another Northwestern goal! The Tigers have full control in the last 23 minutes of the game. pic.twitter.com/YEmKIiG1s8

— Alivia Bear (@AliviaBear484) October 21, 2023
Another one for Camryn Fitch to give her a hat trick!
With 13:50 to go the Tigers lead 5-0. @D11Sports pic.twitter.com/I3zn99yHrH

— Alivia Bear (@AliviaBear484) October 21, 2023
Northwestern secured the Colonial league championship title with a score of 5-0!
Congrats to the Tigers and shout out to Camryn Fitch who had 3 of the 5 goals!

Northwestern will now be the first seed moving into the 2A district playoffs.@D11Sports pic.twitter.com/nYPneogR3d

— Alivia Bear (@AliviaBear484) October 21, 2023
Northwestern goal with 24:15 remaining by #10 Logan Mesics!@D11Sports pic.twitter.com/ynTEw9kbux

— Alivia Bear (@AliviaBear484) October 21, 2023
#10 Paul Hartman for a Notre Dame goal!
Score is tied 1-1 with 17:17 remaining in the half. @D11Sports pic.twitter.com/n9uAgmluE8

— Alivia Bear (@AliviaBear484) October 21, 2023
Jack Mauro assist to Isaac Frey for a Northwestern goal to start the half!

Tigers lead 2-1@D11Sports pic.twitter.com/vxgXunZIdh

— Alivia Bear (@AliviaBear484) October 21, 2023
Freshman #1 Cole Mertz with a goal for Northwestern! Assist by #7 Matt Johnson.
Score is 3-1, Tigers lead with 9:34 left.@D11Sports pic.twitter.com/n3P438RHbx

— Alivia Bear (@AliviaBear484) October 21, 2023
The Northwestern Tigers are your Colonial League Champions!

The score held til the end and the Tigers beat the Crusaders 3-1.

Northwestern will be seeded 1st going into the 2A district playoffs. @D11Sports pic.twitter.com/iSZlzHyUVp

— Alivia Bear (@AliviaBear484) October 21, 2023