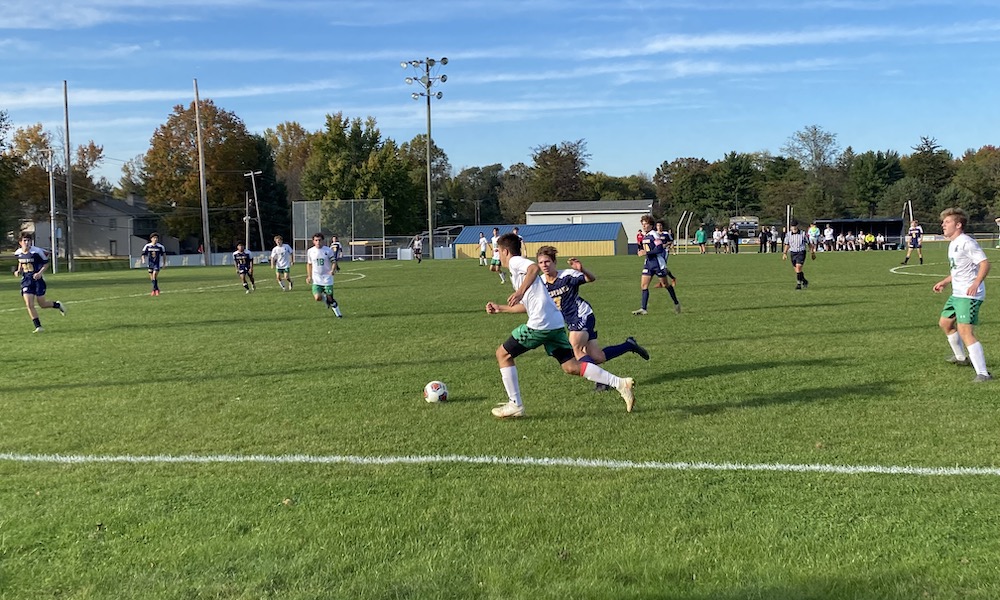 The Notre Dame Crusaders faced the Pen Argyl Green Knights on Thursday evening for the District 11 quarterfinals. As the number two seed with a bye, this was Notre Dame's first District playoff game while the seven seed Pen Argyl beat Tamaqua earlier in the week with a score of 2-0.
It was a beautiful day for some soccer and kickoff was at 3:30pm. In the opening minutes play was very back and forth. The Crusaders struck first with a goal in the first six minutes. Quickly after, Notre Dame tried for their second with senior Francesco D'Avella with the kick, but teammate Brendan Boyle headed the ball out of bounds.
Play continued in the first half with Crusader Cameron Bohn giving the assist to Boyle, who attempted a goal shot but missed wide. With 11:53 on the clock, the game had its first injured player, Dylan Corsetti, who got hurt after sliding to prevent the ball from going out of play. Ten seconds after play continued, Notre Dame scored their second goal of the night. That ended the scoring for the first half and the game went into halftime with the Crusaders winning 2-0.
The second half started off slow with both sides battling for the first goal. In the first twenty minutes there were five shots taken for a Crusader goal, with two attempted by senior Matthew Benolken, but Pen Argyl goalie Mason Beers was too quick and blocked each shot. With 22:32 left on the clock, D'Avella was kicked to the ground and walked off the field injured.
Pen Argyl started to gain momentum and kept control of the ball for the middle of the second half. Crusader goalie John DeMelia had his hands full and saved an amazing goal kick to keep the Green Knights off the scoreboard. After a Pen Argyl player left the field injured with 14:48 left in the game, the Green Knights scored big with their first goal of the night, changing the scoreboard to 2-1.
Though important for morale and no longer being shut out, that goal was the end to the Green Knight's luck. With less than five minutes left, Notre Dame's Ryan Miller scored his first goal of the night, giving the Crusaders their insurance goal. Shortly later, the Crusaders were given a penalty kick. Goalie DeMelia was given the opportunity and sneaked a goal past the Green Knight goalie.
The game ended with Notre Dame winning 4-1 and advancing to the District 11 semifinals. They will be playing the winner of the Palisades vs. Nativity game which was played later Thursday evening. This loss signals the end of Pen Argyl's season.
An executed penalty kick by @ND_Crusaders goalie finishes the game. Notre Dame wins 4-1 against the @PAGreenKnights and move on! Congratulations to the Crusaders on their District playoff victory! ⚽ #d11sports @D11Sports @Colonial_League pic.twitter.com/9gYpxO1joT

— Allie Wenskoski (@alliewenskoski) October 28, 2021