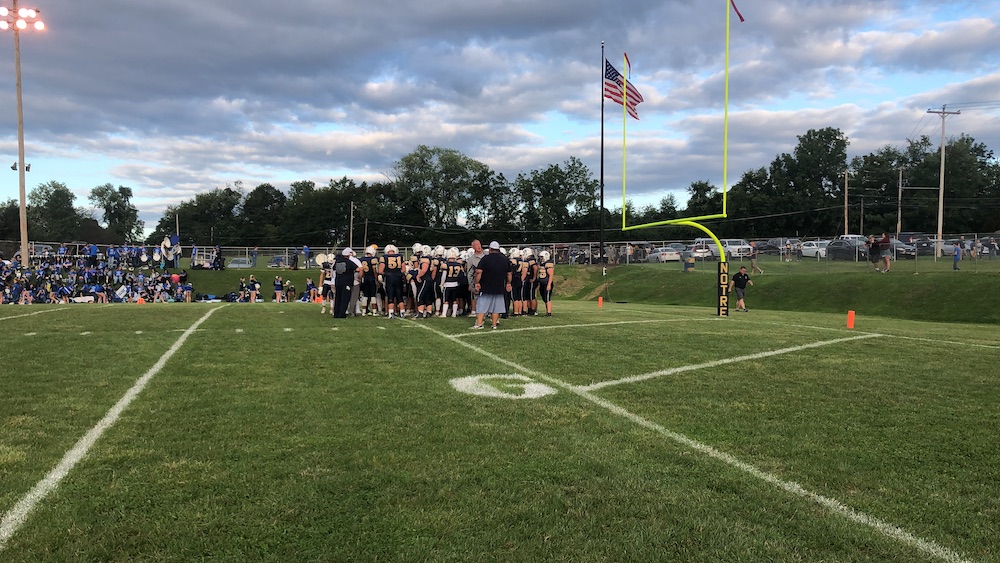 The Notre Dame Crusaders had a successful home opener versus the Spartans of Southern Lehigh Friday night. In a little under four minutes into the game, Crusader Jayden Becker scored with a 39-yard touchdown. The PAT was good making the score 7-0 Crusaders. Southern Lehigh quickly came back with a 19-yard run to tie the score 7-7 at the end of the first quarter. Notre Dame responded right away in the start of the second quarter when WR Gavin Gibbs scored with a ten-yard TD pass. The PAT failed to convert. The score was 13-7 Crusaders. With 8:33 left in the second quarter, ND took over on downs as the Spartans failed to convert, placing ND on the 14-yard line. Notre Dame QB Collin Quintano handed off to Alex Cruz, Jr. for a 25-yard TD run.
The Crusaders went for two, but were unsuccessful. The score was 19-7 Crusaders with 6:52 left in the second quarter. The Crusaders then scored by Trevor Shay after an 80-yard TD run. The PAT was good. The score was ND 26-SL 7 with 4:11 left in the half. Southern Lehigh was then unable to convert on their next possession and punted the ball with 2:28 to go. ND was charged for running into the kicker. Notre Dame found themselves in the same position and punted after their subsequent possession. A Crusaders interception and 74-yard run by Antonio Caiazzo ended in a score. Tarif Muhammad successfully completed the two point conversion.
The first half ended with a score of ND 34 – SL 7. Early in the third quarter, Southern Lehigh scored. The PAT was good. The score then was ND 34 – SL 14. Notre Dame WR Tarif Muhammad had a 92-yard pass completion and run for the next ND score. The PAT was good, making the score ND 41- SL 14 with 7:09 to go in the third quarter. The remainder of the third quarter was uneventful and Q3 ended with the Crusaders leading the Spartans 41-14.
The fourth quarter started with a completed 14-yard pass from Quintano to Gavin Gibbs for a score. The extra point was no good for the Crusaders, placing the score at ND 47 – SL 14. After Southern Lehigh was unable to convert on their next possession, ND took over on downs with 9:15 left in the game. Crusaders' Sophomore Michael Manlove added to the scoreboard after a short run. After a missed PAT, the score was 53-14.
Friday night's game was a beautiful night for both football and the Crusaders, as the game ended with a final score of Notre Dame 53 – Southern Lehigh 14.