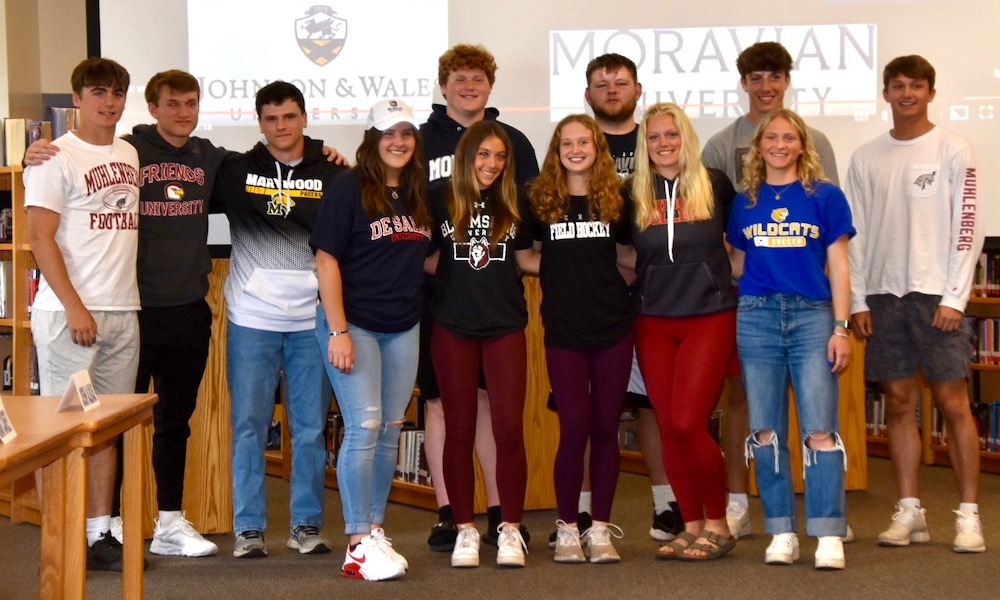 The PHS Class of 2022 is full of student athletes, with 12 signing to further their academic and athletic careers and take their next steps as athletes. May 12th was signing day at Palisades High School and each athlete got their turn to announce their commitment in front of friends, family, and administrators. Below are those who were honored.
Nick Petrillo – Muhlenberg College – Football
Petrillo will be furthering his education and playing football at Muhlenberg College as part of the class of 2026. He wants to major in business and plans on being a business owner one day. Nick chose Muhlenberg because "the bond between the football team on and off the field was like no other," and the college also offers opportunities for his major. When asked about his experience on signing day, Petrillo said, "it was all [his] hard work paying off."
Josh Alkas – Marywood University – Baseball
Alkas is committed to Marywood University to play baseball. He plans on majoring in secondary education and chose Marywood because it felt like the best fit for him. Playing baseball in college is the next step for Alkas as he is excited to continue "playing the game that he loves." When asked about signing day, Josh said he liked it because it was fun.
Katelyn Shoemaker – Kings College – Track & Field and Field Hockey
Shoemaker, the only dual sport committed athlete for Palisades, signed with Kings College with a planned major of early education. Selecting Kings was easy since "they have a really good education program, they are small but a tight knit community, the coaches are nice," and she is able to play both field hockey and track and field. Katelyn thought signing day was really nice as so many seniors were recognized for their accomplishments and celebrated for their future plans of being an athlete in college.
Sammie Trickel – Mercy College – Field Hockey
Trickel is attending Mercy College to play field hockey. She'll be majoring in international business with a minor in Spanish. Mercy College was simple as they have her exact major, "an amazing campus, and is the perfect size." She also wanted to be close to her family and have the opportunity to "continue to play the sport [she] loves." Sammie loved signing day and gave thanks to Palisades Athletic Director Brian Gilbert for making "it special for each athlete."
Jaden Newton – East Stroudsburg University – Baseball
Newton, a multi-sport high school athlete, will be playing baseball for East Stroudsburg University. He plans on majoring in business management and chose ESU because it was "the best fit" and showed a lot of interest in him. Jaden thought signing day was special because his friends, family, teachers, and coaches were all there for support.
Kylie Schmidt – Johnson and Wales University – Soccer
Schmidt is committed to Johnson and Wales University and will continue to play women's soccer. She plans on majoring in business administration and possibly minoring in accounting. Choosing Johnson and Wales was an easy decision because "it felt like a family right away," and she "fell in love with the city of Providence." Schmidt liked signing day because she was able to learn more about her classmates and see where everyone else signed.
Liam Carey – Friends University – Basketball
Carey signed with Friends University to play men's basketball. He is undecided for a major, but is considering business. Choosing to commit to Friends was an easy decision after his visit to the campus back in November. Additionally, getting a scholarship to play basketball was a childhood dream of his and being "able to achieve that dream was something that [he] just couldn't pass up." Even though Carey is going to school far away, he is looking forward to the opportunity to try something new. He thought signing day was a cool experience to see all his family, friends, and everyone who went to show support.
Liam Riexinger – Moravian University – Football
Riexinger is committed to Moravian University to play football. While he is undecided, he is considering majoring in business. Liam became a Greyhound because of Moravian's culture, location, and the atmosphere between the coaches and team. He is also excited about going to college in a city. When asked about signing day, Riexinger said it was a fun experience and it was "nice to have community support."
Nate Carr – Moravian University – Football
Carr signed with Moravian University and will continue to play football. He plans on majoring in business finance and chose Moravian due to its vicinity to home and that he was recruited to play football. When asked about signing day, Carr said it was a "great experience," and that he had fun taking pictures and celebrating all of the student athletes.
Kyle McGrath – Muhlenberg College – Football
McGrath is headed to Muhlenberg College to play football and plans on majoring in business. He chose Muhlenberg because he liked the campus, coaches, and "thought it was a really good atmosphere." He appreciated signing day because of the amount of community support.
In addition to the athletes listed above, Morgan Magditch and Angelina Day were also honored. Magditch will be playing field hockey at Bloomsburg University and Day is committed to Desales University, also to play field hockey.
Congratulations to everyone honored at Palisades signing day and good luck to all of the student athletes from the Class of 2022!