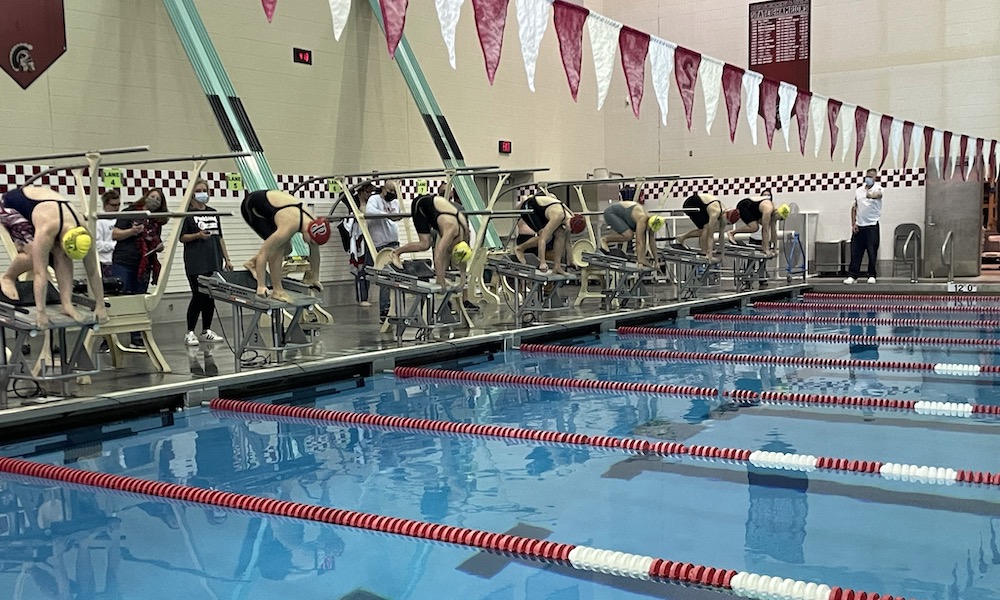 The Lady Trojans moved to 3-0 on the season with an exciting 98-88 win over their rival Green Hornets. The Parkland boys lost to Emmaus 123-60, falling to 2-1 on the season. This meet consisted of very fast swims with swimmers earning many season or lifetime bests, and lots of energy. This was a meet you did not want to miss and the packed Parkland natatorium enjoyed every moment of the night.
The Lady Trojans were down 32-30 before diving and needed a total team effort to pull out the victory. The Parkland divers led by Nicole Stofko's first place finish began the comeback. Senior Kayla Johnson continued to shine, winning both her individual events of the meet, the 50 free and 100 free. Sophomore teammate Madison Roseman placed well in these events too, adding two third places and much needed points. Senior Claire Weaver also won both of her individual distance events (200 free-500 free), alongside freshman Julianne Zaffiro who placed third and junior Sydney Platt who placed fourth in the 500 free to score for the Lady Trojans. Many of the Parkland girls achieved new lifetime bests, including senior Hillary Roth's 100 fly, 59.73 and sophomore Sophia Cerimele's 100 back, 59.86. Sophomore Sada Fleischaker and juniors Natasha Goldman and Ashley Settle placed second, third, and fourth in the 100 breaststroke to put more points on the board and secure the Parkland victory.
The boys put up a fight against Emmaus and had some notable efforts of their own. In the 200 IM, Nick Zaffiro placed a close second to Andrew Taylor of Emmaus. Zaffiro then placed first in the 100 breast with senior Harrison Kim placing third behind Emmaus swimmer Ryan DeJohn. Senior Luke Willard also had a good night, placing second in his 500 free and getting a new season best of 4:56.70. Willard was also third in the 200 free. Leading the 1-2-3 finish for the boy divers was Ethan Radio with a score of 264.05. Ryan Beltrame placed second in diving with a score of 190.30 and Bradley Kunz placed third with a score of 144.20.
Both Emmaus and Parkland were thrilled to have a meet together in front of a big crowd. This is what both teams needed to pump them up and prepare them for their upcoming meets. The next meet on the Parkland schedule will be away at Dieruff High School on January 6th. We expect to see fast swims after their holiday training.