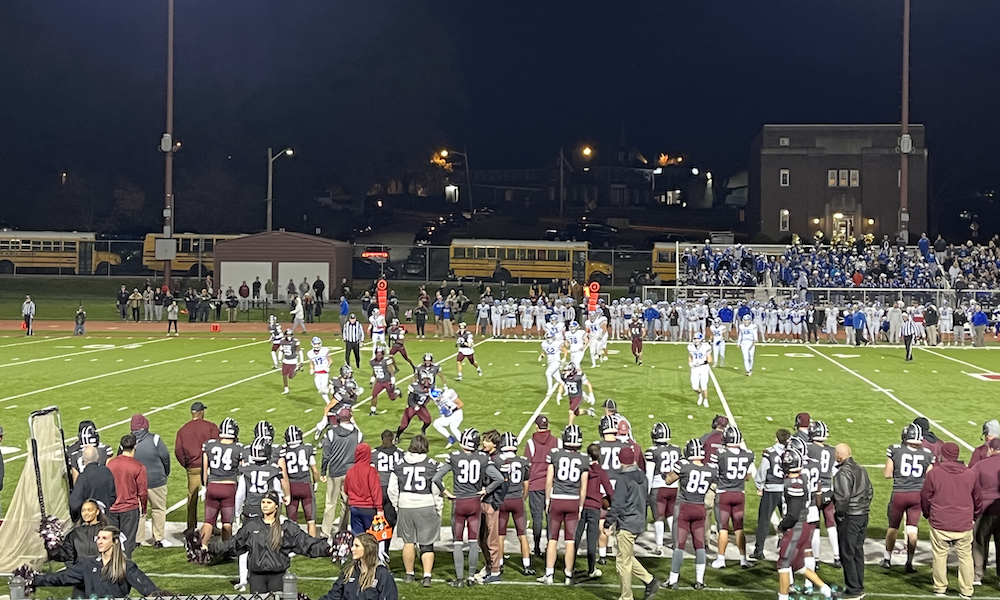 The first-seeded Phillipsburg hosted the fourth-seed Westfield for the Sectional Semi-Finals.
On the kickoff to begin the game, Westfield fumbled the ball and P'Burg recovered it. Sam Dech carried the ball and then John Wargo carried it in for a touchdown. The extra point by Colin Hoey was good. This put the Liners up early 7-0.
Westfield countered with a field goal, making the score 7-3 at the end of the first quarter.
Westfield fumbled the ball and PBurg's Ben Coury recovered. Jett Genovese passed to Kevin Burgess for Phillipsburg's second touchdown of the night. With a successful extra point, the Liners led 14-3 with 8:27 left in the half.
Westfield could not secure the football. They had another fumble that was recovered by P'Burg. John Wargo was able to convert it to a touchdown for his second of the night. Hoey's extra point put P'Burg up 21-3.
Westfield's got on the board when their quarterback, Maxwell Cho, passed to Enzo Ferrero for their first touchdown of the night. The extra point was good. The Liners led 21-10 going into halftime.
A pass to PBurg's Matthew Scerbo Jr. resulted in a Phillipsburg touchdown. With a good extra point, they led 28-10.
Westfield fought back with a touchdown pass of their own. The kick was good. The score was then PBurg 28, Westfield 17.
The back and forth continued. John Wargo had this third touchdown of the night, putting the Stateliners up 35-17.
Westfield answered back. Cho's pass to Ferrero was good. The Blue Devils trailed the Liners 35- 24.
Matthew Scerbo Jr. returned the kick for a long Phillipsburg touchdown. This put up the points on the board for the game, putting the Liners up 42-24.
Westfield was on the brink of scoring again when P'Burg's Cameron Bohal intercepted the ball near the endzone.
This Phillipsburg victory advances them to the next round of playoffs against Union City.