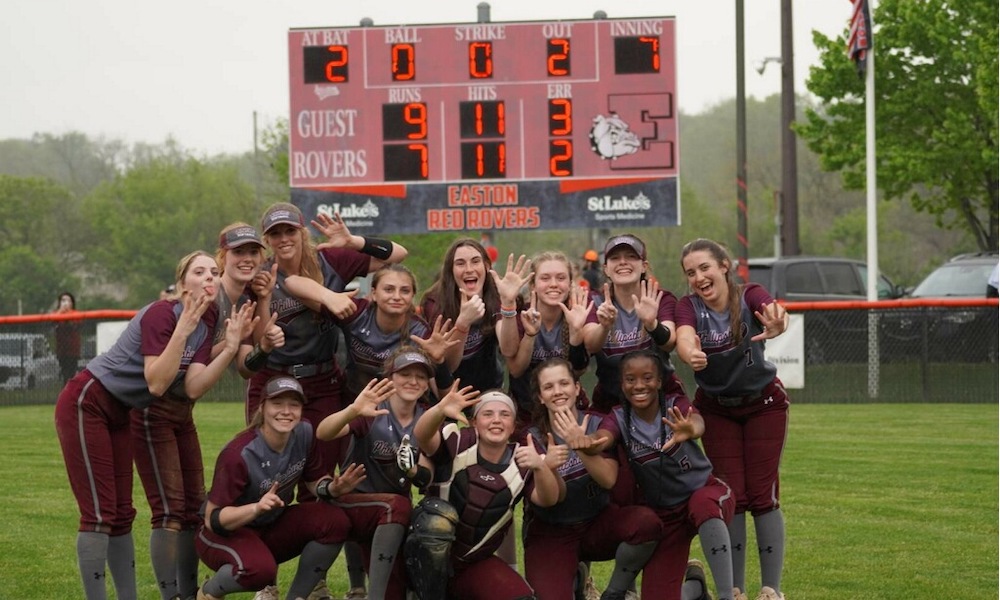 Easton softball hosted P'Burg on Friday afternoon. P'Burg went into the game looking to add to their five-year winning streak.
Easton's senior Emma Altermose took the mound to start the game for the Rovers. For the Liners, Theresa Luongo started on the mound. Both pitchers had a scoreless first inning.
In the top of the second inning, P'Burg began to rally. Sophomore, Paige Randazzo, started off the rally with a single. Junior Jordan Rinaldi singled after, advancing the runner. Pitcher Theresa Luongo came up to the plate and blasted a two-run double out to center field. To make the score 3-0, junior, Holly Markus, doubled and earned an RBI. After the P'Burg rally, the score was 3-0.
Continuing their momentum in the third inning, P'Burg's Maggie Segreaves hit a single. Then, freshmen, Ava Colontrelle singled. Phillipsburg was then able to score on an error, making the score 4-0. To add to the lead, sophomore Adrianna Taynor doubled, bringing in the run. Phillipsburg took the early lead 5-0 in the top of the third inning.
In the bottom of the third inning, Easton fought back. They scored on a single, making the score 5-1. Easton scored a second time in the inning on an error. At the end of the third inning, P'Burg led Easton 5-2.
In the bottom of the fourth, junior Addie Fornaciari took the mound for Phillipsburg. Easton was able to score on a sacrifice bunt. Easton stole home making the score 5-4. Fornaciari got out of a tough inning with a strikeout.
To start off the fifth inning strong, Easton's Natalie Scuorzo doubled. Giana Fredericks doubled and brought in the run to tie the game up.
The sixth inning was of the utmost importance to Phillipsburg's game. They started off the inning with a single from Randazzo. Next, Taynor earned a single from a bunt. Luongo singled. With the bases loaded, junior Holly Markus stepped up to the plate and blasted a grand slam over the left-field fence. Earlier this week, Markus was named Skyland Conference player of the week. This grand slam put P'Burg up 9-5.
In the bottom of the seventh, Easton began to come back, looking for victory. Sara Clymer singled. Fredericks brought in the run, earning an RBI, making the score 9-6. Sophomore Cieara Barreiros singled, bringing in another run. With a close game and the victory on the line, Addie Fornaciari had a huge strikeout, making the second to last out of the game. Phillipsburg pulled out the win, defeating Easton 9-7.
This game was the sixth year in a row that Phillipsburg defeated Easton. Junior Holly Markus had a strong game, going 2-4, with 5 RBIs.