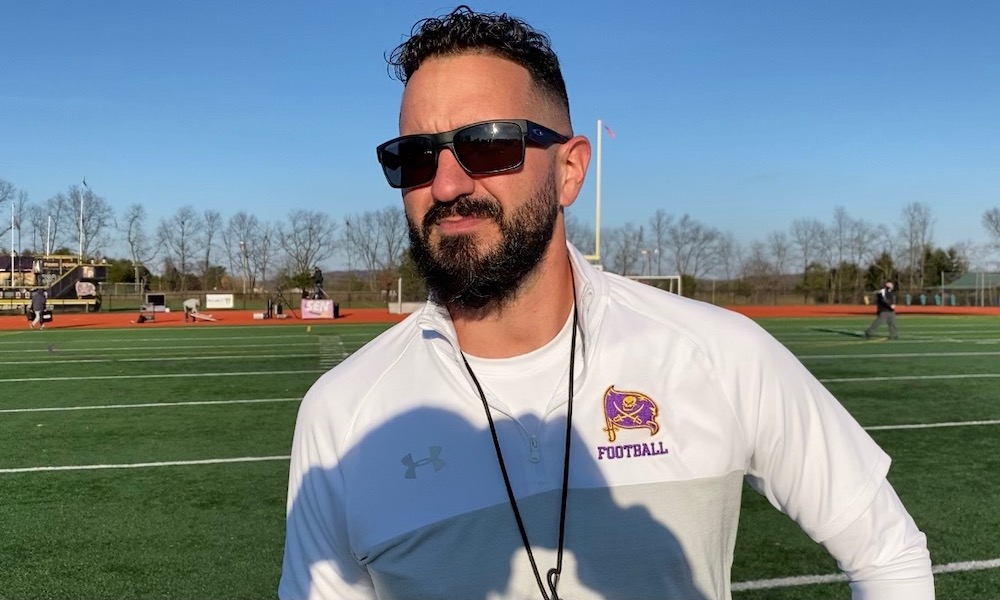 The Energizer Bunny: That is the best way to describe Ramie Moussa as he roamed the sidelines the last three years as the Head Coach of the Palisades Pirates. But, while Moussa will always give that energy in everything he does, he won't be doing it anymore for the Pirates, stepping down as Head Coach following a 2-8 campaign in 2021.
Moussa said, "First off, I'm just grateful for the opportunity- Brian Gilbert has been very good to me and very grateful for him and the administration at Palisades." He added, "I work for a really good company Samuel Adams Boston beer and that's the only place I've ever worked for. I've been there for 11 years since I got out of college and it's time that I start sacrificing a little bit for them since they've done so much for me. I have to start living what I'm saying to the kids so that's really the biggest reason you know; it's the best community and it's hard to leave and that's what I will miss."
This past season, the Pirates were plagued by a number of major injuries, and they never really got on track, and while the wins didn't show it, the players played hard all year and never gave up. Palisades came into the 2021 season, with a lot of new faces, having graduated several skilled players on both sides of the ball. Players like Mason Smeland and Ben Haubert helped lead the Pirates to an 8-2 record during the Covid-19 shortened season in 2020. A season they will always remember as they captured the District XI 2A Championship over Northern Lehigh.
Moussa said, "It was it was a phenomenal year and if you go back and you look at the circumstances that we had to deal with in COVID and you know the administration fighting for us constantly, we dealt with a lot, and it was fun every step. The seniors worked their entire lives as they came up together and never won a championship. They had a goal, and it was so cool to see them get that goal and just to help them do it."
The 2020 season also featured kicker Delaney Hilferty going 45 for 45 in extra point attempts, leading to a roster spot at Kings College, where this year she became only the 5th female kicker to record a point in an NCAA game. Moussa said, "She's just a model student and a special person and that's just part of where she grew up. It's a product of her parents and it's a product of the Palisades community and that's what it is.
Moussa started coaching in 2011 for Tony Trisciani, who is now the Head Coach at Elon College. Prior to his stint at Palisades, he also served as an assistant coach to current Palisades Athletic Director Brian Gilbert, who was the Head Coach at Whitehall winning two District XI Championships. Gilbert said of Moussa, "I would like to thank Ramie for his time with Palisades Football and the commitment he made to the players and the team. His passion and energy will be missed."
Moussa said he will miss everything about Palisades, "The Palisades kids and I said this when I got there remind me of what the Whitehall kids were. The Whitehall kid is a special kid and I never thought I'd be able to find a community or culture that was similar, and Palisades lived up to that and it made me feel at home."
While Moussa is stepping away from the game for now, he is still looking forward to another opportunity to be back on the sidelines as a Head Coach or an assistant if the right opening turns up down the road. Moussa finished with a record of 13-17 during his three years as Head Coach of the Pirates.
Ramie Moussa, a class act in every sense of the word!
"IT MADE ME FEEL LIKE HOME." Those are the words of @MrMooza who stepped down after three years as the @Pirates_FB Head Coach. Ramie talked about Palisades community, his players, the @PIAADistrictXI Championship in 2020 and more. @PSDAthletics @palisdPHS pic.twitter.com/A4l5YSUMF7

— D11Sports (@D11Sports) November 3, 2021
MORE FROM @MrMooza!! He talks about big brother @larrymoussa and why he brings all his energy and passion to the game. He also talks about if coaching again is in his future, @88Hilferty, and a final message to all his players. @PSDAthletics @palisdPHS pic.twitter.com/GCDAMWiyfI

— D11Sports (@D11Sports) November 4, 2021