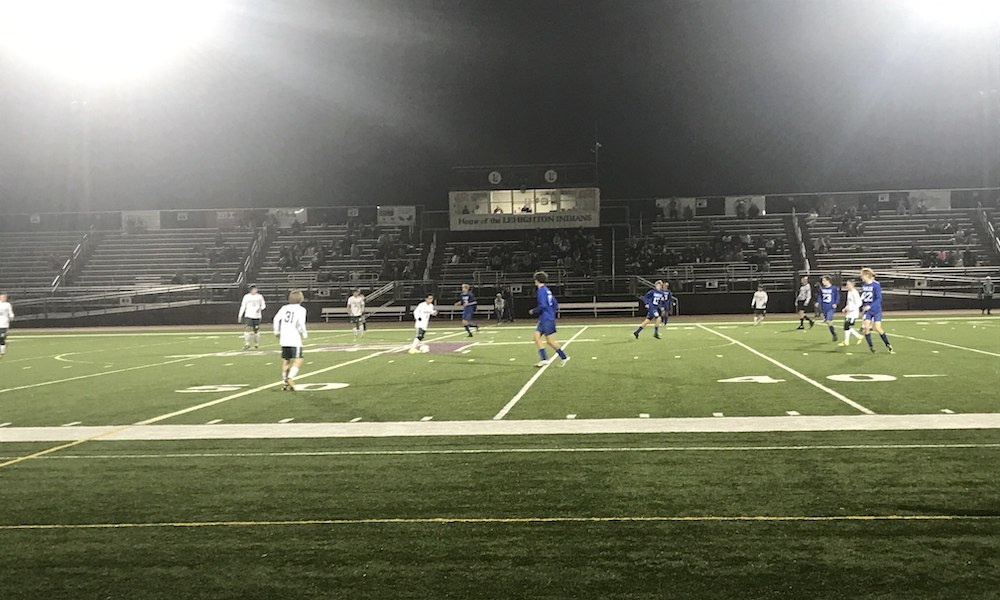 Game #1: Schuylkill Haven vs Pine Grove
Schuylkill Haven played against Pine Grove in the Boys Soccer Semifinal match at Lehighton. Schuylkill Haven entered with a record of 9-4, while Pine Grove entered with a 12-5-1 record.
Schuylkill Haven got on the board quickly to take an early 1-0 lead. Pine Grove tied the score up on a goal by Garrett Brandt with an assist from Hannevig. Pine Grove and Schuylkill Haven went into halftime tied 1-1. Out of halftime, Hannevig scored for Pine Grove giving them a 2-1 lead with 35 minutes remaining in the game. Minutes later, Hannevig scored again to give Pine Grove a 3-1 lead. With five minutes left to play, Hannevig recorded a hat trick scoring his third goal of the game giving Pine Grove a 4-1 lead. Pine Grove added an insurance goal with a few minutes left from Brent Yoder with an assist from Haydn Williams. Pine Grove won 5-1 over Schuylkill Haven. "It was a great team effort," said Hannevig, "We took care of business." "I think we deserve to be there (the finals) and we just need to go win it."
Game #2: Blue Mountain vs Nativity
Blue Mountain faced off against Nativity in the Boys Soccer Semifinal match at Lehighton. Blue Mountain entered with a record of 14-4, while Nativity entered with a 15-3 record.
The game was scoreless for the first ten minutes until Aidan Valentine put the Eagles on the board giving them a 1-0 lead over Nativity. From there it was a defensive battle in the first half as no team was able to score. Blue mountain had the advantage 1-0 heading into halftime. Blue Mountain pulled away in the second half scoring five goals in the span of nine minutes. Valentine was responsible for two. Ryan Mundy, who came back from injury, scored two goals. The other goal was scored by Colin Seefeldt. Blue Mountain shut out Nativity 6-0 to earn a spot in the Schuylkill League Finals. "We've been working very hard for this week, and I think tonight shows that on the field. We possessed the ball well," said Valentine. "I'm excited (to play in the finals), I know my teammates are looking forward to it, hopefully, we can win it again."
With their victories, Blue Mountain and Pine Grove will play in the Schuylkill League finals on Thursday, October 21st at 7:00 PM.
Interview with Pine Grove's Ethan Hannevig who scored three goals in their 5-1 win over Schuylkill Haven. @SchLeague @PGA_Athletics @D11Sports pic.twitter.com/7brTcgnKE4

— KC Wallace (@wallace_kc) October 20, 2021