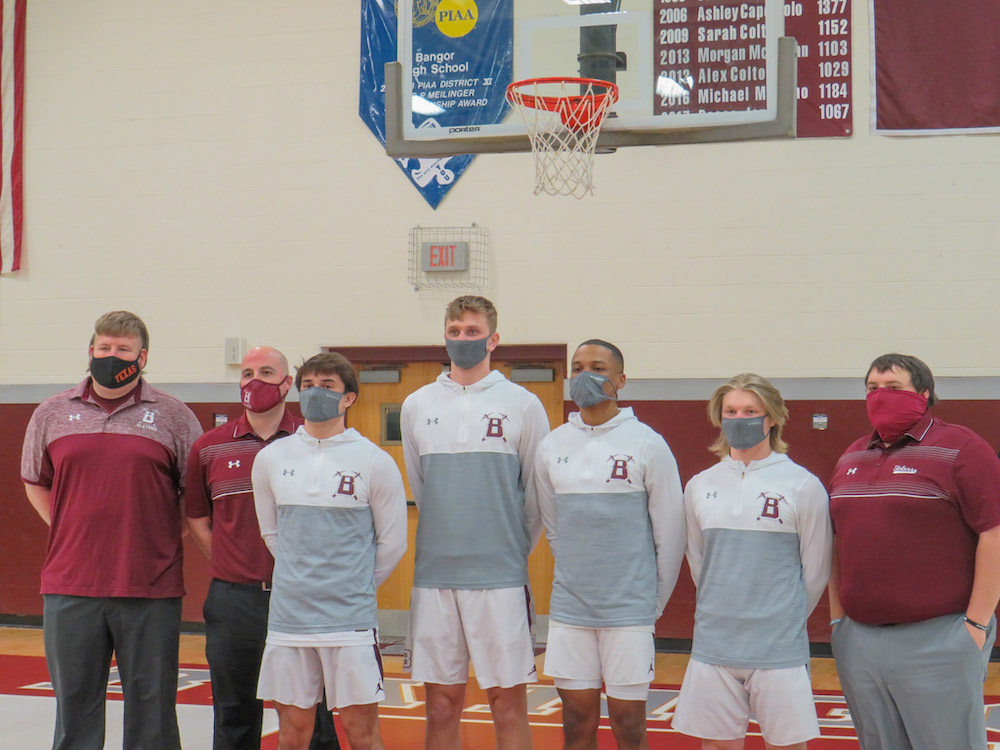 On Wednesday February 10th, The Bangor Slaters defeated the Northwestern Lehigh Tigers 52-33. The first quarter ended with excitement as sophomore Justin Petersen hit a layup at the buzzer. In between the first and second quarter, Northwestern's head coach was assessed a technical foul. Senior CJ Miles made two free throws to start the second quarter, giving the Slaters an eight-point lead to start the second quarter. Led by Miles 12-point quarter, the Slaters extended their lead to 35-14 at the half. Slaters extended their lead to 30 midway through the third quarter. In the fourth quarter, the Tigers out scored the Slaters 10-3. Leading scorers for the Slaters were Miles with 32 points and Petersen with 9 points. Tiger's leading scorer, Cayden Fitch, had seven points.
Senior Spotlights
I got the opportunity to talk to both team's seniors about their season and their careers. Northwestern Leigh's seniors, Nick Henry, Andres Garrido, and Jared Stitzel, shared their fondest memories while playing basketball, which included Garrido hitting a game winner last season and the team making district playoffs for the first time in over 10 years. All three seniors said the season is going better than they expected and are very optimistic about the rest of their season.
I also spoke to Bangor Slaters seniors, CJ Miles Gabe Zieba, Jace Eldridge, and Caleb Ranthun. Some of their most memorable moments included exciting games, getting a concussion, and fun bus rides. The Slaters believe their season is going much better than expected. They have high hopes for the remainder of the season and are hoping to win a Colonial League Championship.