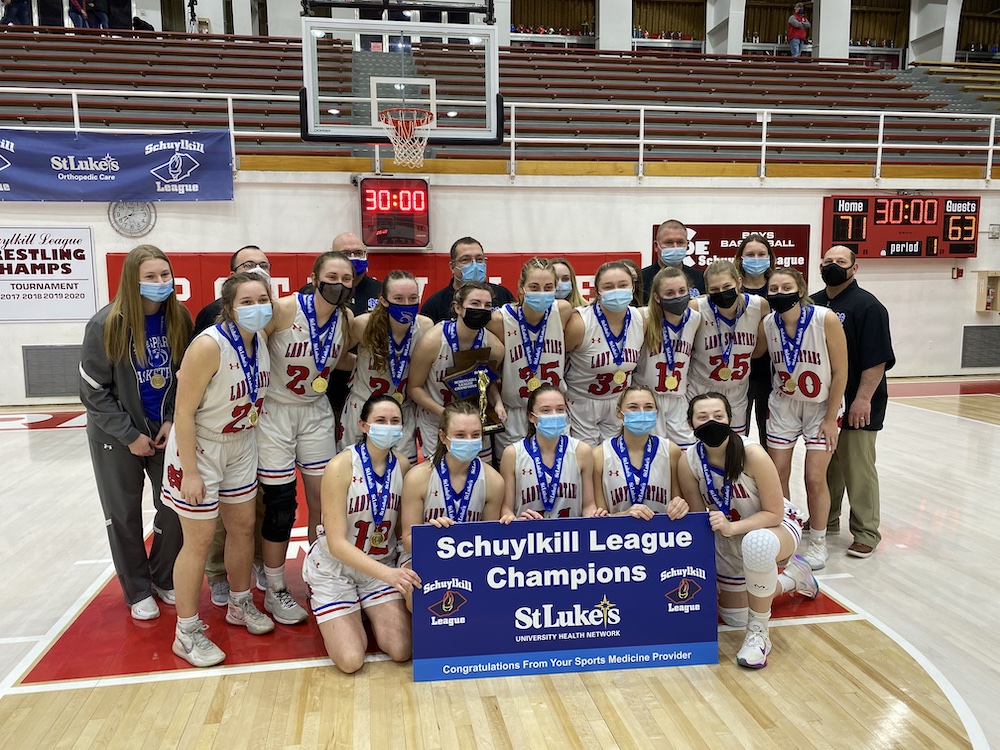 Jim Thorpe and North Schuylkill were straight on a crash course to meet for a Schuylkill League final the minute after last year's title matchup was over. The 2020 champion Lady Spartans of North Schuylkill were celebrating their final second victory while the Lady Olympians of Jim Thorpe were already preparing for the next matchup they would get against their division one foe. Both teams came into the 2021 championship matchup evenly matched, with the teams splitting the regular season contest. The fans of the Schuylkill League probably felt deja vu during the game, as nine of the ten starters from last year's title game were the same.
After a back and forth first half, the game went into halftime deadlocked at 26 points. Leading the way were stellar sophomore Kamryn Mengel for the Spartans and junior Skyler Searfoss for the Olympians.
North Schuylkill took a 32-30 lead in the third quarter before erupting for an 8-0 run to stretch their lead. By the end of the third quarter the Spartans led by seven, a different situation than the first two matchups between the two teams. In their previous games, North Schuylkill saw themselves up by nine and eleven points at halftime, but saw their leads erased by the end of the third quarter. This game had the complete opposite happen. The Lady Spartans came out with a fire behind them and took the game into their control in the third quarter.
Going into the fourth quarter the Olympians needed a charge, and for a majority of the final quarter, it didn't appear as though it was going to happen, as North Schuylkill stretched their lead to eleven twice in the quarter. The Olympians never gave up though, combining pressure defense and timely shots to trim the North Schuylkill lead to 66-63 with near a minute to go. Forced to foul to try to get the ball back, the Spartans converted on five foul shots in the final minute, securing their title defense from their rival.
Kamryn Mengel led the game in scoring, totaling 23 points despite being in foul trouble for much of the game. Skyler Searfoss led Jim Thorpe with 20 points, while Leila Hurley (12), Mackenzie Yuhas (11), and Leah Snisky (10) were double digit scorers. Joining Mengel in double digits for the Spartans were Maddy Wetzel (11), Mya Wetzel (10), and Katelynn Himes (10). Don't be surprised if these teams meet again though, as they are the two and four seeds in a loaded 4A girls bracket that features Colonial League champion Northwestern Lehigh and perennial powerhouse Allentown Central Catholic in possible semifinal matchups.