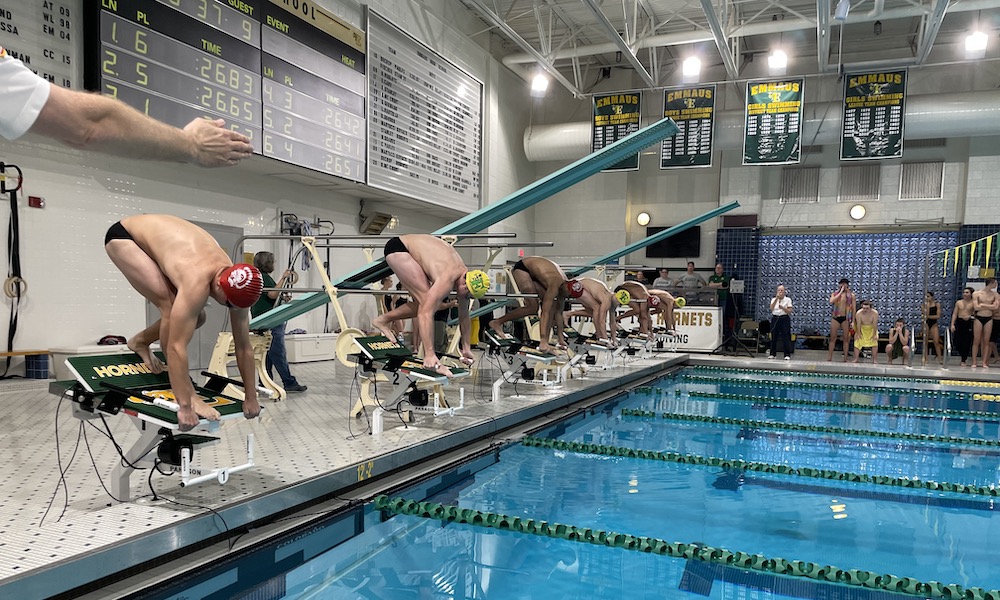 On December 22nd, we witnessed a thrilling meet between Parkland and Emmaus. The crowd was loud and energized. You did not want to miss this meet, every race and moment was enjoyed and will be remembered by the packed natatorium. The Lady Trojans took down the Hornets 111-75 and the Parkland Men's Team fell to Emmaus 125-58.
The Lady Trojans needed a total team effort to pull out the victory and they delivered with just that. They kicked off the meet with an exciting 200 medley relay and took first in a time of 1:50.72. The relay consisted of: senior Simone Lin, freshmen Kelsey McPeek and Milla Hahn, and junior Madison Roseman. None of these girls let up after that relay.
In the next event, the 200 free, Lin claimed first in a time of 1:59.69. The 200 IM was up next where the Lady Trojans had a 1-2 finish. Hahn took first with a time of 2:11.26 followed by McPeek in a time of 2:19.02, just .33 seconds prior to Emmaus's Hailey Reinhard.
As we continued on to the next event, the 50 free, Parkland threw down another 1-2 finish. Roseman grabbed first in a time of 25.52 and senior Sydney Platt claimed second in a time of 26.41, just out touching Emmaus's Izzy Sparaco by .01 of a second.
After this event, we took a break for diving. Parkland's Johanna Cook threw down impressive dives to place first with a score of 135.00. Next up, Hahn earned her second individual win of the night in the 100 fly with an impressive time of 59.28. In the 100 free, Roseman tied with senior Ashley Settle for first place in a time of 56.03. 500 free followed that event where sophomore Julianne Zaffiro took first in a time of 5:23.88, 8.4 seconds before the next finisher. Next up was the 200 free relay, McPeek, Hahn, sophomore Mackenzie Platt, and Roseman finished strong in a time of 1:43.53 to earn themselves gold. Lin got her second individual win of the night in the 100 backstroke with a time of 1:02.01. The Lady Trojans had yet another 1-2 finish in the 100 breaststroke to end out the individual events. Settle claimed first in a time of 1:07.78, followed by McPeek who had a time of 1:10.42. Lin, senior Natasha Goldman, M. Platt, and Settle hung in until the end to finish off the meet by winning the 400 free relay in a time of 3:47.61.
Although the Parkland Men's Team fell to Emmaus, they still put up notable efforts and swam impressive races. In the 200 IM, sophomore Gabe Krizel earned third in a time of 2:06.49 behind Emmaus's Logan Shriver and Griffin Messenlehner. Parkland senior Marcus Moreef claimed third in the 50 free in a time of 23.14, following Emmaus swimmers, Ethan Ferris and Ryan DeJohn.
The Parkland Men's divers had a 1-2-3 finish. Ryan Beltrame in first with a score of 165.15 followed by Bradley Kunz with a 155.05, and Harry Epsetein's 145.65. In the 100 fly, sophomore Colton Chung put up a fight to take second with a time of 55.91 behind Anderson Borst from Emmaus. Moreef and junior Dannik Khais had a 2-3 finish in the 100 free.
Moreef swam a 51.45 and Khais went a 51.63. In the 500 free, sophomore Michael Toth had the crowd on their feet after just out touching Reid Lovett from Emmaus by .09 of a second to earn third with a time of 5:12.29. Toth followed Emmaus's Jack Reppert and Messenlehner. Senior Anshul Dadayyapally, Moreef, sophomore Doug Bell, and Khais joined together in the 200 free relay to grab second.
This event was followed by the 100 back where Krizel took second by .38 of a second with a time of 57.25 to follow Shriver. The Parkland Men's Team ended out the meet with a second place finish in the 400 free relay with a time of 3:29.66. The relay consisted of Chung, Moreef, sophomore Eric Friday, and Khais.
These teams both came in with high expectations and exceeded them. The Parkland girls will continue on their season at 4-0 and the boys will move to 3-1. Parkland still has a lot of season left with many more chances to continue dropping time and earning themselves district spots. With holiday training right around the corner, we can expect to continue seeing improvement. Their next meet will be against Hopewell Valley Central High School on December 28th at Parkland at 12pm. Good luck teams.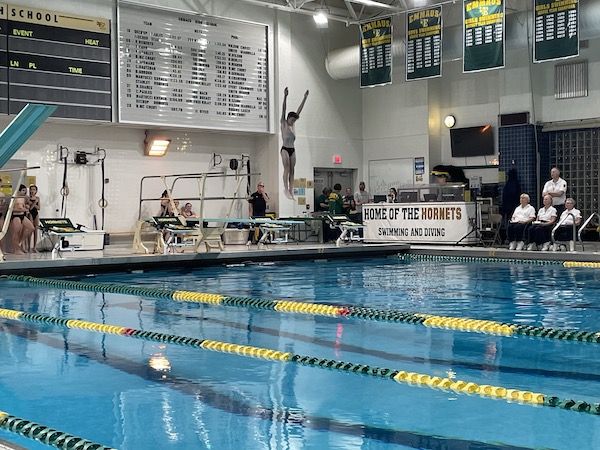 Parkland swimming head coach, Coach McPeek, shares her thoughts on the meet against Emmaus tonight. The Lady Trojans took down the Hornets 111-75. @ParklandSwim @ParklandSchools @D11Sports pic.twitter.com/wVkvDNqMDS

— emma k. (@ekushner21) December 23, 2022
Emmaus swimming head coach, Coach O'Connor, gives us his take on tonight's meet against Parkland. The Hornets took down the Trojans 125-58. @EHS_Hornets @_EHSAthletics @EmmausSwimming @ehsgswimanddive @ehsmenswim @D11Sports pic.twitter.com/Q8Vo2cbm6k

— emma k. (@ekushner21) December 23, 2022