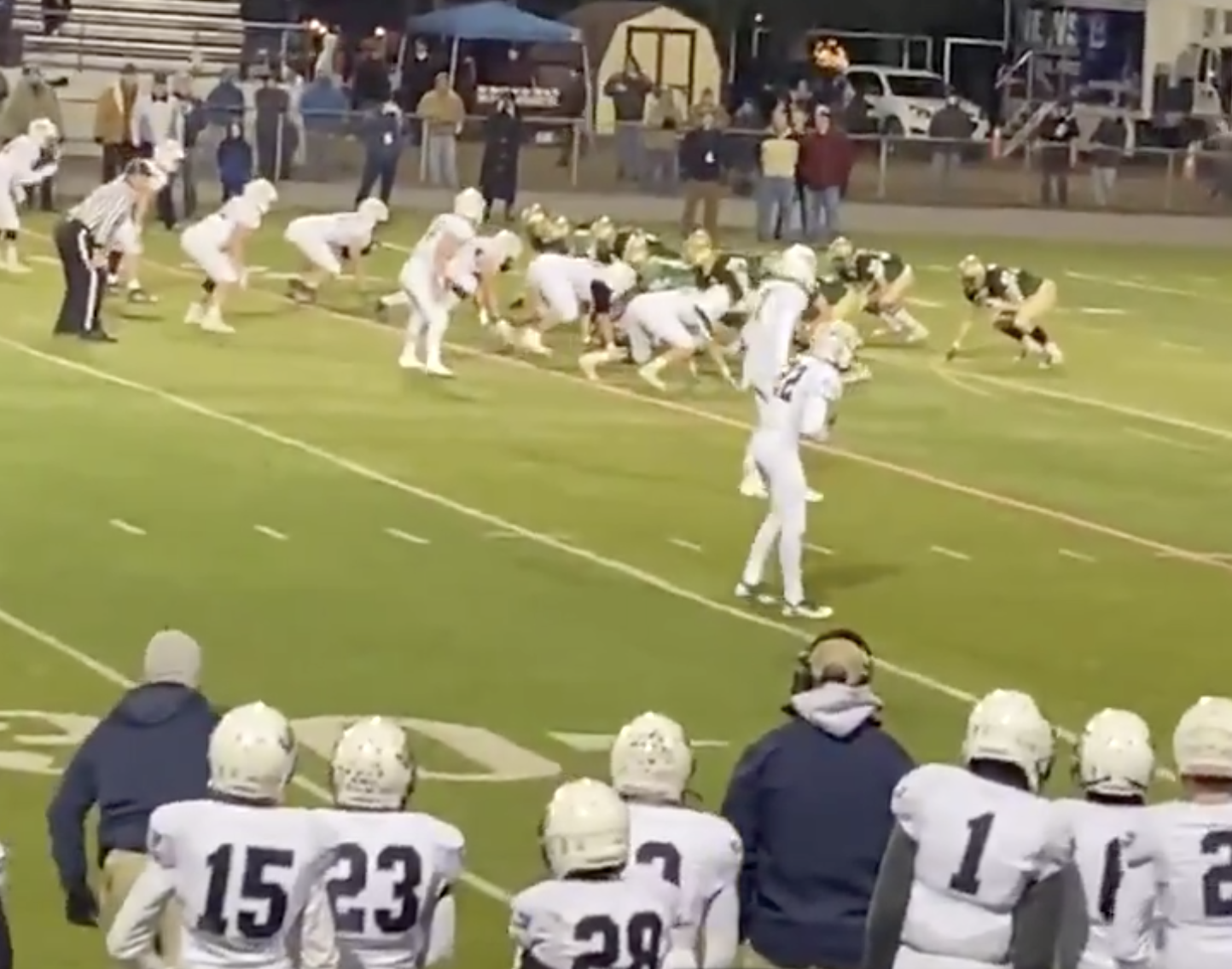 by Patrick Matsinko
KINGSTON – Wyoming Area's defense was twisted and turned.
But the Warriors never cracked.
An opportunistic offense and ball-hawking defense helped Wyoming Area punch its ticket to Hershey with a 21-0 win over Tamaqua in Friday night's PIAA Class 3A semifinal.
The Warriors scored on their first two possessions, with quarterback Dominic DeLuca playing a hand in both touchdowns, and Jacob Williams collected three of the team's five interceptions to send District 2 champion Wyoming Area to the state final for the first time.
"Our guys have done a great job making big plays all year," said Warriors' head coach Randy Spencer. "And Dominic (DeLuca) is a guy who makes them in all phases of the game. But really defensively, I think Tamaqua with their weapons, they have explosive players, between (Matt) Kistler and (Nate) Boyle running downhill and (Brayden) Knoblauch extending plays and making plays and they certainly pushed us down the field. But we were able to bend, but not break.
"To come away on some red zone possessions, and keep them out of the end zone, I think that was really the key for us. We were also able to knock them off the ball a little bit and run the ball downhill a little better than we did last week."
DeLuca capped the opening drive with a 5-yard plunge to put Wyoming Area (13-1) up 7-0 with 4:54 left in the first quarter. The senior hit Brian Williams for a 27-yard strike on the Warriors' second drive to make it 14-0 with 8:24 to play in the first half.
The senior finished with 76 yards passing and 45 yards on the ground.
Tamaqua (12-3) failed on 4th-and-5 from the Wyoming 38-yard line on its second drive with 1:21 left in the opening quarter after being forced to punt on its opening possession.
The Raiders came up empty handed on fourth down again on their third drive, this time on an incomplete pass from the Wyoming Area 39-yard line with 5:54 to play in the second quarter.
Knoblauch hit Lucas Gregoire for 38 yards on 3rd-and-18 to put Tamaqua at the Warriors' 26-yard line late in the second quarter. But the Raiders couldn't cash in, with an interception by Jacob Williams in the end zone closing out the first half and keeping Wyoming Area ahead 14-0.
"They made plays when they had to," said Tamaqua head coach Sam Bonner. "We had some opportunities, we just couldn't punch it in. That's something we've been doing well all year. Today, we just couldn't create that play to get us in the end zone. We had opportunities.
"Going down two scores put a little more pressure on us. But we definitely moved the ball between the hashes. But it doesn't count unless you score points."
Tamaqua forced a punt on the Warriors' first possession of the second half. But the Raiders' ensuing drive ended with the second interception of the game for Jacob Williams at the Tamaqua 39-yard line.
Wyoming Area took advantage of the short field, with Darren Rodney capping the drive with a 1-yard plunge to extend the Warriors' advantage to 21-0 with 6:18 left in the third quarter.
Rodney, who didn't play in last week's 43-27 win over Montoursville because of an injury, finished with 133 yards rushing on 23 carries.
Bronson Strouse recovered a fumble near midfield for Tamaqua early in the fourth quarter. But three plays later, Brian Williams collected Wyoming Area's third interception of the night to swing the momentum back to the Warriors.
After Tamaqua forced a punt on Wyoming's next possession, the Raiders drove to the Warriors' 37-yard line. But DeLuca came away with another pick to end the threat.
On Tamaqua's next possession it got the ball back at midfield and moved the ball to the Warriors' 3-yard line. But Jacob Williams kept the Raiders out of the end zone with his third interception of the game with 1:28 to play.
"Once you get down 14-0, then 21-0, obviously it puts you in a little tougher situation," said Bonner. "There were times I thought we could get a little bit of a running game going, but unfortunately, you get a tackle for a loss on a down and all of a sudden it takes you out of your game."
STATS … Knoblauch went 19-of-45 for 198 yards. Nate Boyle had 10 catches for 72 yards, while Matt Kistler (6-75) and Gregoire (3-51) also made plays in the passing game. But the Raiders were held to just 62 yards rushing after gaining 1,005 combined over the previous four weeks.
TITLE TOWN … Wyoming Area will play District 7 champion Center Valley next Saturday at noon in the final.
NUMBERS GAME … Tamaqua outgained Wyoming Area 278-262, and held a 16-13 edge in first downs.