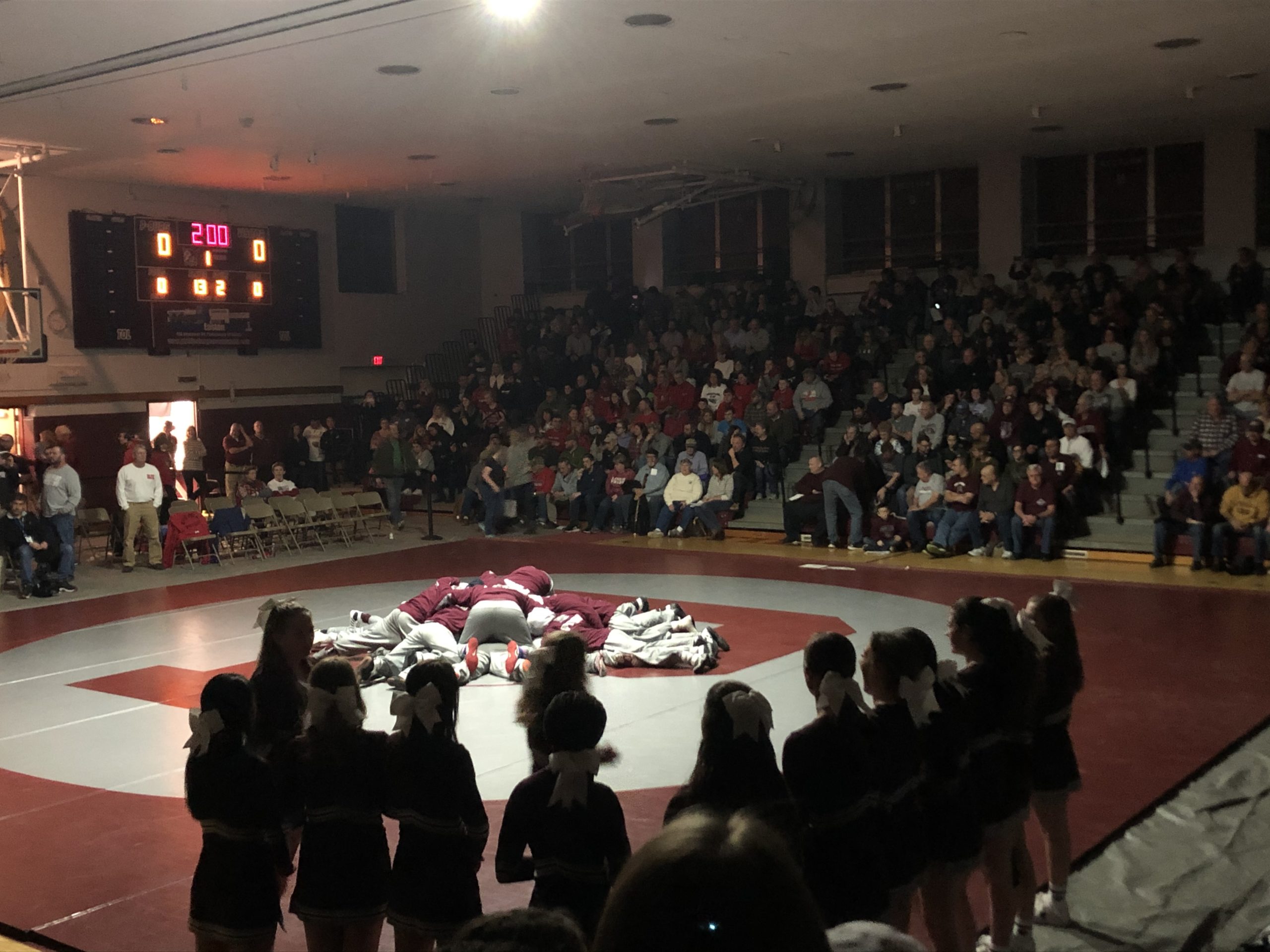 On Monday, January 27th, the Phillipsburg Wrestling team was welcomed back to the high school's gym, also referred to as "the pit." The town always comes back together to watch an exciting match here once a year. The Phillipsburg Stateliners (#8) took on the High Point Wildcats (#6). They started the match off at 132 with Jason Tino.
High Point fought hard the first two bouts making the score 9-0. Senior Jared Kukor was not happy with the scoreboard wrestling at 145. He won by technical fall, 15-0, helping the Liners get on the board 9-5. Sophomore Matthew D'Onofrio, wrestling at 152, won big with three major take downs and tied the score 9-9.
Next, at 160, High Point's Brian Soldano got the fall in 30 seconds making the score 15-9, leaving the Liners a little shaken up. This didn't worry as Sophomore Nate Zastowny at 170 aggressively came back and responded with a fall in 27 seconds, quickly tying the score right back up to 15.
To give Liners the lead, David Pearson held on to the last second with a 2-1 decision. From there, Phillipsburg dominated. Captains Gage Horvath, Jacob Wicks, and Cody Cruts battled three big wins for the Stateliners making a more comfortable lead. After two bouts later, Sophomore James Day and Junior Captain Logan Maczko, secured the match for the Liners with their hard fought matches. Joey Innamorato was the last one up. High Point came up just short and the Phillipsburg boys brought the win home at the pit 34-24.
The wrestler of the match was chosen to be Sophomore Nate Zastowny for his quick fall, which gave the Liners confidence and rallied the crowd. Next up on the schedule, the Liners who are 8-2 overall take on Hanover Park who is 6-6 overall tomorrow night.