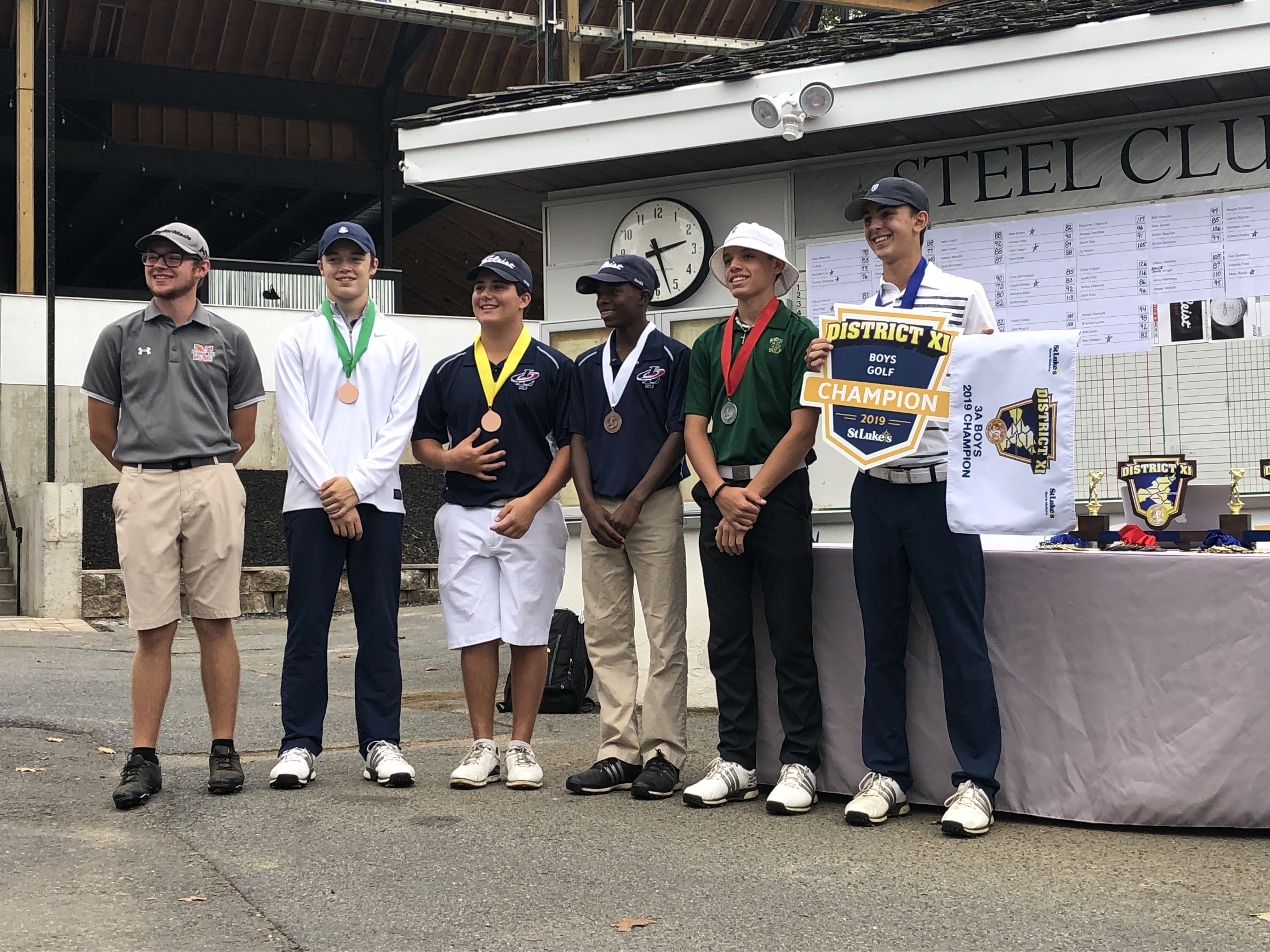 The Steel Club in Hellertown played host to the 2019 District XI Golf Championships on Monday. More than 55 golfers took to the Par 72 course on an overcast day that brought with it some scattered showers. Team Championship honors in the 2A class went to Palmerton(349) who edged out Moravian(352) while Emmaus(304) won the 3A title with Liberty finishing second(315).
As far as the individual tournament, Michelle Cox of Emmaus dominated from start to finish winning the 3A Girls title shooting an impressive one over par 73. The 2A Championship, meanwhile, is back in the hands of Emilie Wright of Central Catholic, who shot an 87 en route to her second title in three years.
On the Boys side, Trevor Grimm of Parkland took home the gold with an even par 72, which was one shot better than Matt Zerfass of Emmaus(73) and two shots better than Matt Vital of Liberty(74). The 2A championship, meanwhile, needed a one-hole playoff to crown a champion. Albe Evans of Schuylkill Haven and Ben Ortwein of Notre Dame both shot an 82 but Evans sank a big putt and was crowned the champion.
The PIAA Regional Qualifier is set for Golden Oakes next Monday and here is a list of golfers moving on.
The Steel Club in Hellertown the site for the @PIAADistrictXI Golf Championships. pic.twitter.com/aWafwwoahd

— D11Sports (@D11Sports) October 7, 2019
The @PIAADistrictXI team Golf Championships go to @_EHSAthletics on the 3A side while @HighPalmerton takes the 2A crown. More to come. pic.twitter.com/7WdJ69PR72

— D11Sports (@D11Sports) October 7, 2019
Winning in playoff fashion!!! Albe Evans of Schuylkill Haven drops the putt to capture the @PIAADistrictXI 2A Championship in an extra hole. pic.twitter.com/Kg8O0HmEjW

— D11Sports (@D11Sports) October 7, 2019
.@PIAADistrictXI Golf Champions. 3A Boys Trevor Grimm of @ParklandAthlet1(72), 3A Girls Michelle Cox(73) of @_EHSAthletics, 2A Boys Albe Evans of Schuylkill Haven(82), 2A Girls Emily Wright of @ACCHS_Athletics(87). pic.twitter.com/Le1pG46PnS

— D11Sports (@D11Sports) October 7, 2019
Here is a look at some Sights and Sounds from the @PIAADistrictXI Golf Championships. @ParklandAthlet1 @ACCHS_Athletics @_EHSAthletics @HighPalmerton @EastPennConf18 @Colonial_League @SchLeague pic.twitter.com/vlgwGlRt51

— D11Sports (@D11Sports) October 8, 2019
The @PIAADistrictXI Golf Championships are in the books. Hear from some of the winners. @_EHSAthletics @ParklandAthlet1 @HighPalmerton @SchLeague @Colonial_League @EastPennConf18 @ACCHS_Athletics pic.twitter.com/iNihaSxZRP

— D11Sports (@D11Sports) October 8, 2019