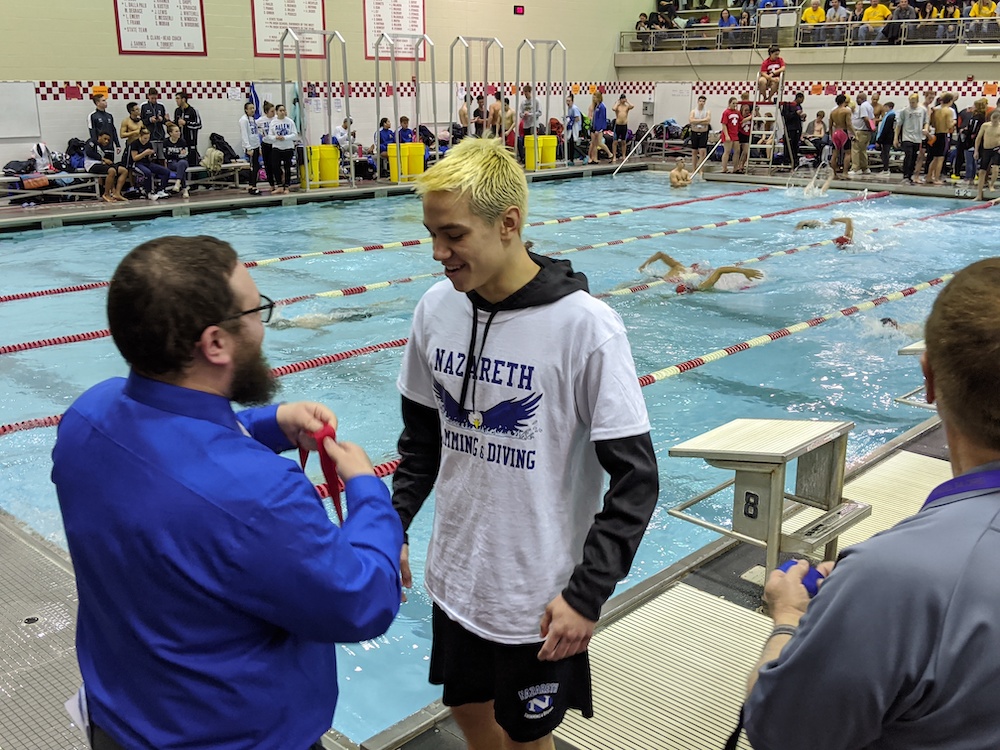 AA
The news of the day in the 2A classification came when Moravian Academy's Pepper Richey set a new district record in the 100-yard butterfly with a time of 55.83. The old mark of 55.91 was set in 2017 by Moravian Academy's Kyra Manson.
"My best time was a 55, so I was aiming for that, but I wasn't really look for records; I just wanted to have fun tonight," said Richey. "I can't believe that I did it. I realized it when I looked at the board, because I did know that the record was 55.9 something and I saw that I was at 55.8."
In the 200-yard freestyle, Allentown Central Catholic's Mimi Norris finished with a time of 1:57.98 to give her the gold medal. Norris finished 1.08 seconds ahead of Panther Valley's Erika Zimmerman, who took second place and will make her second trip to states.
"I felt really good in the race, but when I looked up at my time, I was surprised at just how well I had done. It's a great feeling right now to have done so well, it was great," said Norris of her victory.
Notre Dame – Green Pond's Gianna Farina came into the meet looking for her fourth straight district gold medal in the 200-yard IM. She posted a time of 2:11.46 in the event, besting Marian Catholic's Maddie Dando, who finished second with a time of 2:15.89.
Three of the closest races of the day came back-to-back-to-back. First, Francesco D'Avella of Notre Dame – Green Pond edged out Pen Argyl's David LaBarre by .66 seconds to win the 200-yard IM. Saucon Valley's Ryan Kerr finished third with a time of 2:01.88 and fourth place went to Derrick Yuengling of Blue Mountain with a time of 2:08.97. Next up was the 50-yard freestyle for the girls and Olivia Haas of Blue Mountain had just a .18 second margin over Moravian Academy's Anna Stoudt. Julia Balulis of Pottsville and Abby Dudash of Mahanoy Area joined the two top finishers on the medal stand.
And the closest finish of the three came in the boys 50-yard freestyle where Dylan Schreffler of Nativity BVM finished with a time of 21.84 and Nathanial Powers of Blue Mountain finished with a time of 21.98. Third place went to Notre Dame's Fulvio D'Avella, with Schuylkill Haven's Reese Felty finishing fourth.
Later in the day, the boys 100-yard butterfly saw first and second separated by just .05 seconds when Brenek Strawn of Bangor finished at 51.31 and Moravian Academy's Danny Hayes finished at 51.36. Armaan Pandher of Moravian Academy was third and Adler Zawodny finished fourth.
In relays, Moravian Academy won gold in the girls 200-yard medley relay with Central Catholic finishing second followed by Mahanoy Area and Saucon Valley. Blue Mountain took first in the boys 200-yard medley relay and in the 200-yard freestyle relay and Saucon Valley took the top spot in the 200-yard freestyle relay on the boys side.
AAA
Emmaus and Parkland continued their domination of 3A swimming in both relays and individual events. Early in the day, Emmaus relay teams were the story. First, the girls took gold in the 200-yard medley relay with Parkland finishing second. The Emmaus boys followed that up with gold in their 200-yard medley relay, but this time, it was Southern Lehigh finishing second.
To close out the day, Parkland took first in the 200-yard freestyle relay, followed by Emmaus, Liberty and Southern Lehigh. Emmaus boys finished with gold medals in the 200-freestyle relay, with Nazareth, Parkland and Liberty finishing second through fourth.
From there, Emmaus or Parkland swimmers finished first in each of the remaining events. Parkland took gold in the 200-yard freestyle when Kayla Johnson finished with a time of 1:53.82, followed by Nazareth's Raquelle Roesch, Northampton's Olivia Szerencsits and Parkland's Olivia Stevenson. Parkland also picked up individual gold in the 100-yard butterfly with Annie Walls finishing in the top spot, followed by Bella Buchman (Emmaus), Kiera Laslo (Nazareth) and Devon Corvaia (Parkland).
"I just wanted to do my best and my goal is always to cut my times and I didn't get the time that I wanted," admitted Johnson. "I'm just happy that I won and I'm excited about going back to states."
Emmaus juniors Peyton and Luke Rautzhan got matching gold medals in the 200-yard freestyle when Luke Rautzhan finished with the gold in the 200-yard freestyle and Peyton Rautzhan got gold in the 50-yard freestyle. Emmaus also got second in the girls 50-freestyle from Mya Puentex, while Parkland's Lauren Ceh finished third and Laurel Krause came in fourth. Parkland's Gavin Webb was just .10 seconds behind Rautzhan for first in the 200-yard freestyle.
"I knew it was going to be a good race and me and my teammates knew what we needed to do, so we just went out and did it," said Luke Rautzhan of his win. "I know what to expect at states this year and it's going to be a lot of fun to head out there and show how hard we've worked."
Emmaus took gold and silver in the girls 200-yard IM. Lauren Sharp finished with a time of 2:06.85 to grab gold and Chloe Vlaeminck won silver with a time of 2:08.69. Liberty's Abigail Mack (2:10.92) and Parkland's Madison Tewksbury finished fourth at 2:11.48. Emmaus' Michael Iacobelli won the 200-yard IM with a time of 1:55.05 and was followed by two Parkland swimmers in third and fourth when James Zhang took second and Shawn Kushner finished in third place. Southern Lehigh's Matt Wendling took fourth. In the final individual event of the day, Gio Germano (Emmaus) finished first with a time of 51.20 to edge out Liberty's Patrick Gilhool (51.30), Nazareth's Gabe Laslo (51.35) and Andrew Wendling of Southern Lehigh (52.18).
Emmaus' Devin Metzger won the 50-yard freestyle event, finishing with a time of 21.46. The top four finishers were within .36 seconds of each other with Nazareth's Brendan Alvino finishing second at 21.49, followed by Easton's Joseph Frasca at 21.82 and Liberty's Addison Collins at 21.90.
"It's pretty surreal, it really is," admitted Metzger. "I never thought that I would be wearing anything like this. The rest of the guys are all really good and they made it a tough race, that's for sure. I'm at a loss for words right now."
Metzger will be competing in his first individual event at states after being at states in relay events.
TEAM STANDINGS
GIRLS 2A
Blue Mountain 186
Moravian Academy 166
Central Catholic 143.5
Pottsville 139
Saucon Valley 108
Mahanoy 95
Tamaqua 92
Salisbury 89
North Schuylkill 53
Schuylkill Haven 31.5
ES North 28
BOYS 2A
Blue Mountain 233
Saucon Valley 159
Central Catholic 126
Pottsville 139
Moravian Academy 126
North Schuylkill 86
Schuylkill Haven 48
Tamaqua 32
Salisbury 22
Mahanoy 1
GIRLS 3A
Parkland 330
Emmaus 210
Southern Lehigh 135
Easton 134
Nazareth 115
Liberty 114
Stroudsburg 83
Freedom 69
Northampton 62
ES South 39
Whitehall 34
PM East 27
PM West 19
Allen 10, Dieruff 10
BOYS 3A
Emmaus 303
Parkland 246
Nazareth 121
Liberty 109
Southern Lehigh 93
Easton 91
Northampton 73
ES South 66
Freedom 57
Stroudsburg 51
PM East 33
Dieruff 32
PM West 31
Whitehall 20
ES North 12
Pleasant Valley 12
Allen 8
GROUP PHOTOS
Boys 100 butterfly (left to right) Armaan Pandher (Moravian Academy), Brenek Strawn (Bangor), Danny Hayes (Pen Argyl), Adler Zawodny (Saucon Valley)
Girls 100 butterfly (left to right) McKayla Blazure (Moravian Academy), Pepper Ritchey (Moravian Academy), Taleah Ruben (Pottsville), Sabrina Yurconic (Central Catholic)