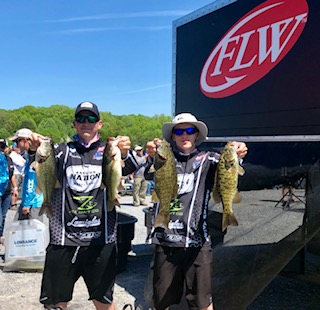 A trip to Virginia for two students from Palisades High School turns into a day to remember. On Saturday, April 27th, 2019, Brandon Lawson of Kintnersville and Parker Lambert of Riegelsville won the 2019 Bass Pro Shops FLW High School Fishing Smith Mountain Lake Open.
The duo was part of a field of 22 teams that represented other parts of the region, including teams from New York, Virginia, North Carolina, Ohio, and Maryland. Lawson and Lambert took home the title, bringing in a five-bass limit weighing 12 pounds, 15 ounces. They edged out a team from New York who weighed in at an even 12 pounds.
Palisades High School and Mendon High School from Pittsford, NY both advance to the 2019 High School Fishing National Championship which is set for June 19-21, 2019 at Pickwick Lake in Alabama.
A great accomplishment for two Palisades Seniors for reaching Nationals in only two years of competitive High School fishing.
For the final results and interview with Lawson and Lambert, visit thebasscast.com through this link: https://thebasscast.com/parker-lambert-brandon-lawson-win-flw-high-school-fishing-open-on-sml-april-272019/