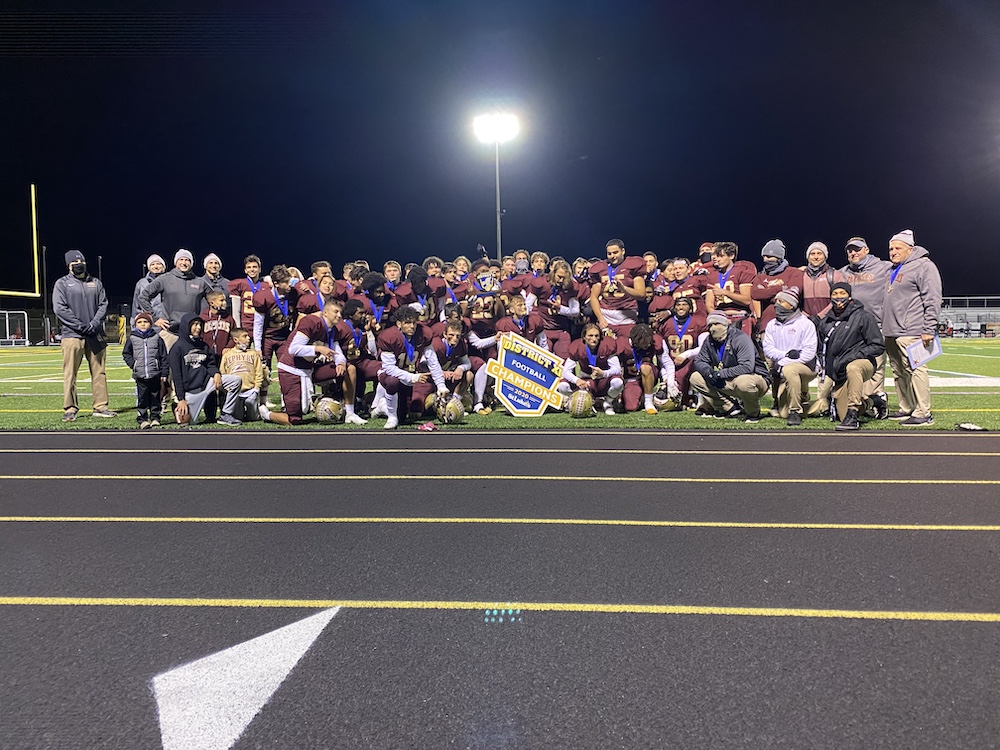 What a difference a year makes for the Whitehall football team. One year ago, Matt Senneca was named the Head Coach of the Zephyrs and his team went winless, finishing the year at 0-10. Just one year later, Whitehall raises District Gold as the beat Pocono Mountain 52-7 to win the 5A title.
Many expected Whitehall to face East Stroudsburg South in the Championship game, but the Cavaliers season was shut down a week ago because of Covid-19. With that being the case, The Zephyrs scored early and often en route to the lopsided win.
Whitehall set the tone on the opening drive with Nigel Linton scoring from two yards out plus a 2-point conversion run by Bryce Bashore for an 8-0 advantage.
Quinn Wentling added a 6-yard touchdown run and the Wentling hit Damonte Foreman for a 12-yard touchdown pass and Whitehall was up 22-0 after just one quarter of play.
The second quarter was more of the same. With Pocono Mountain East driving, Tommy Buskirk came up with the pick and went 95 yards for the score and Whitehall was well on their way. Angelo Dadonna would add a pair of touchdowns from 11 and 8 yards and Connor Fenstermaker hit a 41 yard field goal as the Zephyrs went to the half up 46-0.
Daniel Robinson added a 15-yard touchdown run in the 3rd quarter and Pocono Mountain East got an 11-yard touchdown run by Jack Halovacko, to avoid the shut out. Whitehall, with the win improved to 5-3 while the Cardinals fall to 1-4 but are expected to play one more game next week against Pleasant Valley.
This is the 6th overall District title for Whitehall, but first for 2nd year Head Coach Matt Senneca, who was so happy for his players and their hard work the entire season. It was also extra special for him as he had the opportunity to put the gold medal around the neck of his dad, Sam, who is an Assistant coach for Whitehall.
An emotional Senneca said after the game, "That met a lot for me, he's done so much for me in my life, to be able to give him that medal, it's big for us." Sam added, "It's really rewarding, it's been special, I got to do this with my daughter and basketball and to do it with Matt now, it's great. It's means a lot- all the time he's put in- you know, to have this payoff for him is really special."