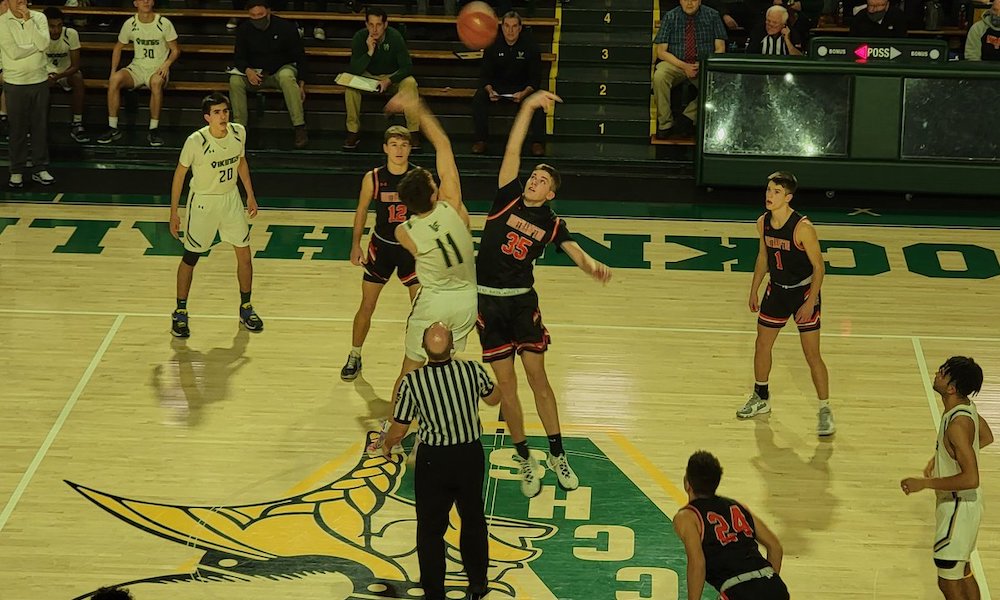 Final score @ACCHS_Athletics 59 @kkidsbasketball 45 @D11Sports @ACCHSVikings # pic.twitter.com/P9TjbHJM0c

— Brian Ptashinski (@BPtashinski) December 22, 2021
Liam Joyce scored 17 points and picked up his 1,000 career point in the process to spark the Vikings.
By Brian Ptashinski @BPtashinski on Twitter
ALLENTOWN – The Allentown Central Catholic Vikings got off to a slow start Tuesday night in their Eastern Pennsylvania Conference boys basketball contest with the Konkrete Kids of Northampton at historic Rockne Hall as the home team trailed 10-3 two minutes into the game.
Once they settled down and got into the flow, the Vikings took control en route to a convincing 59-45 win, improving to 6-0 on the season, while the K-Kids dropped to 1-3.
Central Catholic's Liam Joyce led all scorers with 17 points, including an offensive rebound put back mid way through the second quarter for his 1,000 point of his stellar career.
Buckets by Joyce and Lucas Mushrush at the three minute mark cut what was a 10-3 lead for Northampton to 10-7. Then a three point shot from the left wing for Jahrel Vigo tied the score at ten with 2:15 to play in the opening quarter.
The opening eight minutes had the Vikings in front 18-15.
Mushrush finished with nine points on the night including two big three-point buckets in the second quarter. Joyce added eight points including his milestone moment off a Mushrush miss, he was also fouled on the basket. The Vikings took a 37-29 lead into the locker room at intermission.
There it is @liamdj24 gets his 1,000th point and the foul! @D11Sports @ACCHS_Athletics @ACCHSVikings @kkidsbasketball pic.twitter.com/fey7Sg7Y6N

— Brian Ptashinski (@BPtashinski) December 22, 2021
"The kids were pressing a little to much early, trying to get Joyce the ball, we got out of or game for a bit." Vikings coach Dennis Csensits stated. "Once he got the basket, we settled down and played our game." He concluded.
The second half was all the Vikings as the out scored Northampton 18-5 in the third quarter to make the score 55-34. Tyson Thomas and Griffin Patridge each had five points in the stanza. With much of the bench finishing out the final eight minutes Central Catholic was outscored 11-4 in the final frame.
Lucas Lesko led the Konkrete Kids with eleven points, Caden Reph and Cooper King each chipped in with six points apiece.
Liam Joyce had this to say about his team's win after the game:
After his team's 59-45 win @liamdj24 talks about reaching the 1,000 point plateau and the @ACCHS_Athletics stay perfect 59-45 over Northampton @D11Sports @ACCHSVikings pic.twitter.com/DdpcICFTXp

— Brian Ptashinski (@BPtashinski) December 22, 2021
ALLENTOWN CENTRAL CATHOLIC (59)
Joyce 7 3-4 17, Vigo 1 2(3's) 2-2 10, Mushrush 3(3's) 0-0 9, Patridge 1 2(3's) 0-0 8, Pulieri 1 1(three) 2-2 7, Thomas 1 1(three) 0-0 5, Snyder 1 0-0 3,
TEAM 11 10 (3's) 7-8 59
NORTHAMPTON (45)
Lesko 3 1(three) 2-4 11, Reph 2 1(three) 0-2 7, Harris, Isaac 2 1(three) 0-0 7, Pinnock 2 2-3 6, King 2 2-3 6, Fehnel 2 0-0 4, Vaiore, 1 0-0 2, Gula 1 0-0 2
TEAM 13 5 (3's) 4-9 45
Central Catholic 18 19 18 4 59
Northampton 15 14 5 11 45