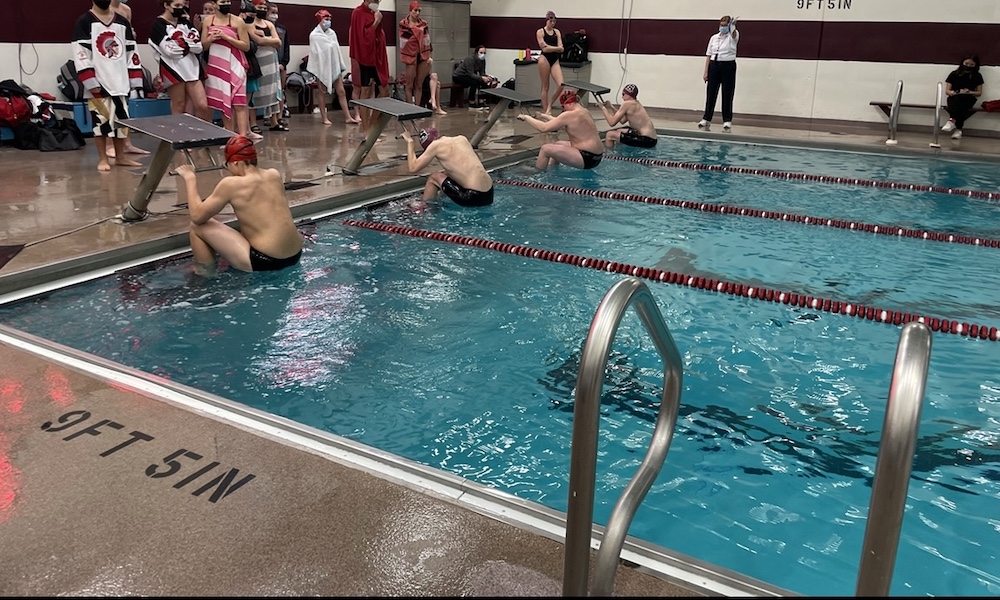 With an early season match up with Emmaus next on the calendar for the Trojans, both girls and boys teams looked sharp in their meet against the Stroudsburg Mountaineers Tuesday night. The long drive did not deter either team. The girls won the meet 72-22 and boys 67-27.
Leading the way for the girls team was sophomore Sophia Cerimele who won two individual events (100 free and 100 back) while also joining her teammates on two relay victories. Junior Natasha Goldman added a victory in the 200 IM, as did fellow junior Sydney Platt in the 200 free. Senior Hillary Roth was victorious in the 100 fly while also adding two relay wins as well. A highlight of the meet for the Lady Trojans was the freshman one-two finish in the 500 free. Juliannne Zaffiro led the way with teammate Mackenzie Platt placing second in the distance event. Sophomore Maddie Roseman added another event victory for the Trojans in the 100 breaststroke.
On the boys side, freshman Colton Chung won both of his individual events (200 IM and 100 fly) and was part of a relay win as well. Junior Marcus Moreef had a 24.92 to win the 50 free and joined his teammates in getting two relay victories. The boys distance group also threw down a solid performance in the 500 free. Freshman Jack Chu won the race and sophomore Eric Linchuck finished in a close second. Linchuk quickly recovered from his 500 free to win the 100 backstroke in 1:02.27. Junior Anshul Dadayyapally won the 100 breast, Danneel Khais the 100 free, and freshman Gabriel Krizel won the 200 free in 2:02.30 to close out the individual races.
Both teams enter the Emmaus meet at 2-0 with plenty of promise and enthusiasm. The EPC showdown is a 4 PM start. This will be the first meet of the season in which the Parkland divers will be able to compete. With the holiday break almost upon us, expect a good crowd to witness a great meet at Parkland on Thursday night.