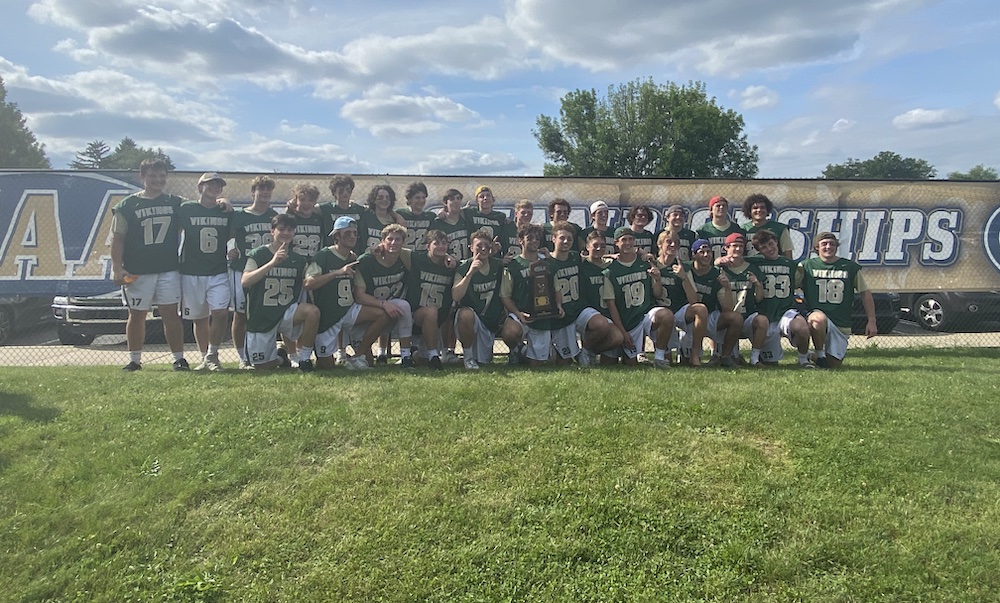 They felt cheated. Every one of them. It was really no one's fault. It's what happened in 2020 when the COVID-19 pandemic landed and wiped out everything—including Allentown Central Catholic boys' lacrosse team's destiny.

So, they waited a year and stewed, pushing each other to unusual limits in offseason workouts, during practice and in the weight room—and everyone they faced would feel their wrath.

On Saturday, the culmination of what had been brewing for a year erupted in the Vikings' thoroughly dominating 14-5 victory over District 7 champion Mars in the PIAA 2A state boys lacrosse championship at West Chester East High School.

The Vikings (23-1) now become the first District 11 team to win a state lacrosse championship and the first in school history. With the Vikings boys basketball team winning the state 4A title, this year marks the first year in Allentown Central Catholic sports that two programs won state titles since 2001—when the Vikings won three state championships (girls basketball, girls volleyball and cross-country).

"There was an edge (about this team) in the beginning of the year," said Central Catholic head coach Dan Dolphin, who's in his 14th season. "The kids were still feeling badly that we did have an opportunity to play last season. We thought we had a hell of a team last season and we thought we could make a run.

"It was kind of taken away from us. I give all of the credit for that edge to those guys brought it, Tyler Schifko, Jack McGorry, Charles Kuczynski and Davis Ike, the four captains. There were things as coaches we didn't have to do this year, because they took charge of it. I think the senior leadership was outstanding."

That came out in the state title game. Mars scored the first goal and the Vikings responded with eight unanswered goals, getting a little from everyone. That ended it. Mars never came close again. It was typical of the energy this team carried throughout 2021.

"This group of guys was always willing to work ever since we were little kids," said McGorry, who is headed to St. Joseph's after creating a Central Catholic single-season record with 94 goals this season. "Through COVID, this team came to work every single day of the year.

"After losing last year to COVID, our big motto was to control what we can control."

The Vikings did.

During their state title run, Central Catholic outscored its opponents 78-22, beating them by an average of 15.6 to 4.4. The Vikings finished the season on a 13-game winning streak.

"I think a huge part of it was senior leadership," said Schifko, who is going to Utah. "We had a group chat with the whole team in the offseason, and every day we would be texting in it and what our ultimate goal was to win a state championship. We always said the best competition was within ourselves.

"We felt this state championship should have happened last year. It means everything to make history. We did this for everyone who came before us. It means the world. It's the best way to end my senior season."

Ike, the Vikings' goalie who made 13 saves in the state title game, said he first had a feeling something special was building in the offseason. Everyone was buying into the plan Dolphin was selling and Ike stressed that an unbreakable bond began to form that nothing could threaten.

"I think the plays we put in on offense and defense and the determination to get to this moment stood out for me," said Ike, who will attend a prep school in the fall before committing to a college. "I'm going to remember today, but I'm also going to remember how we came back from our first loss of the year (8-7 to Emmaus on April 27).

"We used that as energy for the rest of the year (beating Emmaus 12-4 in the EPC championship). We had to play how we knew we could."

Joseph Santoliquito is an award-winning sportswriter who has been covering high school football since 1992 and is the president of the Boxing Writers Association of America. He can be followed on twitter @JSantoliquito. Follow D11Sports.com on Twitter @D11Sports.