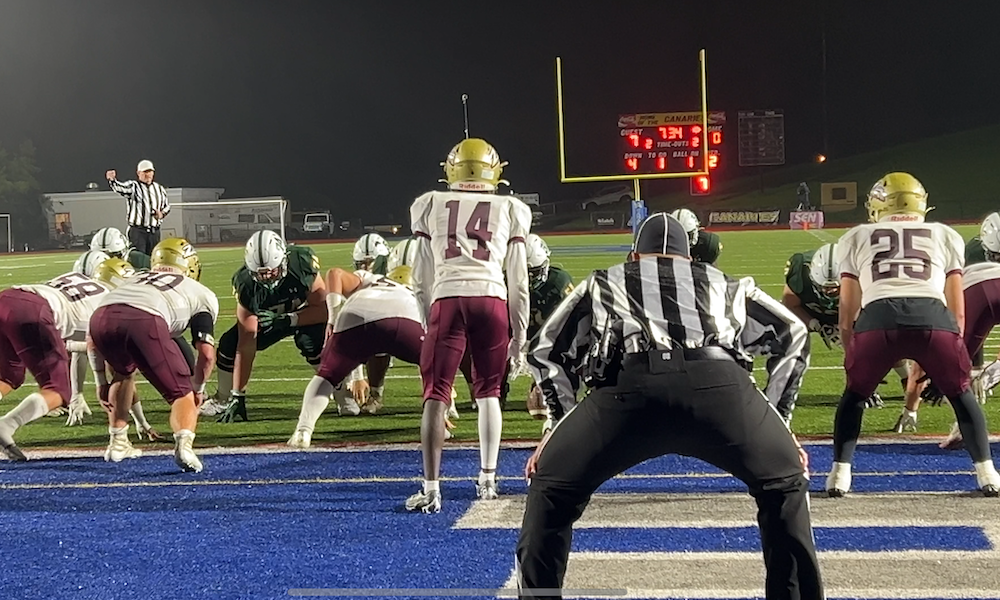 ALLENTOWN – Antonio Fontanez threw three second-half touchdowns to lead the Vikings over the Zephyrs 30-14 on a rainy/windy Saturday night at J. Birney Crum Stadium.
"He was a little shaky early in the game and we had to make some adjustments," said Head Coach ACC Rob Melosky. "It was an emotional game early and he made the adjustments and we leaned on him in the second half."
The first big play of the game came when Whitehall faced a fourth down and long deep in their territory. The Vikings' Archer Hunsicker ran into the Whitehall punter, Cole Ricards, resulting in a Zephyrs' first down.
The Zephyrs took advantage of the Vikings' early mistake and drove down the field for the score. Trey Dogmanits got a good push from the line and scored from one yard out. Andrew Deustch's kick was good and the Zephyrs led 7-0 with 1:48 left in the first quarter.
The Vikings had two players (Nathan Schultz and DJ Kelly) go out with injuries early in the game. One player stepping up at running back was Dante Hamilton. His two-yard touchdown tied the game up at seven with 7:30 left in the first half.
"We lost Nate and Dante stepped up for us tonight," said Melosky. "He stepped up and that is all we can ask for."
Whitehall took the lead before halftime. Carter Troxell had an eight-yard run to put the Zeyphyrs up 14-7.
With 1:31 remaining in the first half the Vikings went for a field goal. The rain and wind was blowing. Central Catholic's kicker Luke Myers tried the 47-yard field goal, but the wind was in his face. The wind knocked it down and it fell short of the goalpost.
The Zephyrs went into halftime leading 14-7.
The Vikings got the only score of the third quarter. Fontanez threw a perfect pass. Nasir McLean made an over-the-shoulder catch and ran into the end zone for a 20-yard touchdown. Myers' kick tied the game up at 14 with 7:56 left in the quarter.
ACC used the fourth quarter to dominate Whitehall. Fontanez hit Aidan Sorrentino in stride. He cut through the Whitehall defense for a 62-yard touchdown catch. It was 21-14 Central Catholic with 9:13 left in the game.
Whitehall could not get ahead. With 4:12 remaining in the game, they were called for intentional grounding on a pass in the end zone. The Zephyrs were forced to kick the ball away.
After the kick, the Vikings offense was on the move again. Fontanez found Jareel Calhoun in the corner of the end zone all alone for a five-yard touchdown catch.
With the final touchdown, the Vikings sealed the game up with 37 seconds remaining in the game.
Note:
Central Catholic travels next weekend to face Pocono Mountain West
Whitehall will try and rebound at Liberty next weekend.
Scoring Summary:
| | | | | | |
| --- | --- | --- | --- | --- | --- |
| Final | 1st | 2nd | 3rd | 4th | T |
| Whitehall | 7 | 7 | 0 | 0 | 14 |
| Central Catholic | 0 | 7 | 7 | 16 | 30 |
1st quarter
W: Trey Dogmanits 1-yard run (Andrew Deutsch kick good) 1:48
2nd quarter
ACC: Dante Hamilton 2-yard run (Luke Myers kick good) 7:30
W: Carter Troxell 8 yard run (Andrew Deutsch kick good) 6:04
3rd quarter
ACC: Nasir McLean 20-yard pass from Antonio Fontanez (Luke Myers kick good) 7:56
4th quarter
ACC: Aidan Sorrentino 62-yard pass from Antonio Fontanez (Luke Myers kick good) 9:13
ACC: Safety 4:12
ACC: Jareel Calhoun 5-yard pass from Antonio Fontanez (Luke Myers kick good) 0:37
Watch Replay