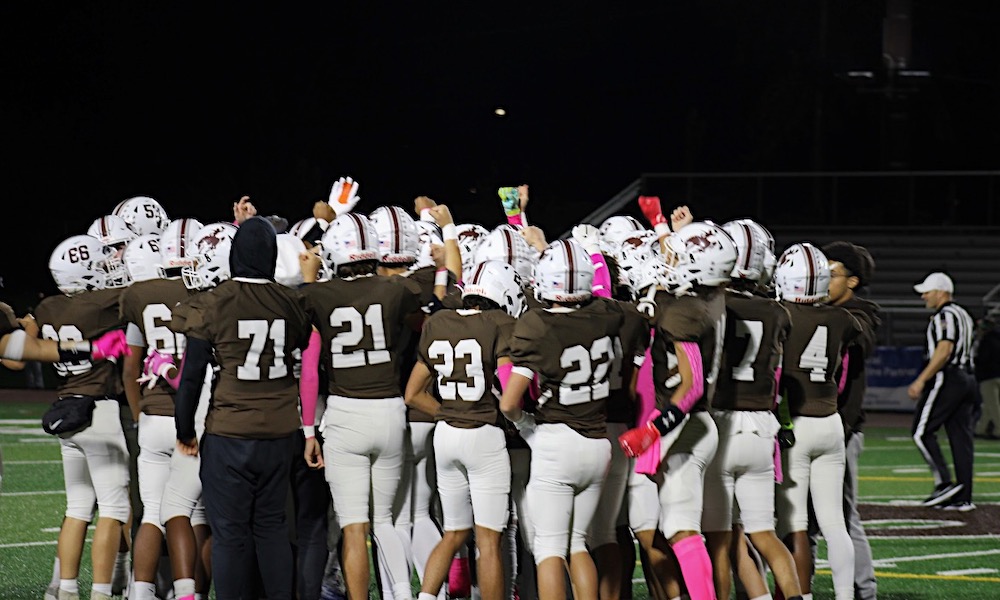 The Catasauqua and Panther Valley football teams shared both a three-game losing streak and a losing record going into Friday night's matchup. But these teams played very different games, and the Roughs came out with a dominant win.
Five minutes into the first quarter, it was tied 6-6, and it looked like it was going to be a close game. But by the end of the first half, the Rough Riders led 42-6. The final score was 55-6, upping Catty's record to 4-4 and adding a loss to the Panthers' record, now being 2-6.
Hunter Reitz had the first touchdown of the game with a 21-yard run for Catasauqua. Panther Valley responded two possessions later. After a hard hit and a fumble, Jah Bushati managed to recover their ball in the endzone, giving the Panthers their first and only points of the game. The PATs on both touchdowns were no good, making the score 6-6 with 7:03 left in the quarter.
From then on, the Roughs shut down the Panthers with their forceful offense. Aiden Hess passed it long to Rodney Brodie for the next Catasauqua touchdown. Hess then connected with Ian Juica for a two-point conversion, making the score 14-6 by the end of the first quarter.
In the first play of the second quarter, Catty scored again. Jyzaiah Bonilla had an eight-yard run to the endzone followed by a successful PAT from Miles Melendez. This was the first of four touchdowns in the second quarter that put Panther Valley out of the game.
Hess had a 22-yard pass to Dylan Pacheco for the next score. Then, Brenden Eck got a direct snap and a short run to make it 34-6 with 5:01 left in the half. Chad Beller had a short run to the endzone with under a minute left. The Roughs intended to kick for the extra point, but a bad snap led to Hess's pass to Eck for a two-point conversion.
Hess connected with Juica again in the third quarter to put the score at 48-6 with 6:56 remaining. Juica's reception made him the second all-time in career touchdown receptions for Catasauqua. The other half of this duo also reached a feat during last week's game against Minersville. Hess became the 15th QB in school history to throw for 1,000 yards.
The game's final score was a 65-yard running touchdown by Cadeo Estronza. Jayden Olivencia's PAT was good, and the score of 55-6 held for the remaining four minutes and 15 seconds.
Next Friday the Rough Riders will travel to Kintersville to play the Palisades Pirates, a team that beat Panther Valley by the same score of 55-6 and has a record of 2-6. Panther Valley will see the Pen Argyl Green Knights at home. Pen Argyl is 4-4.

Hunter Reitz for a Catasauqua touchdown. PAT is no good. Score is 6-0 Roughs lead with 9:18 left in the quarter. pic.twitter.com/UXzJFVy5vp

— Alivia Bear (@AliviaBear484) October 13, 2023
Direct snap to senior Brenden Eck for another Rough Rider touchdown. Extra point is no good. Score is 34-6 with 5:01 left in the half. pic.twitter.com/pjrBoZeYaW

— Alivia Bear (@AliviaBear484) October 14, 2023
Hess to Juica for a touchdown. Score is 48-6 with 6:56 left in the third quarter.

Juica's reception puts him at 2nd all-time in career touchdown receptions for Catty. @IanJuica @D11Sports @CHSRoughRiders pic.twitter.com/bF0r29MTKF

— Alivia Bear (@AliviaBear484) October 14, 2023