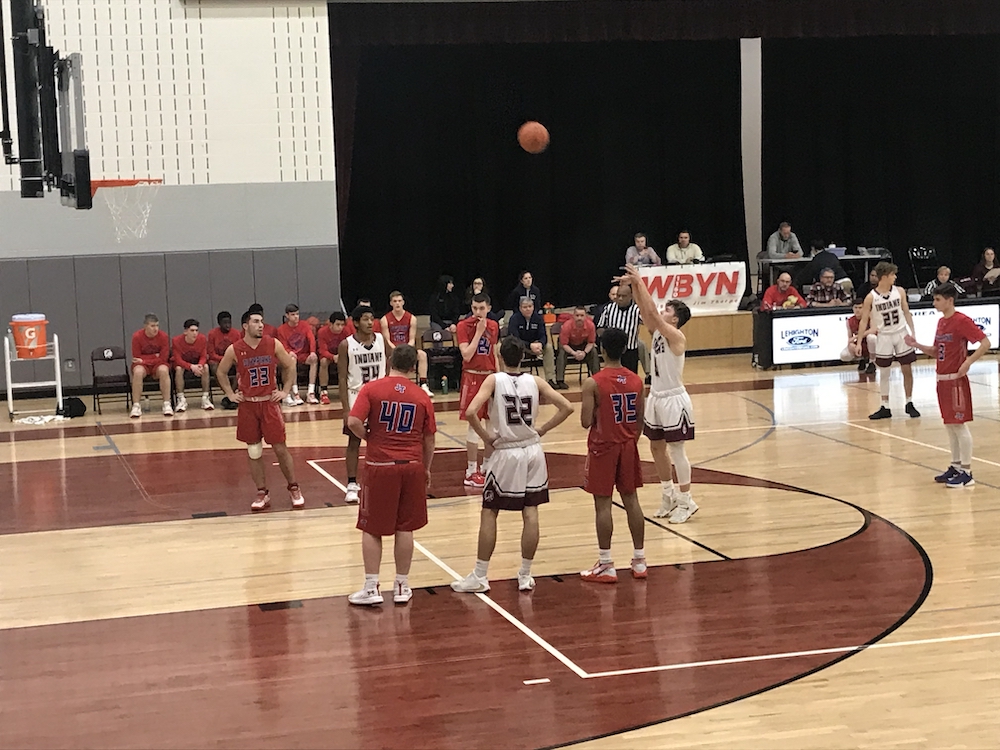 The Lehighton Indians welcomed the Jim Thorpe Olympians to the Lehighton Elementary Center for a boys varsity basketball match. Lehighton came in with a 6-11 record looking to end their seven game losing streak, while Jim Thorpe came in with a 5-13 record. Jim Thorpe was looking for revenge, since Lehighton beat them in the Rotary tournament by a score of 47-37. Lehighton also beat Jim Thorpe earlier in a regular season match by a score of 43-39.
At the end of the first quarter both teams were even at eight a piece. Lehighton took the lead in the second quarter going into halftime with a 23-18 lead over Jim Thorpe. Two minutes into the third quarter, Lehighton increased their lead to 28-21. Jim Thorpe took advantage of Lehighton's six turnovers in the third quarter to go on an 8-0 run and take a 33-31 lead at the end of the third. With 4:24 left to go in the third, Lehighton's top scorer, Zach Hunsicker, fouled out.
That didn't stop Lehighton from tying the game at 37 with two minutes left to play. Lehighton went on a 4-0 run with both scores coming from junior Richard Yturrino. Jim Thorpe countered with their own 4-0 run with scores coming from junior Chris Condly and senior James Adames to tie the game at 41. With just over three seconds remaining, Yturrino hit the game winning shot for Lehighton giving them the 44-41 win over Jim Thorpe.
Lehighton improves to 7-11, ending their seven game losing streak. Lehighton looks to continue their winning streak as they welcome the Northwestern Tigers on Wednesday January 29th at 7:00PM. Jim Thorpe falls to 5-14. Jim Thorpe's next game is Friday January 31st at 7:30PM as they welcome the Panther Valley Panthers.