Player Name: Cassie Murphy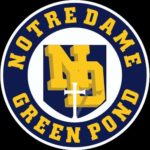 School: Notre Dame GP
Year: Senior
Postion(s): F
Jersey Number: 33
Height: 6-0
GPA: N/A
Other Sports: Softball
Starting Experience: 3
2018 Stats: 17.9pt/g, 6.4rb/g, 77% FT
2018 Honors:
First Team Colonial League All-Star
Second Team All-State (AAA)
Player Twitter Handle: @camurphy33
Coaches Comments: Cassie has established herself as one of the best post players in the entire area. We are counting on her to be a focal point of our offense as well as provide leadership on the court. She early verbally committed to Jefferson University (Division 2).