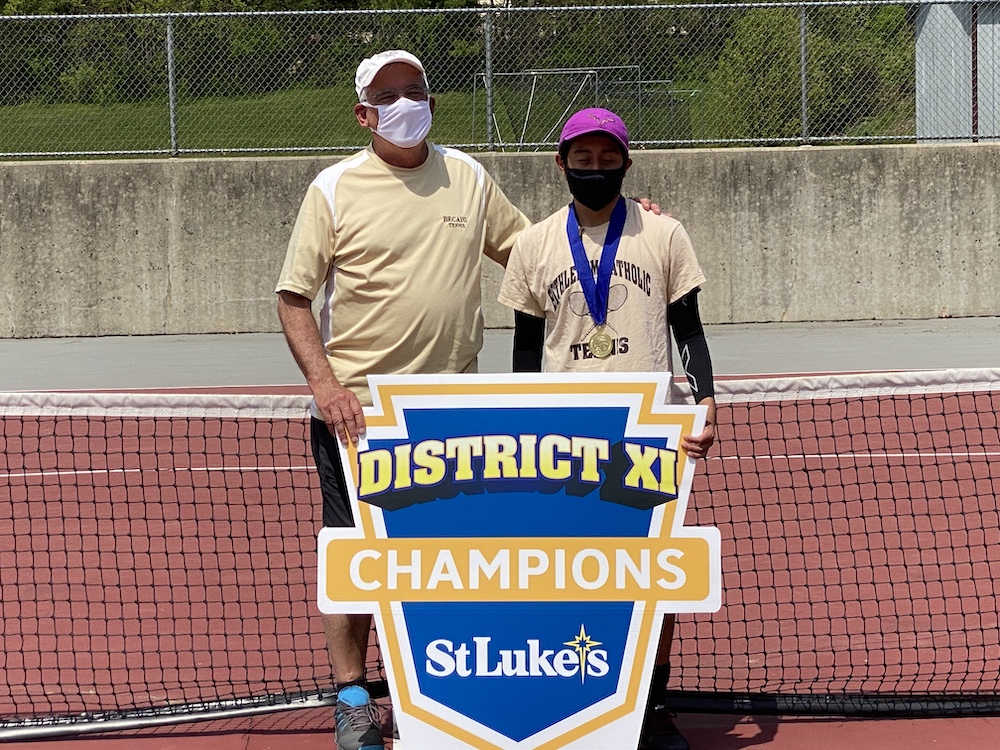 Parkland High School the site on Wednesday for the District XI Singles championships.
The 3A title match featured number 7 seed Dan Zolatarev of Parkland vs top seed Noah Potts of Freedom. The 2A title match saw an all-Bethlehem Catholic final with third seeded Armaan Makwana vs top seed Curtis Gruber.
In the 3A class, Potts jumped out to a 2-love advantage before Zolatarev won two straight games to even the first set at 2-2. Potts would follow with some solid play at the net and go up 4-2 and eventually took the first set 6-3.
The second set all Potts, as he didn't lose a game and won the 2021 District XI 3A Singles championship 6-3, 6-0. Potts said, "It was nice day out finally- it's been so long since we played in nice conditions, but it feels good to win the gold."
Potts joins his coach and father Matt Potts as a District Champion. Matt won back in 1992 and was very excited to see Noah win District gold. He said, "It's an amazing accomplishment-all the hard work he puts in and to watch it pay off as a sophomore, that's fantastic. It took me four tries to do it, and he did it in his first try. It's a wonderful thing- a great thing to coach your kid.
In the 2A class, Gruber wasted no time taking control of the match against Makwana, building an early lead and eventually winning the first set 6-1. The second set a bit different with Makwana jumping out to a 2-1 advantage but Gruber would elevate his game from there. He would win five of the next six games and captured the District XI 2A Singles title 6-1 6-3.
Gruber became the first ever Boys District Champion in Bethlehem Catholic history and was excited to hear that. He said, "It means a lot to me and I'm very happy. It is really cool to be able to play my friend who I've known forever and my close teammate and for us to win gold and silver really means a lot and it's first time for the school so I'm really proud."
Bethlehem Catholic veteran Head Coach, George Harmanos, who is in his 48th year coaching the boys was very pleased. He said, "It's awesome – It's been a long time coaching and we've had great boys' teams, we have had teams that were second in the district or second in singles or doubles again but this is the first ever outright district championship so yeah it's a great feeling."
Both champions will now move on to the PIAA state Tournament in a few weeks with the action taking place at the Hershey Racquet Club. Next up will be the Team Tournament which will take place next week followed by the doubles tournament in two weeks.