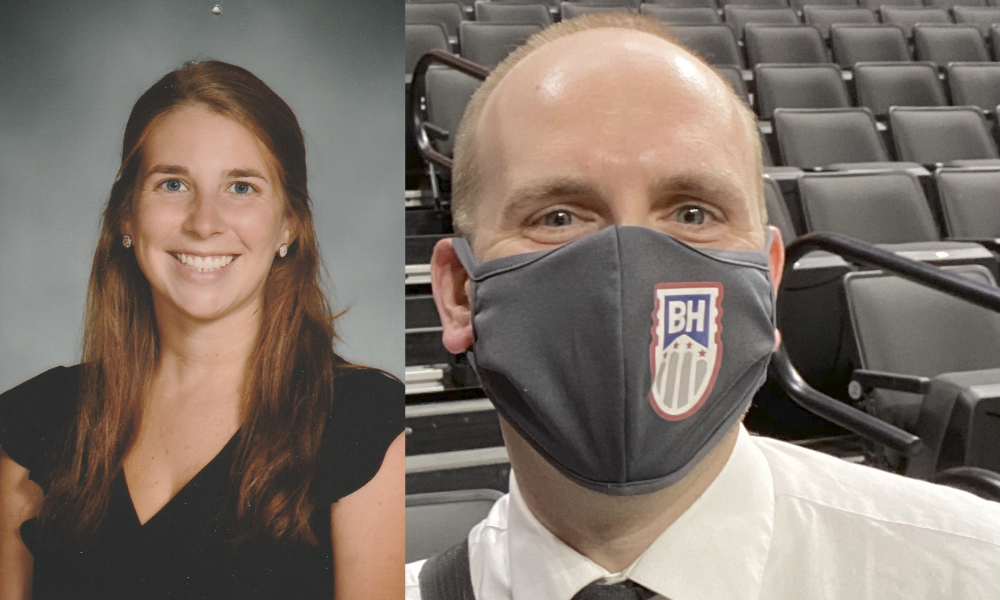 When it comes to Basketball, Southern Lehigh has always been a contender on both the boys and girls' side. Ben Tannous, who won 125 games over eight seasons as the Spartans boys coach, resigned after the winter season. Prior to coaching at Southern Lehigh, he was the Head Coach at Brandywine Heights.
On Monday night, his successor was board approved. Ryan Wehr, who was the Head Coach at Brandywine, stepped down earlier this month, and now will enter the Colonial League as the new Head Coach at Southern Lehigh.
Also, board approved on Monday night was Sydney Cyr, who takes over from Matt Cooper as the new Girls Head Coach. Through seven seasons, Cooper went 145-33, winning four District XI Championships from 2016-2019, to go along with four Colonial league titles.
Southern Lehigh Director of Athletics Marc Zimmerman said,"We could not be more excited to welcome both Coach Cyr and Coach Wehr to Southern Lehigh High School. Coach Cyr is a proud graduate of Southern Lehigh who has great familiarity with our school and our community. I have no doubt that she will be a fantastic role model for our girls basketball players who will continue to build upon the successful great tradition of Southern Lehigh girls basketball. Coach Wehr brings a wealth of experience and knowledge to the position of Head Boys Basketball Coach. I am very confident he will quickly develop a good rapport with our boys basketball community and continue to build on the recent success we've experienced. I look forward to working with both of them as they get settled into their new positions."
Ryan Wehr, who graduated from Parkland High School in 2003 has 14 years of coaching experience at the High School level. After coaching under Rich Fatzinger at Parkland and Steve Yoder at Emmaus, Wehr took his first head coaching job at Brandywine Heights High School in 2013. He coached there for the last 8 years and seeing his team qualify for states for the first time since 1983 during the 2020 season.
Wehr said, "I greatly enjoyed my time coaching at Brandywine Heights. As a Lehigh Valley guy though, the opportunity to coach at Southern Lehigh was too good to pass up. The administrative team is very supportive of the athletic programs at the school and the resources are there for our players to be successful on and off the court. I am excited to get to work and am looking to build off of their recent success at the Colonial League and district playoff levels."
He also announced his staff on Monday night. Varsity assistant: Bob Bogwist (former girls assistant under Bill Pugh at Emmaus/former Whitehall boys freshmen coach under Jeff Jones) Head JV: Brian Busolits (former Allen freshmen coach under Doug Snyder) JV/V assistant: Andrew Nicholas (former 1st team all-state at Eastern York HS & played D1 hoops at Monmouth University)
Sydney Cyr, who graduated from Southern Lehigh in 2016, is excited to be on the sidelines at the Varsity level. She excelled for the Spartans on the hardwood and then went on to have a successful career at Arcadia University. As a member of the Spartans basketball team, Cyr was part of two Colonial League Championship teams, along with the schools' first ever District Xi title in 2016.
Cyr, who was a Southern Lehigh middle School assistant last year is ready for her new role. She said, "First, I'd like to thank everyone involved for giving me the opportunity to return to my alma mater and coach. I am incredibly grateful to be at a place where I have such fond memories and have had successful athletic experiences myself. I hope to give my players the same feeling and experiences I was lucky enough to have while at Southern Lehigh." She added, "My goal for the program is to develop fundamentally sound basketball players. Basketball is not just a game, but it teaches important life lessons. I plan to create a team culture built on hard work, dedication, and commitment. In doing so, I hope to develop young females who will succeed on the basketball court while also positively impacting their school and community."
Cyr will have a great staff in place with her mother and Lehigh Valley Hall of Fame member Traci Cyr on the bench along with JV coach Jenna Leanch. She played under Traci in High School at Notre Dame(Jenna Stampf) and was Sydney's assistant coach when she was a freshman.
A new era begins at Southern Lehigh as two new coaches look to keep the winning tradition going for the Spartans.