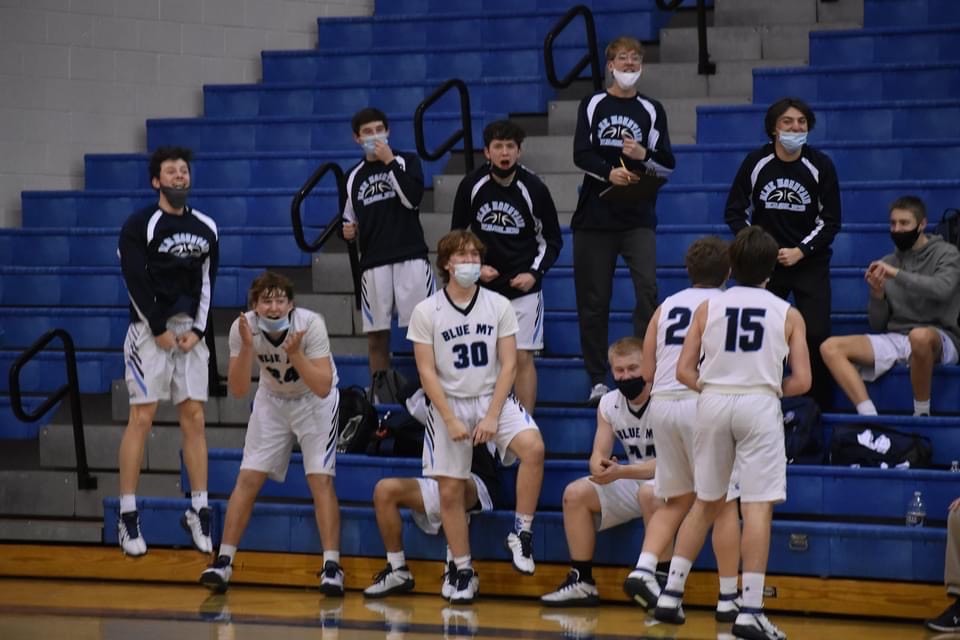 The Pottsville and Blue Mountain rivalry in basketball has promised some great games over the years. Whether the games are regular season matchups, league championships, or district championships, the games never fail to excite. Typically packed with fans all around Martz Hall, Wednesday's matchup had an eerie feeling with only Tide fans in attendance at a limited number. Both teams entered the matchup with undefeated league records and in a tie atop division one.
Blue Mountain was firing on all cylinders in the first quarter despite playing without leading scorer and starting point guard Kade Henninger. The Eagles jumped out to a 6-0 lead and ended the first quarter with a 15-7 lead. The Eagles' hybrid zone helped take away some of the outside shots from the Tide. In the middle of the second quarter, the Tide came storming back with an 8-0 run to close the Eagles' lead to four at 20-16. The teams went into the locker room with Blue Mountain leading 26-21. In the first half, the Tide were halted by an injury, as junior forward Mike Sukeena's ankle was landed on, sidelining him for the rest of the game.
An entertaining, back and forth third quarter led to a tie game at 40 all going into an intense fourth quarter. After trading buckets back and forth, Pottsville ended up taking a five-point lead with a minute to go after Nicco Heimbaugh's fifth three of the night. Despite being down five, Blue Mountain turned on some full court pressure and converted free throws to get the game to a two point deficit with ten seconds left.
After a scrambled in bounds play, Blue Mountain's Carson Kerstetter was fouled with around seven seconds left. He missed both foul shots, but the rebound was called out of bounds off of Pottsville. Down two with five seconds left, the Eagles had a shot, but Bryce Hensley's three pointer hit the left rim and clanked out before Darren Yost was fouled with 0.1 to go. He converted on both free throws to seal the final score at 60-56.
Nicco Heimbaugh led the Tide with 19 points, with 16 in the second half. Darren Yost added 15 as well. Blue Mountain sophomore Carson Kerstetter, who only had 15 total points in the first five games, scored 21 points in his first varsity start. The teams will meet again on Saturday night at 7:00, where the game will be broadcasted on D11Sports' YouTube channel.